You can also read this article in Italian here
Article written by contributor Giulia Minguzzi
Looking for cheap eats in Milan? Finding cheap places to eat in Milan is becoming more and more difficult as time goes on, especially now that people are starting to go out more often for lunch or dinner and restaurant owners are taking advantage, raising prices in the hope of recovering the losses taken in the last years during lockdowns. But we university students never give up when it comes to finding the cheapest places to go on a lunch break between lessons or for dinner on the weekend with friends.
That's why, as a student who has been living in Milan for 4 and a half years now, I decided to write a guide on some of the best cheap restaurants in Milan that I have had the opportunity to try. This is a list of places where you can eat many different kinds of dishes, from traditional Milanese trattorias to the classic slice of pizza, to authentic Chinese restaurants or affordable solutions for an aperitif or breakfast.
The common denominator here is the price: in this list you'll only find places where you can eat well by spending on average around 15 euros per person, obviously depending on the type of cuisine. But since that is more or less the budget of a student, I decided only to include the restaurants that meet those criteria.
At the end of the article you'll also find a handy list of cheap restaurants in Milan to screenshot and use later.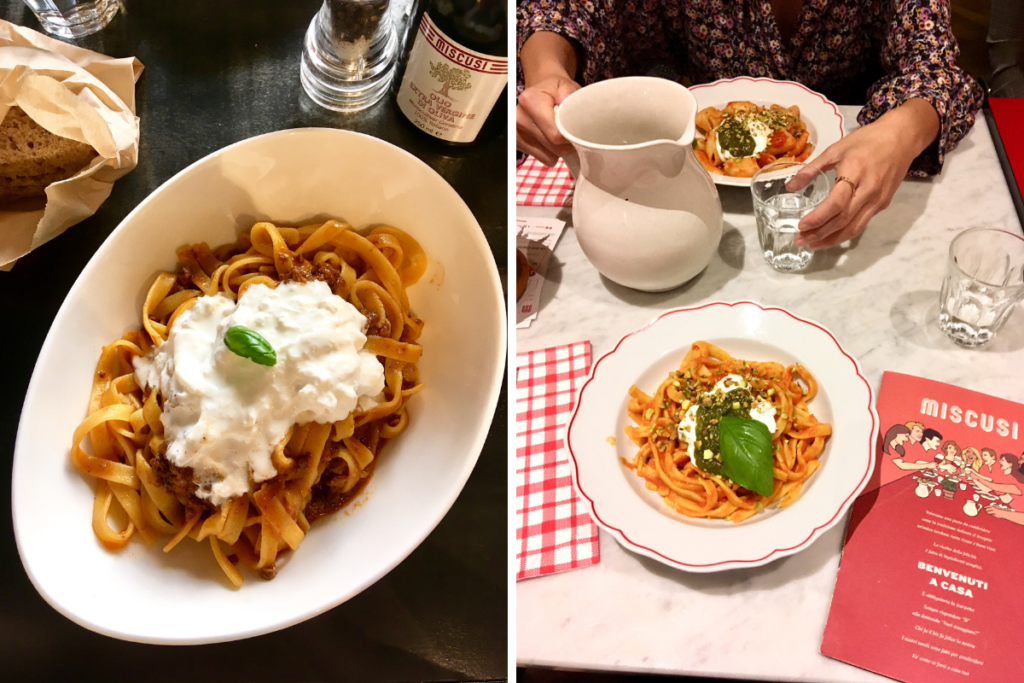 Trattoria La Madonnina: typical cuisine on a budget
In a side street of Corso San Gottardo you'll find this historic Milanese trattoria, which offers traditional Lombard cuisine. This Milanese restaurant is a relic from the past, staying true to its authentic roots despite the passing of the years, immune to the trends and fads that are constantly popping up even in the Milanese restaurant sector.
From the outside you can see clearly signs of longevity that distinguish the place, starting from the sign, as well as from the old photos and magazines displayed in the window, almost as if to ease the customer into the time rewind they are about to experience even before entering. In short, it's a sort of warning: whoever enters is ready to relive the memories of a by now distant time. And indeed it is.
As soon as you enter, there is a counter immediately on the right, where the host (the owner) checks reservations and serves glasses of house red wine or local Milanese beers to drink. One of the waiters seats us in the main room and brings us the menus. The room decor is Italian 60s, with checkered tablecloths, wooden chairs and tables, hand-embroidered curtains on the windows and antique cabinets (think of grandma's house) displaying black and white family photos. It really feels like being catapulted into the past, into old Milan, where the locals know they can eat traditional dishes in a family atmosphere at a great price.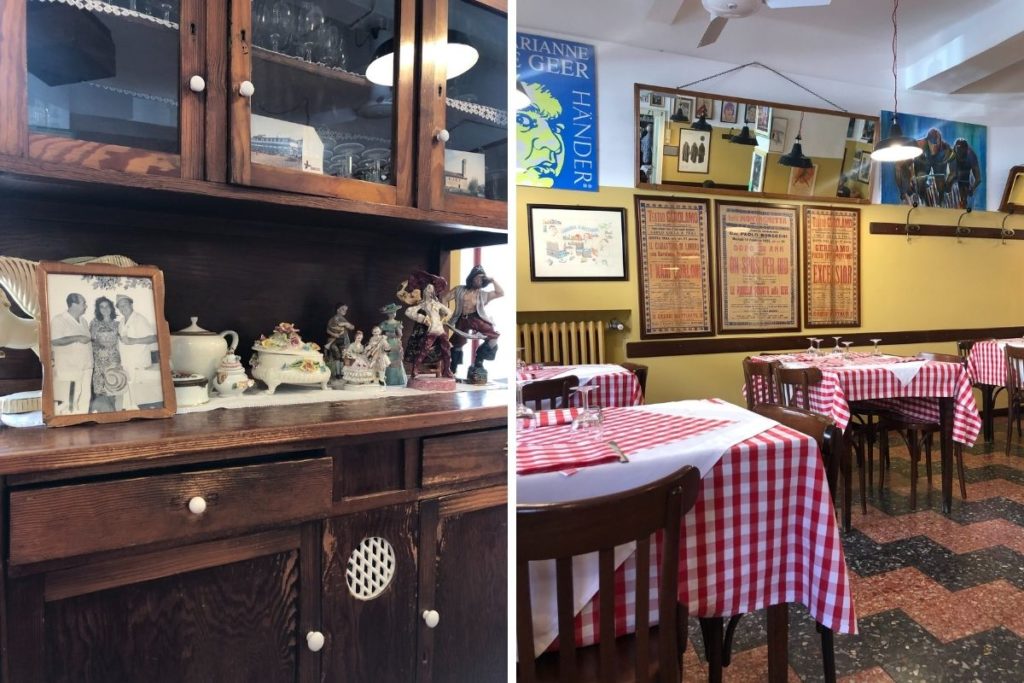 The menu is handwritten and offers a selection of a few Lombard dishes between first and second courses (no appetizers), all extremely simple, homemade, such as pasta alla monzese (with sausage and saffron) or the fried veal cutlet typical in Milan. In addition to these two courses, we also tried the oven roasted chicken drumstick with polenta and the roast with potatoes. All the main courses include a side dish, but I personally was more than satisfied with a single course, that is, the cutlet with potatoes.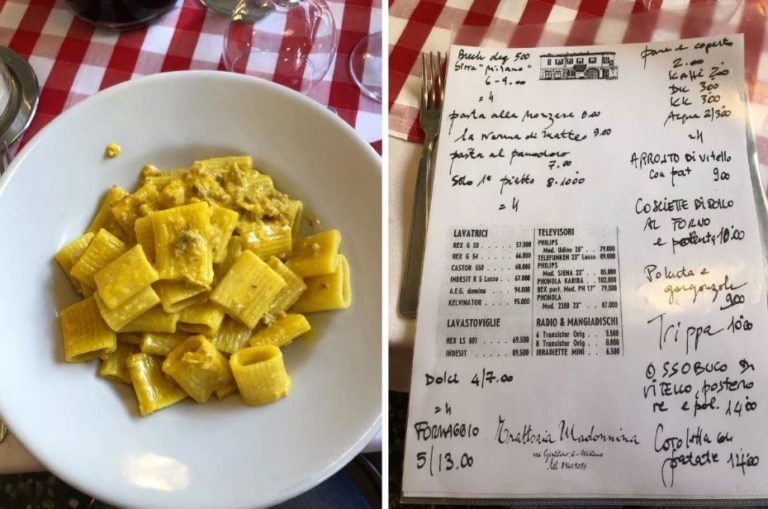 There were 4 of us, two of whom took both the pasta and a second course, while the other two limited themselves to the second course with a side dish; with 1 liter of wine, water, cover, we spent 20 euros each, and we came out full and satisfied. Given the quantity of the dishes in this restaurant, you can eat well by ordering only one course, for example the milanese cutlet or ossobuco with polenta, for around 15 euros.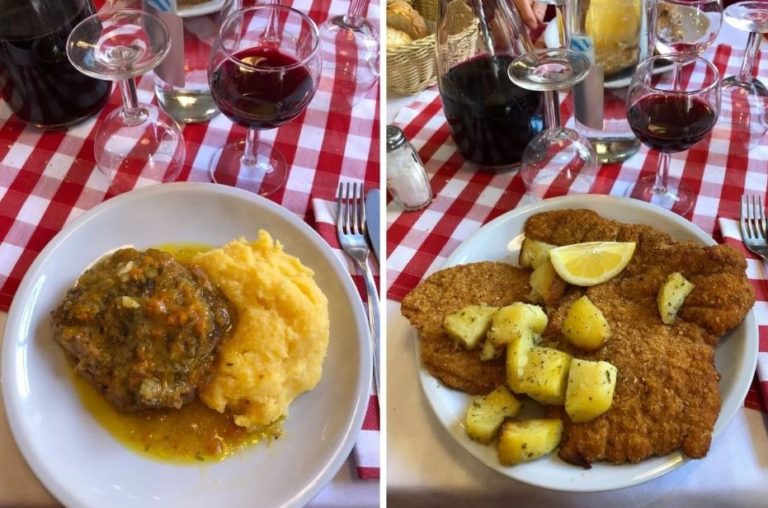 Overall, it is a trattoria that seems stuck in the years in which it was born, making you feel like you're at grandma's house: you're pampered and fed just like the last time you visited an elderly family member. I recommend this place for a cheap lunch or dinner with family or friends.
Bar Trattoria Madonnina
Via Gentilinio, 6 (metro M2; Porta Genova station; tram 3)
Il Brutto Anatroccolo: eat for less than 15 euro
Also in the Navigli area, in via Evangelista Torricelli 3, there is another old-style bar-restaurant, the Brutto Anatroccolo (the Ugly Duckling), with checkered tablecloths and rustic furnishings, simple and home cooking, at really cheap prices. This place, as well as the owner, has a philosophy of its own: in the evening it opens at 9:03 pm, the kitchen closes after a certain time but the restaurant is open until 1 am, on Saturday evenings they do not accept reservations (first come first served), and is closed on Sundays. The ambience and '70s atmosphere, simple and slightly retro interiors, the austere service, without frills, orders must be written by the customers on a notebook, specifying how many and which courses are ordered (the menu specifically requests writing "after" to establish the order in which you want the dishes to arrive). Patrons and frequent visitors of the place are most commonly young people who organize tables for up to 20 people causing ruckus and having fun because they feel at home.
Loud, rowdy, fun. You have to be people who don't mind this "mood" when they eat at a restaurant – don't go to Il Brutto Anatroccolo if you have particular demands, like if you're looking for gluten-free bars and restaurants in Milan, or are expecting a chic-vintage restaurant. The manager is a somewhat gruff man, grumpy at times, but that is precisely what makes him distinctive, together with his restaurant. In short, it is a "free-range" restaurant, which offers what there is, and if that is not good even for you, you can go ahead and make room for someone else.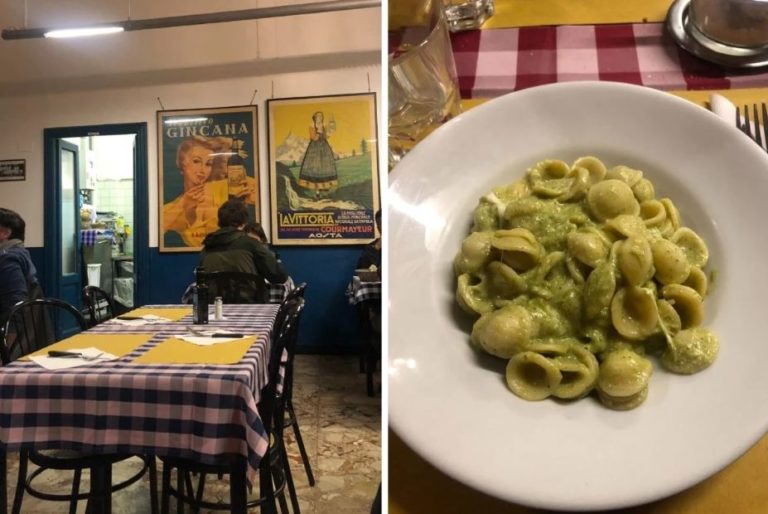 That said, I can tell you that, if you decide to try this dilapidated experience anyway, you will not be disappointed by the food that the house offers (and by their quantity-quality / price ratio). We ordered spaghetti with ragu (6 euros) and orecchiette with broccoli and anchovy cream (6 euros), followed by the milanese cutlet (9 euros) and grilled sausage with fries (7 euros). What can we say? Everything was so delicious, yet simple, but at the same time plentiful –  a home-cooked meal that warms the heart and fills the stomach. Particular dishes on the menu (and which we often saw passing between the tables) were horse tartare with egg yolk on top, donkey stew, and grilled ham. The prices of the dishes were under 10 euros and you can fill up well spending little – impressive, considering that we are at the gates of the expensive nightlife area of the Navigli.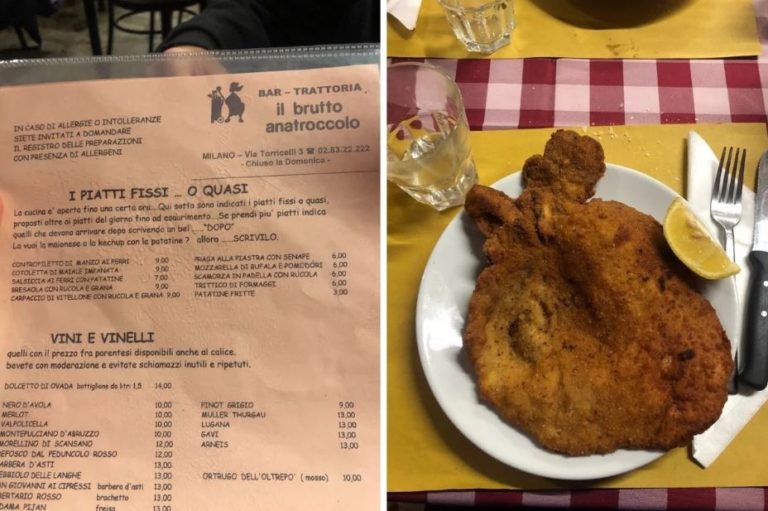 If the description of this informal and decidedly good-looking, but all in all funny, restaurant intrigues you, I recommend that you go and try their dishes at least once, with friends or relatives, the more the better. Warning: absolutely not recommended for a first date or if you want to make a good impression with someone. I suggest you go to the Brutto Anatroccolo with someone you already have a close relationship with and who you know has no problem eating in such a restaurant, otherwise you could risk making your guests feel uncomfortable if they do not particularly appreciate this type of atmosphere.
Bar Trattoria Il Brutto Anatroccolo
Via Evangelista Torricelli, 3 (metro M2, Romolo station)
Trattoria Fà Ballà L'Oeucc and elephant ears
In the Baggio district, a little further away from the city center, you can find this Milanese trattoria, famous for its "elephant ears" or the typical milanese fried veal cutlets, distinct for their considerable size, which are offered in this restaurant in the classic Milanese version, and accompanied by some delicacies, such as smoked cheese and speck on top, as if it were a pizza. In this simple and family-style environment, the welcomes are warm and the wait staff is very kind. They were very willing to change the table for us since we had brought our dog with us and to make us feel more comfortable they moved us to a corner of the room a little bigger where we had more space, far enough away from other tables so as not to bother anyone. As soon as we were seated, we were brought a welcome drink with a glass of crodino and some snacks.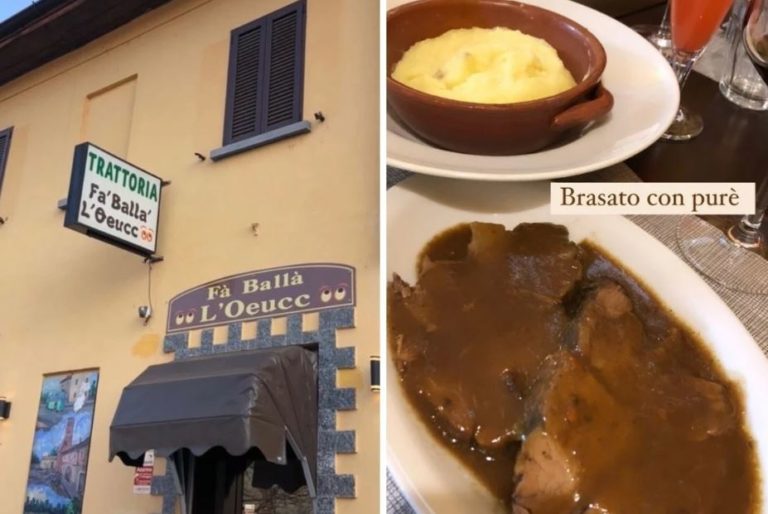 The menu is based on traditional Lombard cuisine and the prices are quite cheap, especially for the quantity and size of each course. We took mondeghili and nervetti as an appetizer (1 euro per meatball and 5 euro for the nervetti salad) and then continued with the main courses. Despite seeing a Milanese risotto for only 10 euro, which attracted us a lot, we ordered two cutlets, one classic (15 euros) and one smoked (17 euros), braised meat with mashed potatoes (15 euros) and finally the "busecca" or Milanese tripe (10 euros). The restaurant also offers great classics such as risotto with ossobuco, cassoeula, and a series of risottos in different variations. The menu is available online on their website and on their facebook page.
The restaurant stands out for the warmth of the staff and above all for the abundance of cutlets: one person from our party was even unable to finish the dish. The courses I tasted I liked overall – you can see that it is a very homemade and traditional cuisine, but one that is not afraid to propose some reinterpretations in a slightly more alternative and modern way. An element that I really appreciated and for which I would return, I'm curious to try the different variations of "uregia" that they offer on the menu (and this time maybe even one of the risottos on the menu).
I rate my experience at Trattoria Fa Ballà L'Oeucc very positively. The lunch I had and the pleasure of enjoying and sharing it with my family, I would recommend a hundred times over if you want to eat traditional Milanese cuisine without leaving the restaurant with an empty wallet. Maybe it is an opportunity to take your parents out to eat if they come to visit you in Milan and want to try milanese elephant ear cutlets and ossobuco in a typical Milanese trattoria.
Trattoria Fà Ballà L'Oeucc
Via Pistoia, 19 (Baggio – reachable by car or by public transport by taking the M1 metro to the Bisceglie stop and then bus 58 to the Via Val D'Intelvi stop)
Trattoria San Filippo Neri: typical cuisine in the Precotto area
In the Precotto area (M1), a short walk away from the office where I work as an intern (because what kind of university student would I be if I didn't also do a part-time internship?), there is a traditional Milanese restaurant that offers typical Milanese and non-Milanese cuisine, which has become very popular during lunch breaks by workers and office workers around the area. There is a fixed lunch menu formula composed of a first course, second and side dish including wine for 15 euros, which in my opinion is very honest, given the portions and the goodness of the dishes. You'll also find the fixed menu on Saturdays and Sundays, not only on weekdays. In addition to the cutlet and risotto cooked in marrow, a great classic that is almost always found on the menu, even in summer (and which I recommend trying), is the slightly spicy goulash with polenta.
Like all the restaurants mentioned above, the cuisine is homemade, the dishes are tasty and the quantities are generous. The restaurant has an outdoor pergola and welcomes people even in winter thanks to the heat lamps. During lunch hours it is always packed, but, despite this, the service is very fast and the courses arrive almost immediately.
I recommend this restaurant for convenient business lunches and more, since it can also be a good option for a weekend dinner with friends without spending an exaggerated amount. It's suitable for feeding voracious stomachs and demanding palates for a few euros.
Trattoria San Filippo Neri
Viale Monza 220,  (M1 Precotto)
Trattoria Sabbioneda for eating cheap in Milan
Another cheap trattoria where you can eat traditional Lombard dishes and fresh homemade pasta is the Trattoria Sabbioneda da Romolo (Lima area). Recommended by student friends of mine who frequent the streets of Loreto and Corso Buenos Aires and often go to this restaurant for lunch, they maintain that it is one of the cheapest restaurants in Milan.
An authentic restaurant, with wooden chairs and paper placemats, a myriad of paintings hanging on the walls of Harley Davidson motorcycles and an unspeakable number of plates covering the whole place. It feels a bit like grandma's house, a bit like a diner for motorcyclists. It doesn't matter, because the important thing is what the kitchen offers: first courses of fresh pasta and appetizing sauces, with a wide range of different types of ravioli, such as meat plins with roast sauce, tortelli with borage butter and sage, Mantuan pumpkin ravioli… and other delicacies.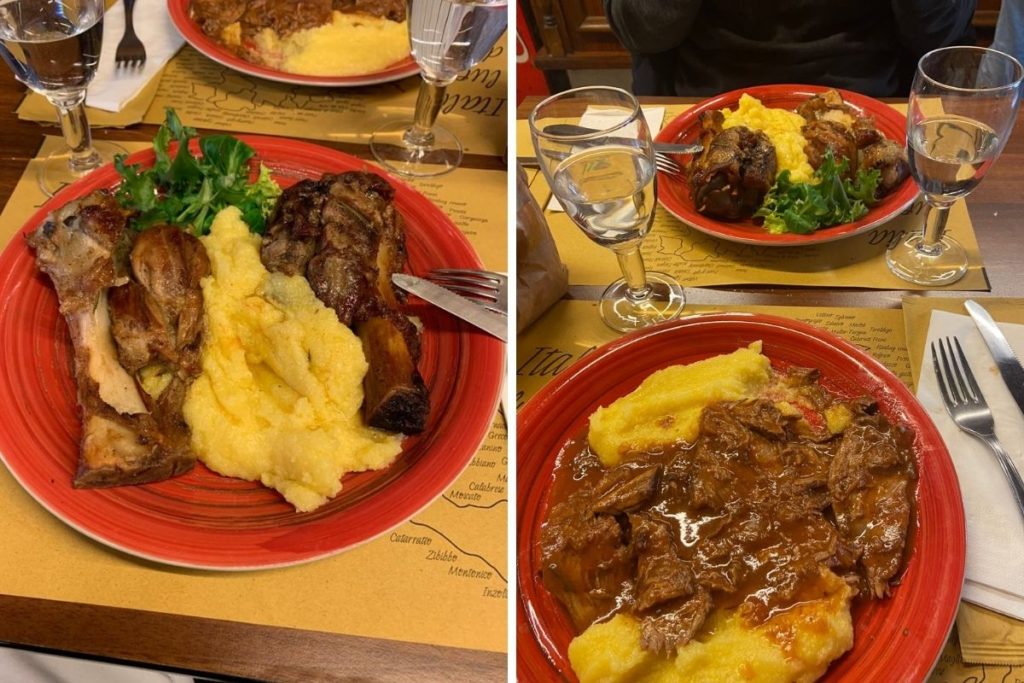 The first courses all cost around 8 euros. As for the main courses (from a minimum price of 8.50 euros to a maximum of 12.50) you can find the pork shank with polenta, the braised meat, the Milanese cutlet, the cassoeula on Wednesday, but also simpler proposals such as the roast chicken, roast or Ligurian-style rabbit.
A single course, whether it is a first or second course, is enough to hold you over until the evening if you come for lunch, or you can take a first course each and divide a second if you aren't full (but the portions are really generous, think well before ordering 3 or 4 courses).
If you are in the area, it's worth taking a trip to taste the homemade dishes of this very easy-going restaurant with extremely tasty proposals. I recommend calling to reserve a table, especially on weekends.
Trattoria Sabbioneda Da Romolo
Via Alessandro Tadino, 32 (metro M1, Lima station)
Miscusi: eating in Milan's city center on a budget
We can't not mention the top restaurant students go to when they have recently arrived in Milan and want to eat a good plate of instagrammable pasta and repost it on their social networks! Miscusi is by far one of the best pasta places in Milan.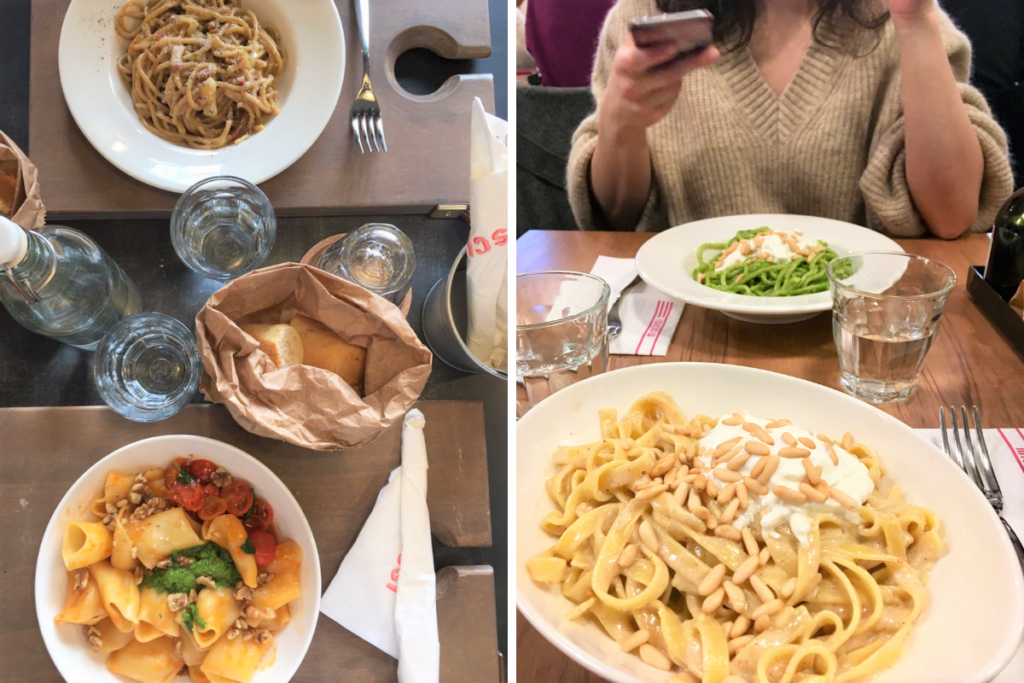 The restaurants of the Miscusi chain are a good option for a quick lunch between lessons, and the format is very convenient: a plate of pasta costs between 9 and 12 euros maximum, depending on the sauce you choose as a condiment (the classics are: carbonara, tomato sauce, pesto, cheese and pepper, vegetables, tuna and pistachios …), the pasta format, short or long, normal or wholewheat, and any toppings to be added as a final touch (such as chopped pistachios, hazelnuts, burrata, dried tomatoes or other delicacies). All the pasta is fresh and made on site in the MiScusi laboratory that is visible in every restaurant. The water is free-refill and bread + cover charge are included in the price of the pasta dishes.
Depending on the season, they add new dishes to the menu, such as tagliatelle with mushrooms (pictured) in autumn, or spaghetti with prawn tartare and burrata in summer. There are also some must-have dishes that must be ordered at least once if you go to Miscusi, such as "the pacchero Tricolore" or "the gluttonous trofie".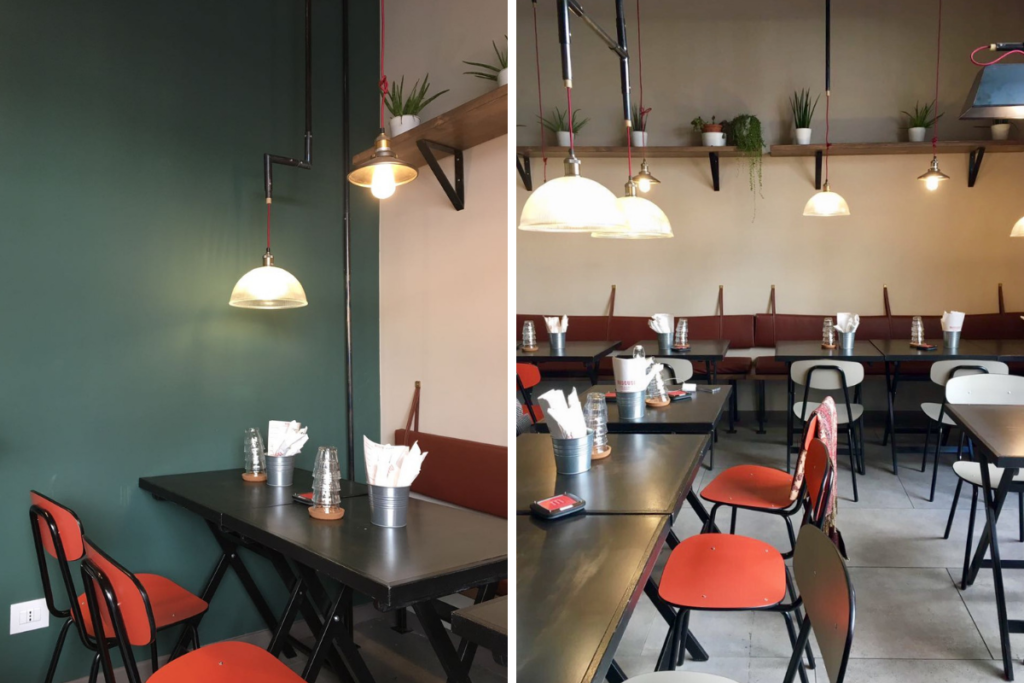 In addition to the pasta, at Miscusi there are always bruschetta you can share with your friends to whet your appetite: bruschetta with pesto, tomato and burrata stracciatella or with vegetables. Miscusi's desserts are also worth trying: my favorite is definitely the torta della nonna ("grandma's cake"), but also tiramisu, when it's available, is excellent for a sweet ending.
The prices are quite low and going to one of the restaurants in this chain is always a life saver if you have no idea where to go and you're on a budget for a casual lunch or dinner. In Milan you can find Miscusi in Colonne di San Lorenzo, Cadorna, Central Station, Isola and in the Bocconi area.
Miscusi
Various locations in Milan and other cities of Italy
Pizza e Mozzarella: super cheap pizzeria in Milan
If you are looking for a Neapolitan pizzeria in Milan where you can eat a very good pizza with genuine and DOP (protected designation of origin certification) ingredients at a bargain price, you absolutely must try Pizza e Mozzarella, which has two locations in Milan, one in Settimo Milanese and one more in the city center, in the Navigli area. (Romolo M2 stop).
I often go to the second location, since it's just a few minutes from where I live and the location is very well-furnished and large. It welcomes a lot of people for lunch and dinner, especially young couples or groups of university-age young people. But people come in droves at all times of the day to eat their pizza. The interior is creatively furnished, alternating lights and climbing plants throughout the room; the walls and tables are decorated with a pizza theme: on the walls of the room there are writings that bring to mind mozzarella and tomato, on some shelves the products they use to make pizza are displayed, such as tomato sauce (also present on each table as a placeholder), buffalo mozzarella and flour, which can also be bought by the hectogram or by the kilo.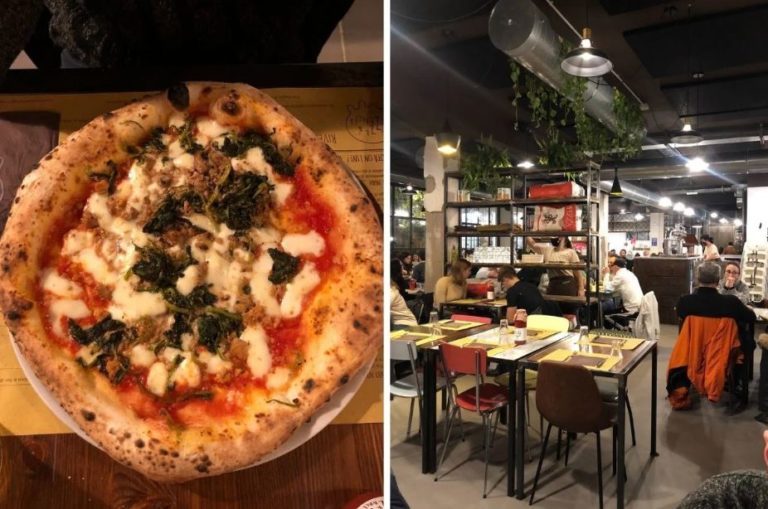 A margherita pizza costs 4.5 euros, the typical Neapolitan appetizers such as cuoppo ("or 'cuopp'" as they call it, the typical assortment of Neapolitan fried foods) or montanarina (small fried pizzas with tomato, parmesan and basil) 3 euros and 2 euros respectively. The menu is very simple with a few pizza proposals but I assure you that they are made to perfection and the dough is just as good as what you can find in Naples. In addition, on the menu there are a couple of alternatives to pizza, which follow the tradition of the original first courses of Campania: gnocchi alla sorrentina and pasta and potatoes (both 5.5 euros), a real delicacy for those who know and love Campania cuisine.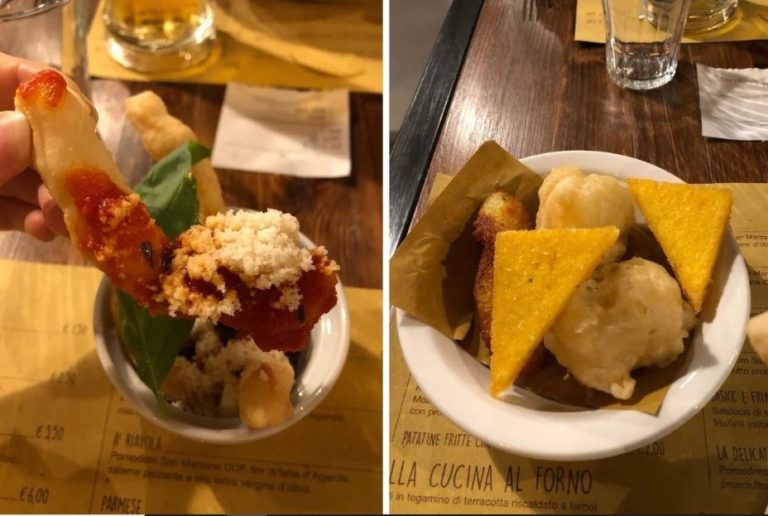 Being close to home, I've been there several times and I must say that I have never been disappointed by how good the pizzas are: the only problem of this place is that it is practically impossible to book for large groups during the weekend. In fact, they do not take reservations of more than 8/10 people on Fridays, Saturdays and Sundays, and going there hoping to find a place you are sure to turn up empty handed. Sometimes you can get lucky if you are a couple and try to go late, but they have tables booked even at 10:30 pm so I advise you to try your luck only if, like me, you live in the area, otherwise arrange in advance by booking on the site (very efficient, the booking confirmation message arrives on the mobile phone) or by trying to call directly, even if they answer more and more rarely.
To conclude a dinner or lunch at Pizza e Mozzarella, ordering a dessert with a glass of limoncello is a must, so you can fully savor the Southern Italian atmosphere that reigns supreme in this restaurant. I always take the diavoletti alla Nutella (2 euros), or fried pizza dough with Nutella and icing sugar on top: a real delicacy that I can never resist. Other equally exquisite desserts are the Neapolitan pastiera and the house tiramisu (3 euros).
Pizza e mozzarella
Via Carlo Torre, 22 (metro M2 Romolo; autobus 90)
Spontini: eating in Milan on a budget
If, on the other hand, you prefer thick-crust pizza, in a pan, with soft dough and a nice greasy and crunchy base, then you've got to try Spontini's pizza – a must for pizza by the slice in Milan. You can't say you really lived in Milan if you've never tried it: it is a very different type of pizza from the Neapolitan style, but also from the Roman style. Spontini slices are typically triangular; you can choose the size of each (normal or large) and possibly add double mozzarella to the portion, while the toppings are quite classic: margherita, diavola, cooked ham, mushrooms, anchovies and capers (my absolute favorite) and seasonally a new taste on the menu.
Spontini opened the first pizzeria in Milan in 1953, right in via Gaspare Spontini, and it was there that the recipe for the famous slice cooked in a pan was invented, loved today by all – Milanese or not. To date, Spontini has become a real franchise and has opened several locations throughout Milan.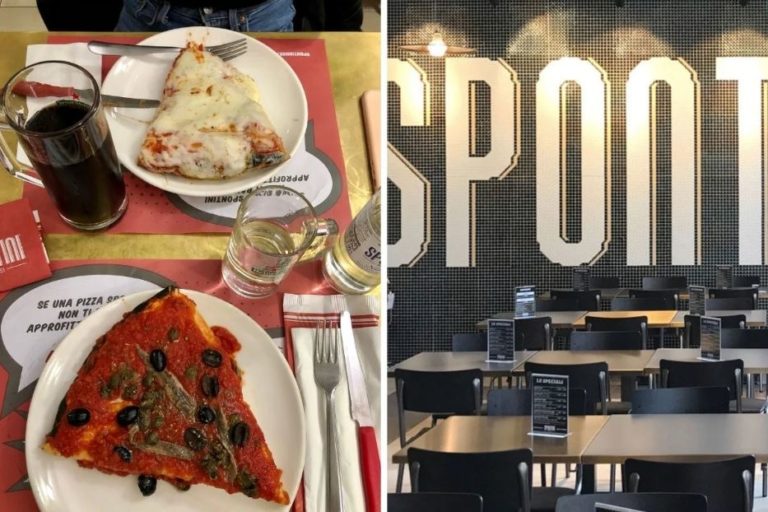 A normal slice of margherita pizza on average ranges from 5 euros (7 euros for a large), to 7/8 euros if you take a special piece (8.5 or 9 euros per large portion). What distinguishes this one of a kind pizza is the "softness" of the dough, the height of the slice, and the crunchiness of the base that sizzles in your mouth as soon as you take the first bite.
When I first arrived in Milan I didn't even know such a type of pizza existed and, (un)fortunately for me, after a very short time that I was in the city, I was taken to a real Milanese to eat it on the spot: from that moment it has become one of the my comfort food par excellence, a real delicacy. Now I can no longer do without it, just like the Milanese DOC.
Spontini
Various locations in Milan
Puccia's Brother to eat low cost in Milan
How about a nice Salento puccia as an economic alternative for your next lunch break? This "made in Puglia" restaurant was born in the Cadorna area, offering the puccia as its main dish. Puccia is a type of bread made with semolina flour cooked in stone ovens that remains crunchy on the outside, almost as if it were created a shell, and soft inside, making it great for stuffing with all the ingredients you want: you can build your own puccia or you can choose the combinations already present in the menu.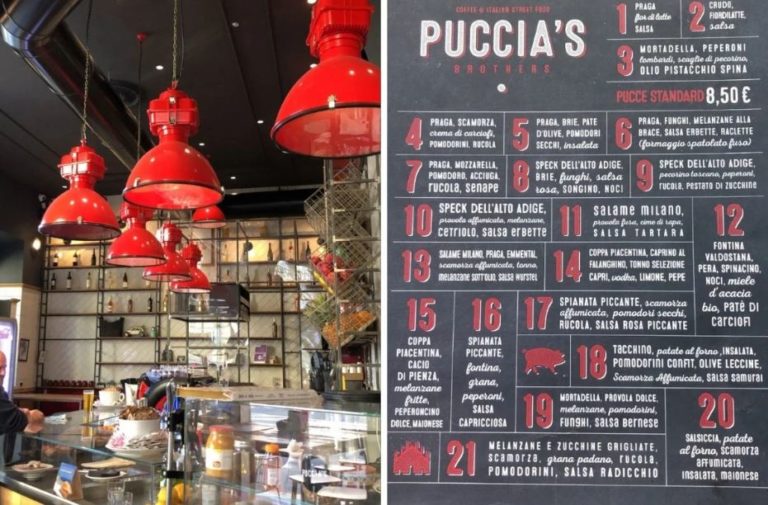 The price of a puccia starts from 7.90 euros (for the basic puccia), up to 8.50 for the standard pucce (plural of puccia), and then reaches 9/10 euros if you take the gourmet pucce. It's fun to indulge yourself in filling the puccia with an infinite combination of ingredients, sauces and condiments, all very fresh. I left the composition of my puccia at the discretion of the chef, having no particular preferences in terms of taste, and the result was truly a bomb for the palate: speck, grilled vegetables, brie, tartar sauce and dried tomatoes, while my friend chose an equally tasty and juicy vegetarian puccia. (For vegetarians, there are a number of vegetarian and vegan restaurants in Milan, you just need to know where to search!)
The speck was really good, you could tell it was sliced at the moment, and even the cheeses of both pucce seemed local. I also really appreciated the quantity of "stuffing" with which each of the pucce was filled. Sometimes other places skimp on fine ingredients or tend to limit the dose of meats and cheeses to fill with something else that maybe has a lower cost; I would say that this is definitely not the case with Puccia's Brother, both pucce were overflowing with quality ingredients and each bite created an explosion of taste for the taste buds.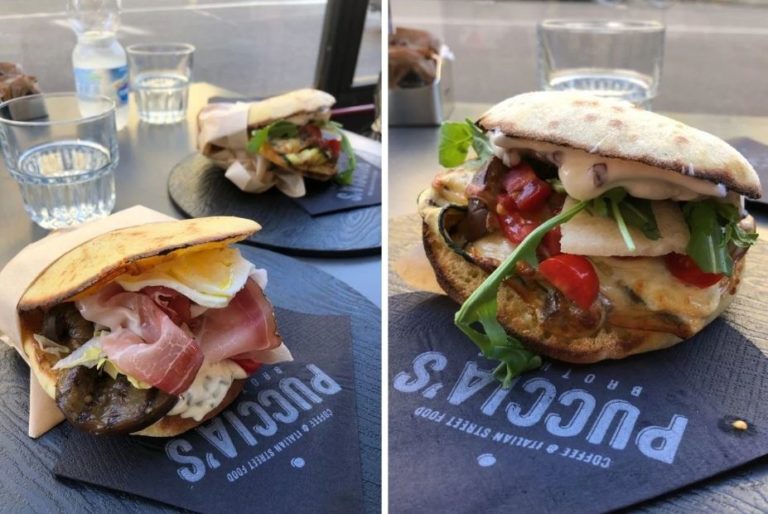 Along with the coffee, we were also offered a pistachio pasticciotto at the end of the meal, really great to finish this lunch with all the trimmings. Overall, an extremely positive experience at Puccia's Brothers, I would recommend it for a quick lunch break in the center if you want to spend no more than 10/15 euros and eat something a little different (and even tastier) than the usual sandwich.
Puccia's Brother
Piazza Virgilio 3 (metro M1/M2, Cadorna FN station)
Tang Gourmet: super cheap Chinese restaurant
If you are in Milan in the Paolo Sarpi area and you want Chinese cuisine without frills, you can go to Tang Gourmet, an authentic, sincere and down to earth restaurant where you can eat ravioli and noodles at a really ridiculous price for the quantities of each portion.
In the photo you can see my favorite dishes that I always order (and that I struggle to finish every time because they are very filling and large) or the braised ravioli of the house and the sauteed noodles with beef with black pepper and bell peppers. A plate of ravioli is much more than enough (the price ranges from 3 to 5 euros for a portion of about 5 ravioli) to share with your friends and a main course such as noodles in broth or without, sauteed, cold … in short, available in all the variations you might want (from 5 to 7.5 euros per serving of noodles).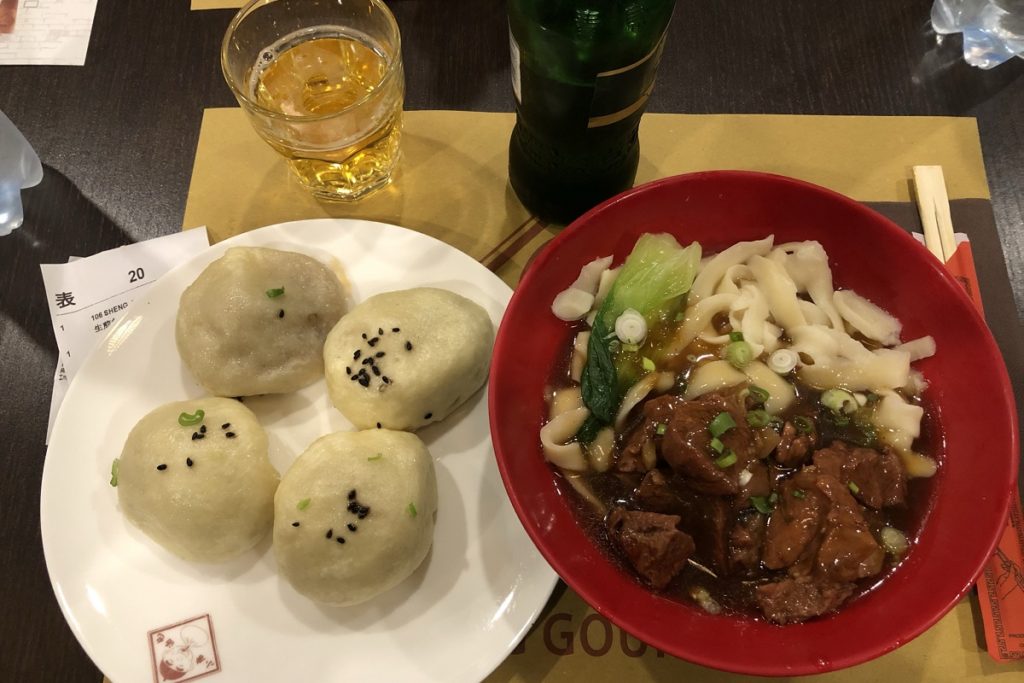 Like all Chinese cuisine, Tang Gourmet also uses abundant spices, like coriander, and many of the dishes are spicy, so pay attention to what you order and ask when ordering, which takes place directly at the register, if you have doubts or are allergic to something.
I reviewed this restaurant in the past, so for more details of the menu, dishes and prices check out my review on Tang Gourmet.
Tang Gourmet
via Paolo Sarpi, 17 (Transit: Bus: 43, 57, 94; Metro: M5, Monumentale station; Tram: 12, 14)
Ramen Shop: low cost options in Milan
Ramen lovers assemble! I have here for you a gem where you can eat fresh ramen that's been hand-rolled right in front of your eyes in the Lima/Porta Venezia area (Corso Buenos Aires), spending between 11 and 15 euros maximum!
Lately ramen prices have skyrocketed as several ramen places are starting to emerge in Milan, and you can find places that charge as much as 20/25 euros for a bowl of ramen and a drink. That's why I decided to add this place to the list, to give you a tip if, like me, you love ramen, but your wallet is always on the lookout for cheap places to eat in Milan.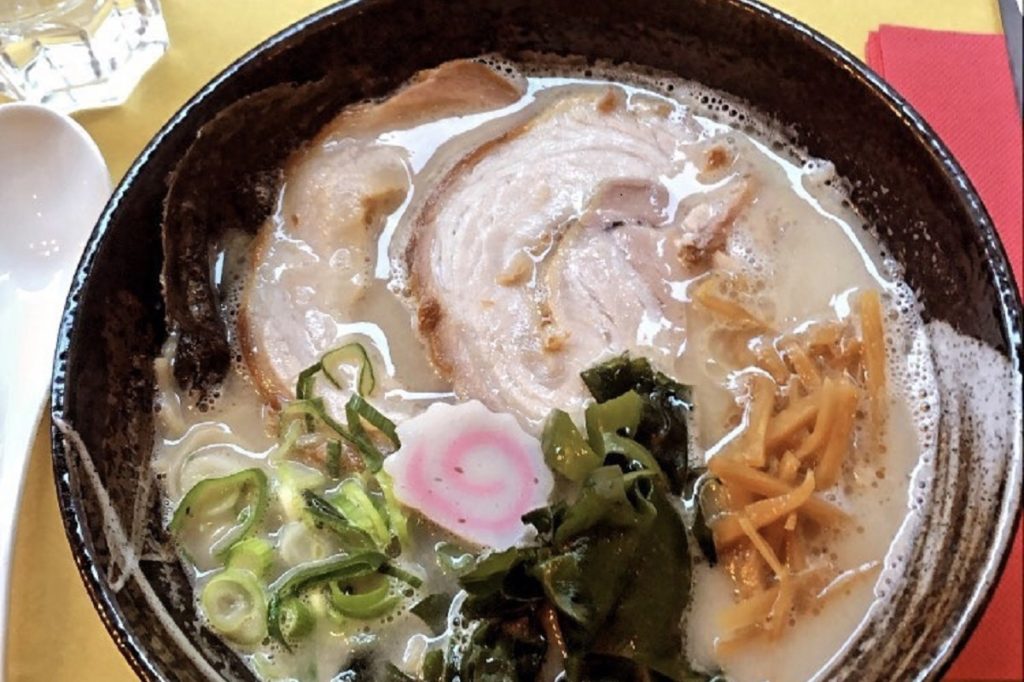 Ramen shop is a really small place, it will have a maximum of fifteen seats and there is often a queue outside to eat, so I advise you not to go during rush hour if you don't want to wait too long. In any case, the food is worth the wait: at the entrance you immediately notice a gentleman in the kitchen who literally "bangs" the fresh pasta that will be used to make ramen on a wooden counter; the scent of savory broth is intoxicating as soon as you open the door of the restaurant and the lady who welcomes you is very kind and seats you as soon as a seat becomes available.
The ramen bowls range from the more classic tonkatsu to the more particular ones such as fish ramen or roast-beef ramen. It's also possible to order bao or gyoza as appetizers, but I usually never order them because a plate of ramen is enough for me and above all because I want to savor the ramen and fill up on that yummy broth.
The service is fast and the staff is welcoming, they even bring a fork if anyone has trouble eating with chopsticks. Don't expect a chic restaurant, but the quality/price ratio of these bowls is really worth a visit if you are in the area.
Ramen Shop
Via Alessandro Tadino, 13 (Metro M1 Lima/Porta Venezia)
Misciò for a cheap breakfast in Milan
Breakfast with a brioche filled with your favorite stuffing on the spot for only 1 euro? You can find it at Misciò in the Lambrate area, a bar that bakes croissants, cookies, cakes and other goodies for a delicious breakfast at a very cheap price. I went for breakfast with a friend of mine and we had a brioche stuffed with hazelnut cream and the other with white chocolate and berry jam, both at the price of 1 euro each.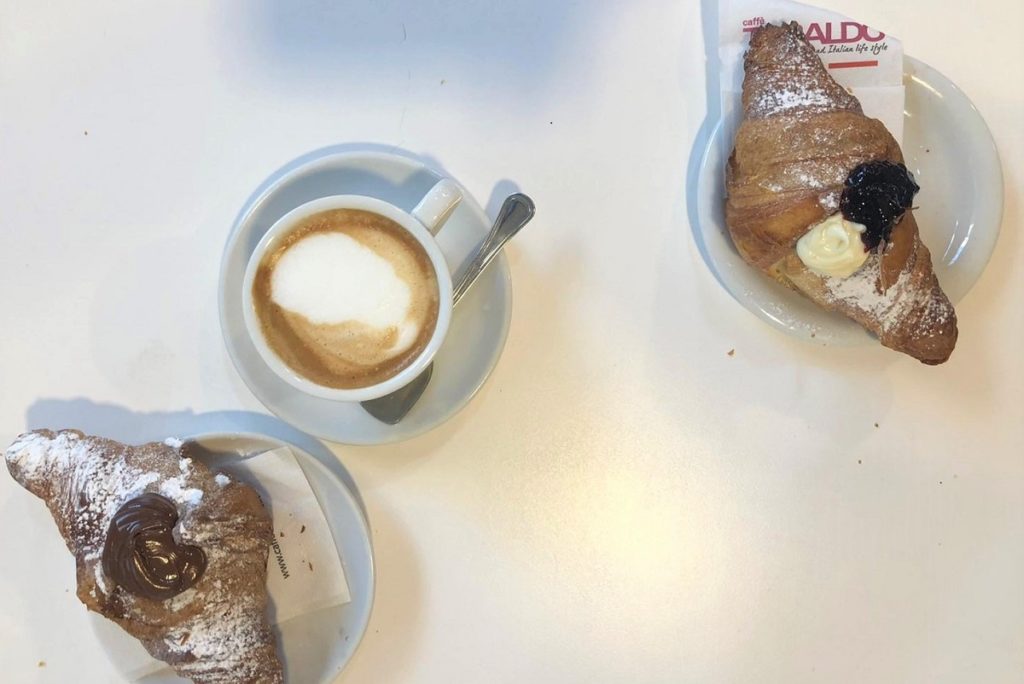 The bar stays open all day until the evening and is also worth a try for lunch and an aperitif. First and second courses of the day range between 7 and 9 euros. They are very simple but of good quality, while the aperitif formula for less than 10 euros seems super convenient, and I would like to try it especially during the summer, since the bar has a small external courtyard.
Misciò
Via Teodosio, 37 (Lambrate M2 station)
Ravizza: cheap aperitivo in the Duomo area of Milan
Looking for a place to have a cheap aperitivo for 10 euros behind Piazza Duomo in Milan? One of the best restaurants in Milan city center, Da Ravizza 1871, is a Sicilian pastry/rotisserie that starts serving an excellent aperitivo from 6 pm with all kinds of dishes prepared by them daily: savory brioches, baked anelletti alla palermitana, vegetable pies, chips … and so on and so forth. The drinks and food are good and for the price I would also say very generous.
In the photo you can see the portion of the aperitif for two people; I would consider it more of a dinner than aperitivo given the quantities. We spent 10 euros each for everything that was brought to us in these trays plus cocktails (a soft drink and a Mojito). The blog already mentions this bar along with other places to have an aperitivo in the Duomo area of Milan, so go and have a look for more tips!
Ravizza 1871
Via Ulrico Hoepli, 3 (Duomo M1/M3 station)
Where to eat low cost in Milan: the list
Finally, here is a handy list to screenshot of cheap restaurants in Milan to try as a student:
Bar Trattoria Madonnina – Via Gentilinio, 6 (M2 Porta Genova station; tram 3)
Bar Trattoria Il brutto anatroccolo – Via Evangelista Torricelli, 3 (metro M2 Romolo station)
Trattoria Fà Ballà L'Oeucc – Via Pistoia, 19 (Baggio – reachable by car or by public transport by taking the M1 metro to the Bisceglie stop and then bus 58 to the Via Val D'Intelvi stop)
Trattoria San Filippo Neri – Viale Monza 220,  (M1 Precotto)
Trattoria Sabbioneda Da Romolo – Via Alessandro Tadino, 32 (metro M1 Lima station)
Miscusi – Various locations in Milan and other cities in Italy
Pizza e mozzarella – Via Carlo Torre, 22 (metro M2 Romolo station; bus 90)
Spontini – Various locations in Milan
Puccia's Brothers – Piazza Virgilio 3 (metro M1/M2 Cadorna FN station)
Tang Gourmet – via Paolo Sarpi, 17 (Transit: Bus: 43, 57, 94; Metro: M5 lilla Monumentale station; Tram: 12, 14)
Ramen Shop – Via Alessandro Tadino, 13 (Metro M1 Lima/Porta Venezia stations)
Misciò – Via Teodosio, 37 (metro Lambrate M2 station)
Ravizza 1871 – Via Ulrico Hoepli, 3 (metro Duomo M1/M3 station)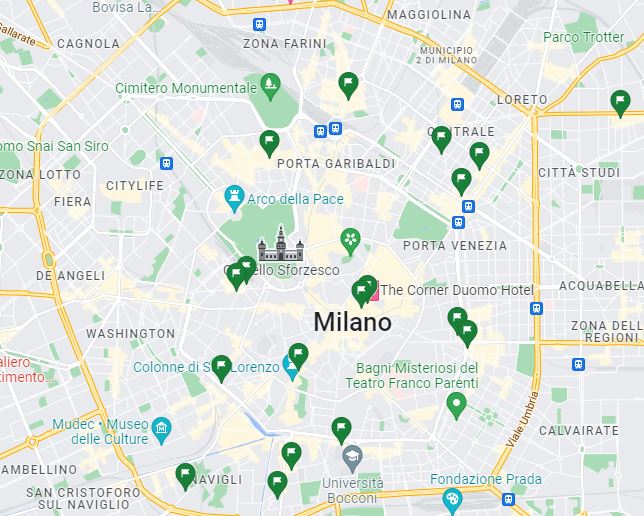 Article written by contributor Giulia Minguzzi
And you, do you know other cheap restaurants in Milan? What do you think? Let us know on Facebook or Instagram!
Want to read something else? Here are the best restaurants in Brera in Milan and the best ones in Isola, the best burger joints in Milan and the best breakfast in town.