Potete leggere l'articolo sui ristoranti in zona Duomo anche in italiano.
The Duomo of Milan and its piazza need no introduction. Symbol of the city, the Duomo is the main attraction of Milan. Climbing its steps up to the terraces above to enjoy the view that stretches to the Alps (if the sky is clear) is a must for every tourist. Eating well in the Duomo area of Milan, without paying an arm and a leg is no easy task, but I'm sure the restaurants I've selected will leave you more than satisfied.
Finding a nice place to eat in the Duomo area is not easy. The tourist traps in the area are one after another after another, with their frozen pizzas and the waiters that try to pack in as many customers as possible. Fortunately, there are some places where it's still possible to dine (and even have lunch!) without getting screwed over, that is, if you know where to go. Here are my selections of restaurants in Duomo that will leave you more than satisfied. After all, why should you have to give up a chance to have dinner under the shadow of Madunina?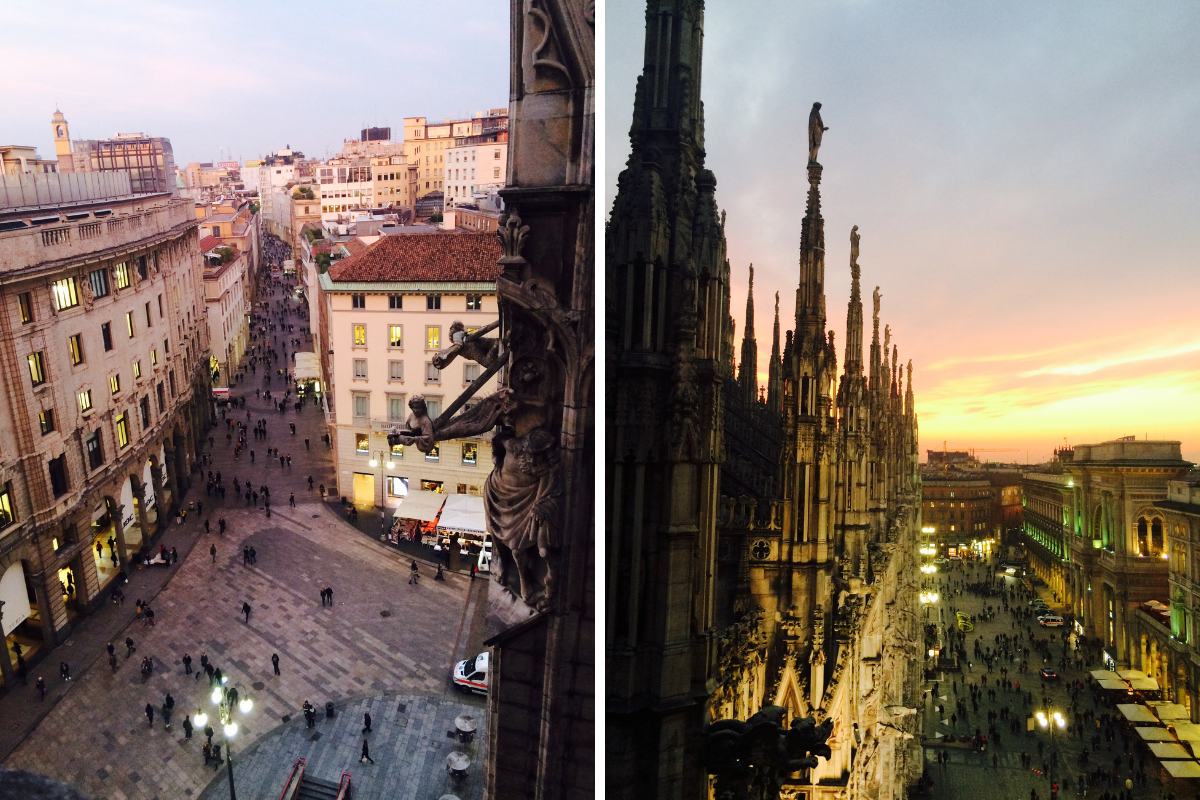 Here they are for you, from north to south: Briscola Pizza Society, Temakinho, Signorvino, Slow Sud (Bar Ravizza, on the other hand, is my suggestion for dinner in abundant aperitif format).
Briscola Pizza Society: great pizza in Duomo
Briscola will be your salvation if you're looking for a good pizzeria in the Duomo area (and you don't want to spend hours in line at Gino Sorbillo). Unpretentious and minimalist furnishings in shades of black, gray, red and wood, Briscola offers really good pizzas and … it's great to Instagram! Do you know that the mini-pizzas are a specialty here? They are perfect for those who can't decide and want to try everything!
Briscola Pizza Society
Via Dogana, 1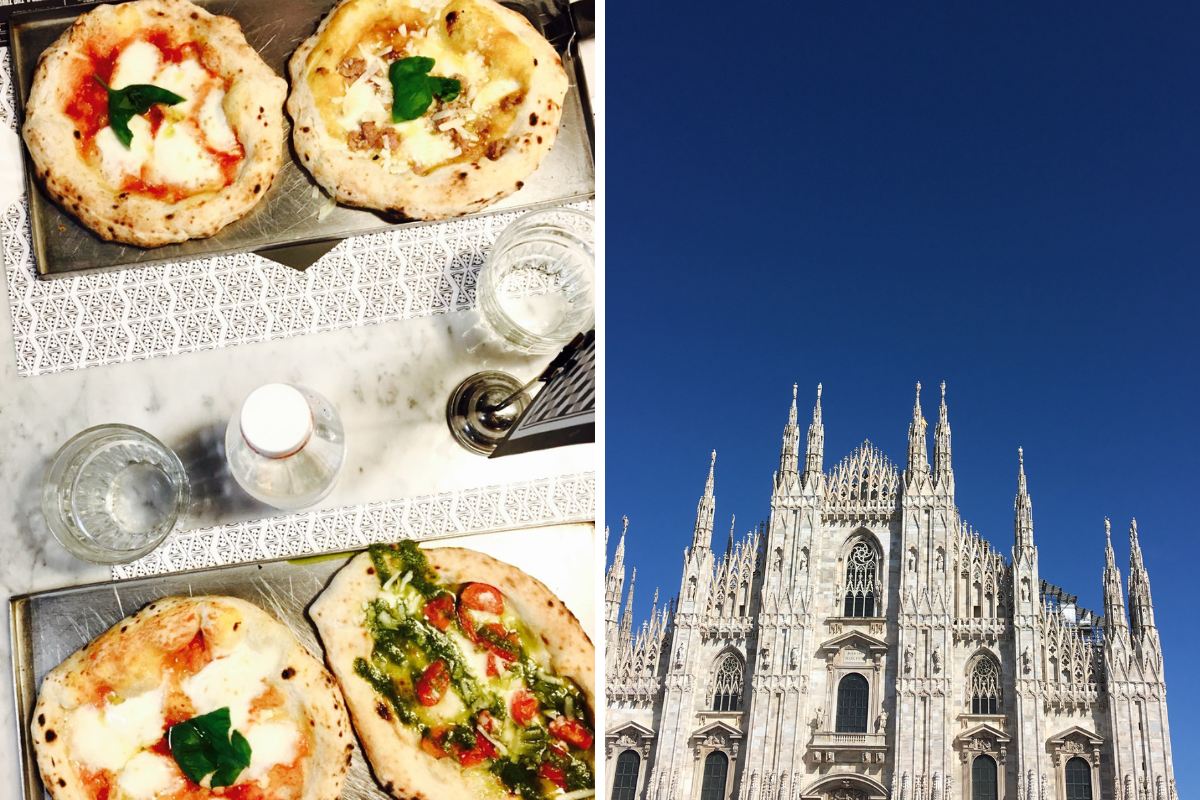 Temakinho: the most famous Japanese-Brazilian fusion restaurant
Whoever doesn't know Temakinho, raise your hand. The Japanese-Brazilian restaurant is an institution in the city and after the restaurants in Navigli, Brera and Cadorna it has opened in Duomo, in front of the Museo del Novecento (and next to Briscola). At Temakinho, you'll find temaki, uramaki, poke and many other Japanese-inspired dishes with a Brazilian twist. Cocktails are also out of this world, especially the sakerinha with mango and pink pepper. The cherry on top? The room downstairs is totally pastel pink.
Temakinho
Via Guglielmo Marconi, 4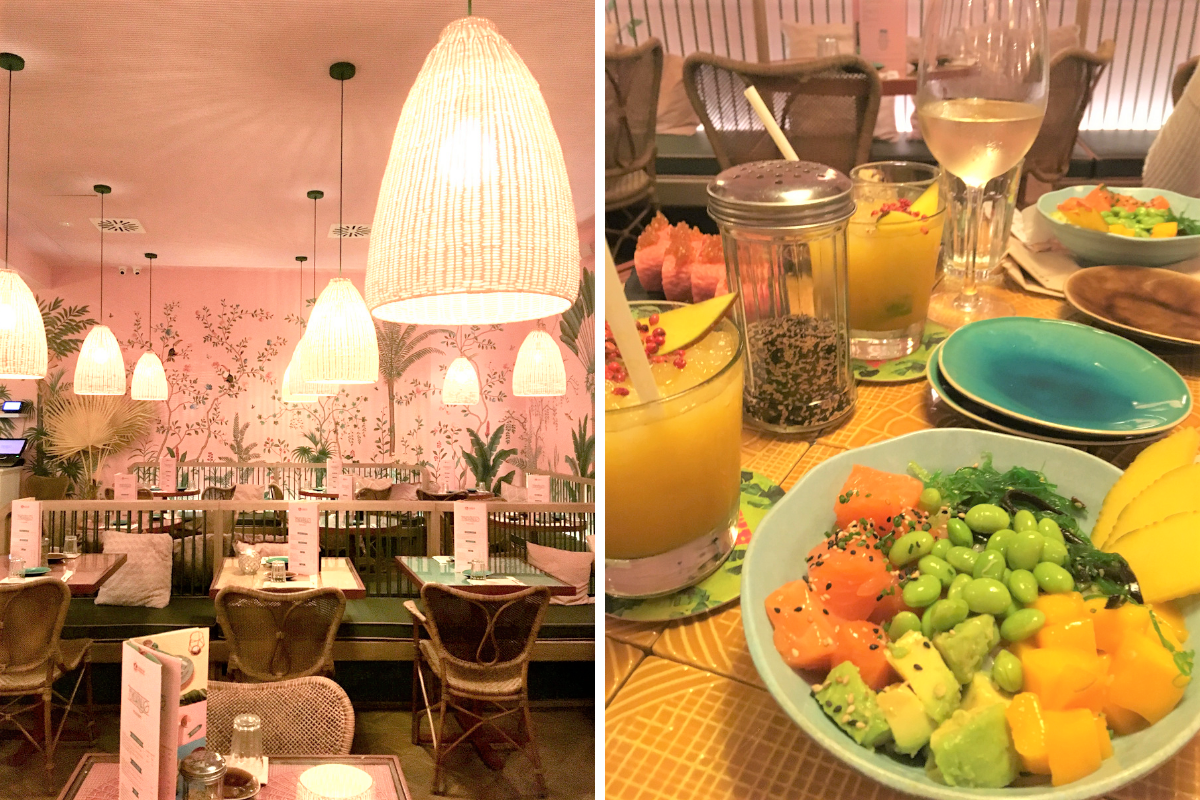 Signorvino: fine wines overlooking the Duomo
If you want to eat while looking out at the Madunina, Signorvino in Duomo is your best option. The prices are honest and not over-inflated for the location, the wines are great, and the food is really good. I've been there several times both for the aperitif, which is not buffet style, and for dinner. As an aperitif, you can order a charcuterie board and delicatessen such as stuffed olives and arrosticini (kebabs from the Abruzzo region). For dinner, the menu ranges from burgers to typical Italian dishes.
Signorvino Duomo
Piazza del Duomo, 22
(also in Via Dante, 15)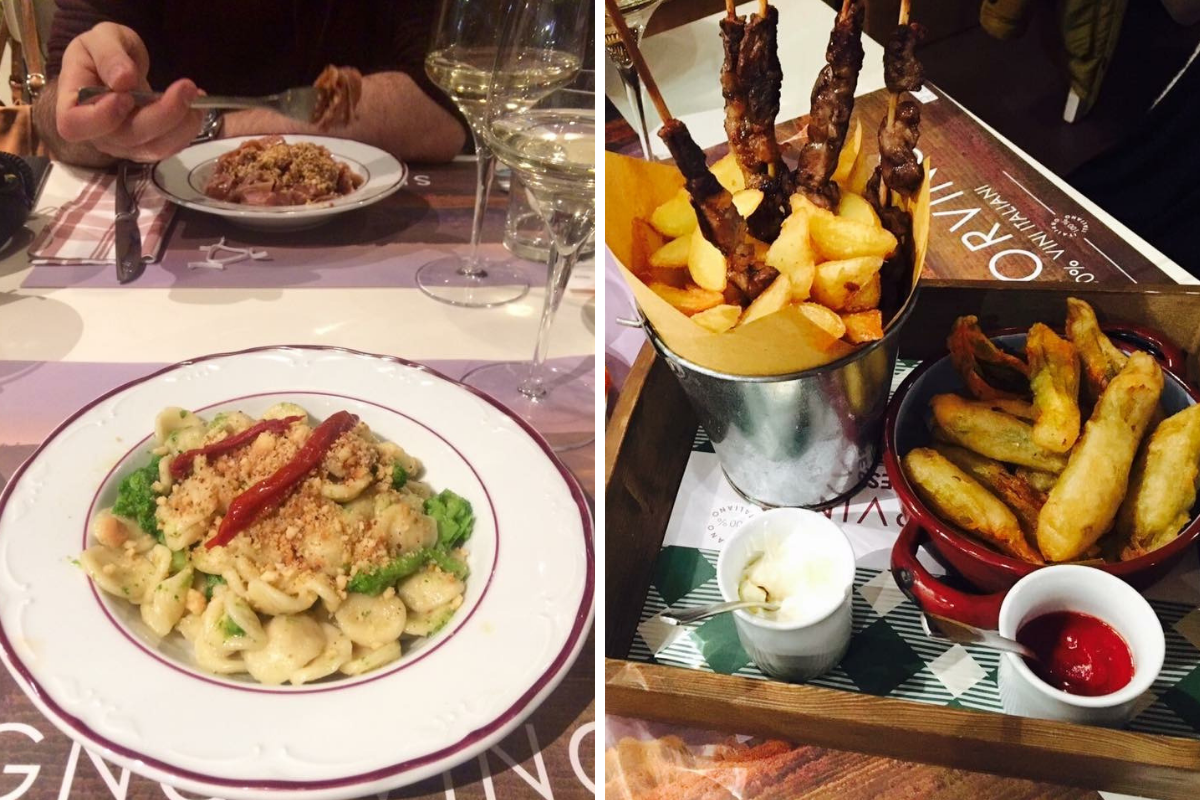 Slow Sud: the flavors of the South (and swings)
At Slow Sud, there are swings and really this should already be enough to get you to go there. If you need more motivation, just know that the cuisine is excellent and, of course, Southern Italian. The menu features traditional dishes such as pasta alla Norma and more imaginative dishes entrusted to the chef's imagination such as spaghetti alla chitarra with pistachio and basil pesto, served with seared whole shrimp and fresh stracciatella. Even the cocktails are really good!
Slow Sud
Via delle Asole, 4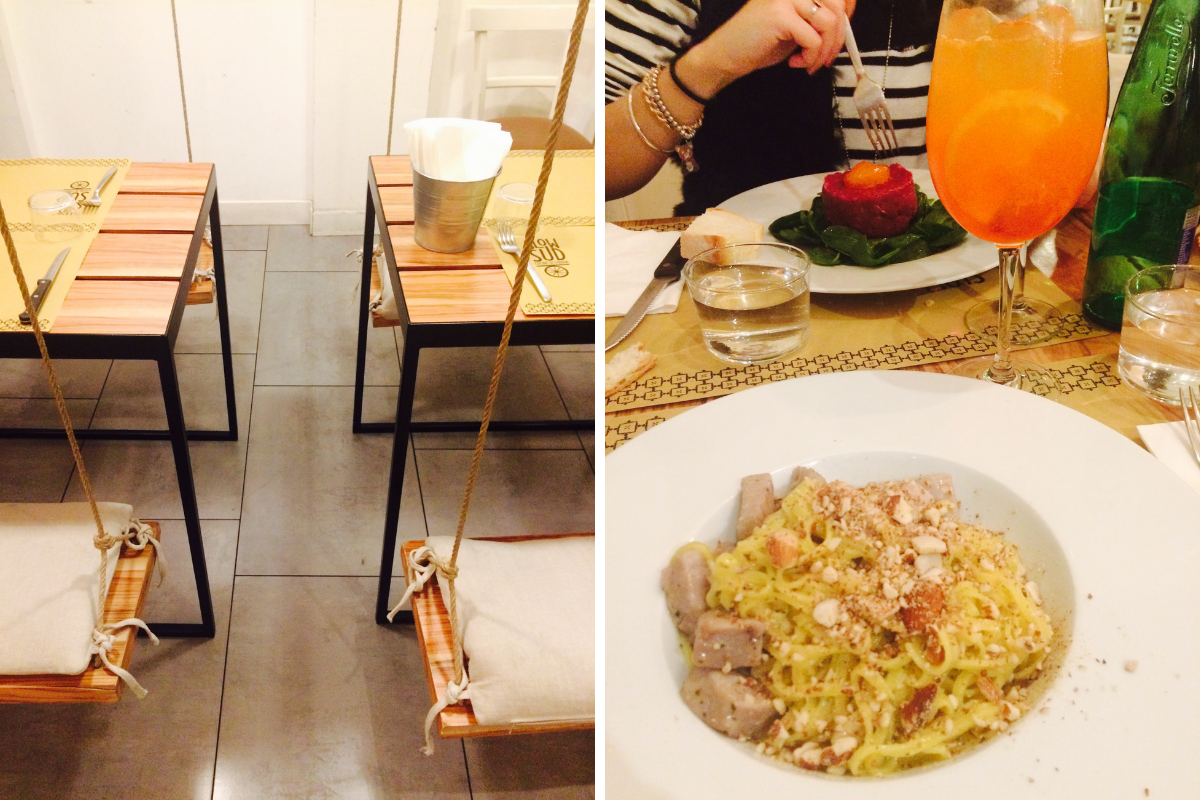 If you want to spend a little less or you're just looking for an aperitif-style dinner in the Duomo area and not a true sit-down meal, I would suggest you go to Ravizza (via Ulrico Hoepli, 3): it has a super filling buffet aperitif and danubi, or sweet rolls stuffed with ham and cheese. And if you have a little space left for dessert… how about visiting the workshop of Iginio Massari, king of Italian pastries, just a stone's throw from the Duomo?
Where to eat in Milan, close to Duomo
A'Mare (via Santa Tecla, 3) – Italian restaurant
Briscola Pizza Society (via Dogana, 1) – pizza
Ciciarà (piazza Santo Stefano 8) – Italian restaurant
Gastronomia Yamamoto (via Amedei, 5) – Japanese restaurant
Giardino di Giada (via Palazzo Reale, 5) – Chinese restaurant
Ravizza (via Ulrico Hoepli, 3) – cafè
Signorvino Duomo (piazza del Duomo, 22 e via Dante, 15) – Italian restaurant
Slow Sud (via delle Asole, 4) – Italian restaurant
Temakinho (via Guglielmo Marconi, 4) – Japanese restaurant
Wagamama (via San Pietro all'Orto, 11) – Asian restaurant
Visualizza questo post su Instagram
What do you think of the restaurants I've chosen? Have you ever been to any of them? Let me what you think on Facebook or Instagram!
Feel like reading something else? Here are the best hamburgers in Milan, the best cheap eats in Milan, some historic patisserie for a fancy breakfast and… the complete itinerary for a weekend in Cinque Terre!