Potete leggere l'articolo sui ristoranti di CityLife a Milano anche in italiano.
Article written by contributor Katherine Melendrez
A product of the redevelopment of the area surrounding the former exposition center, CityLife is a paradigm of modern-day Milan: modern, dynamic and in continuous transformation. After all, as the saying goes, "nothing is created, nothing is destroyed, everything is transformed".
A little bit removed from the city center, today CityLife is known for being one of those areas where, you're either born into the "right family", or, like the rest of us from the "thousand-euro-per-month generation", you'll never be able to afford an apartment there. But, if you are lucky enough to work in the area, we've come up with some hidden gems where you can eat, based on the restaurants' prices, menu and service.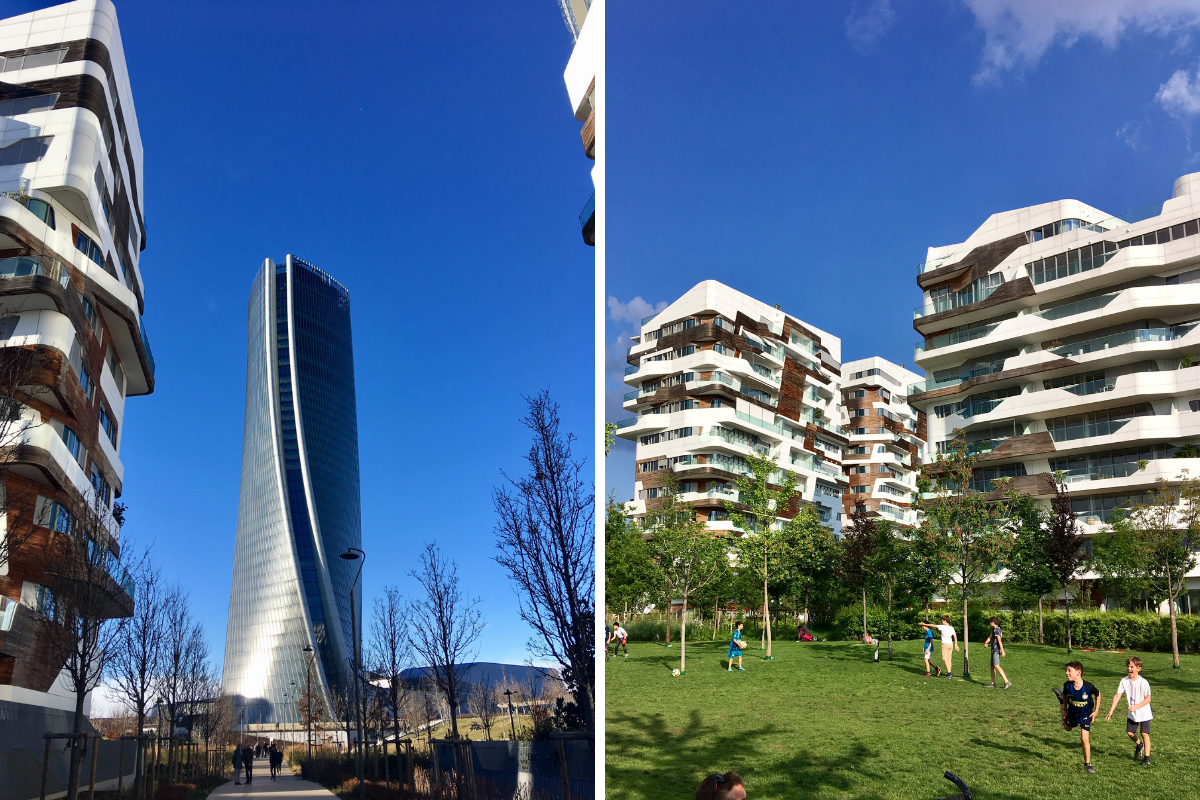 Where to have lunch (or dinner) in CityLife?
Feltrinelli RED perfect for an easy break
The menu is eclectic, with mostly simple dishes. At RED you can have lunch or dinner immersed in fine literature and jazz music in the background.
Price: <20€ for a lunch menu that includes water and coffee.
Menu: the menu varies from pasta, meat, fish, salads etc., but remains simple and the ingredients are good quality. The fixed menu is accompanied by the "specials of the day" menu.
Service: I often go with 4-5 colleagues and we're generally able to be seated and eat in less than an hour (in any case, I suggest you reserve in the morning because they don't accept reservations after 12.00!).
Bonus: if you ever find yourselves in a situation like "where should we go?" "Do you feel like having a pizza?" "I'd rather have a salad" "I'm so hungry, I'm craving carbs!", then RED is the place for you!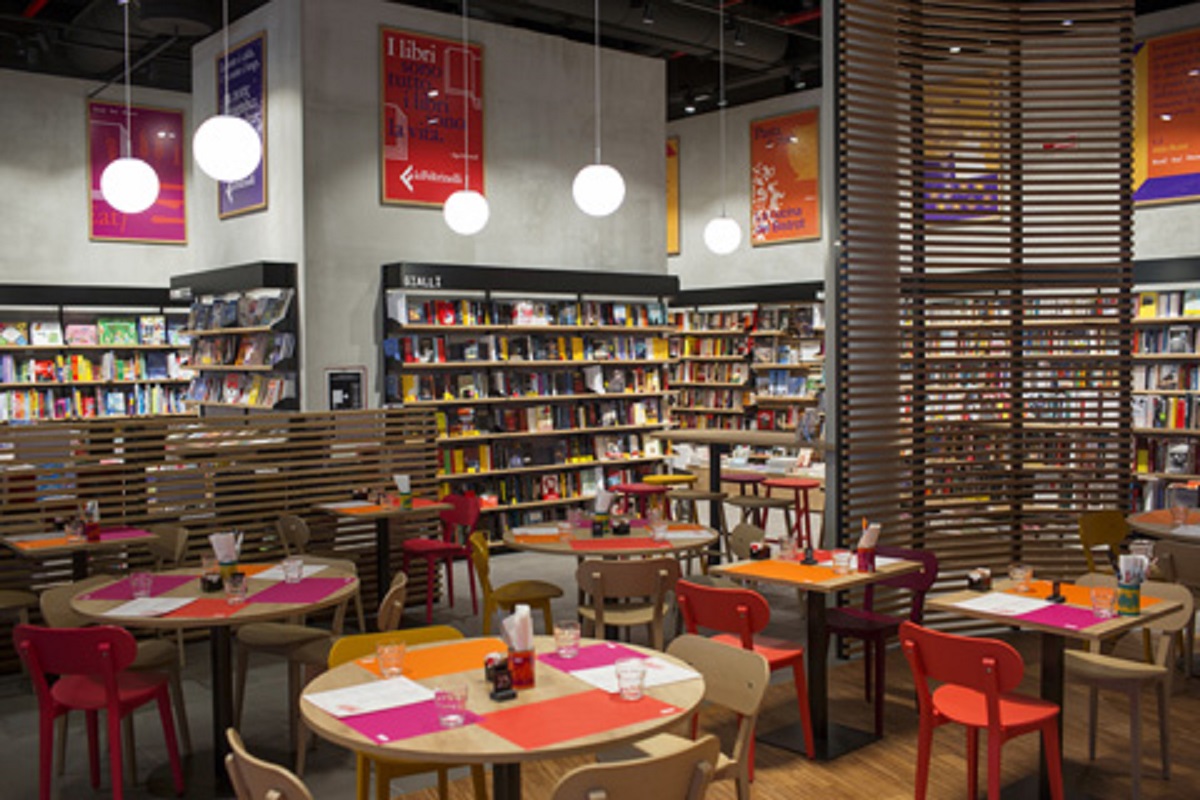 Fra Diavolo: Pizza in City Life
The brand is not very appealing, but if you are looking for a pizza, I assure you that Pizza Express is the right place for you!
Price: >15€
Menu: amazing pizza both traditional or modern
Service: they are nice and fast
Bonus: they also won prizes for their pizza!
Vivo: seafood restaurant in CityLife
If you're craving fish, Vivo is the place for you!
Price: >15€
Menu: in addition to the fixed menu of seafood, you also have the catch of the day. The dishes are delicious and excellent quality, but if you're very hungry, it may not be the right place for you.
Service: generally, you can do everything in less than an hour.
Bonus: ideal in summer as the restaurant has an outdoor terrace surrounded by a flower garden – known for being the favorite place for to bring someone for a date
Sushi in CityLife, Milan: Feel
Are you in the mood for sushi? Feel is the place for you. Located in Via Boezio, a short walk away from Piazza 6 Febbraio and a 5-minute walk from CityLife, the Feel is one of the places I absolutely love for the excellent quality (and quantity) / price ratio!
Price: roughly €15, with water, and your choice of miso soup, salad or spring roll.
Menu: sushi
Service: speedy. I'd recommend booking a table the day before, especially if you're more than two or three people.
Bonus: despite being a seafood restaurant, you can go there without having to wash your clothes (ideal if you have meetings in the afternoon!)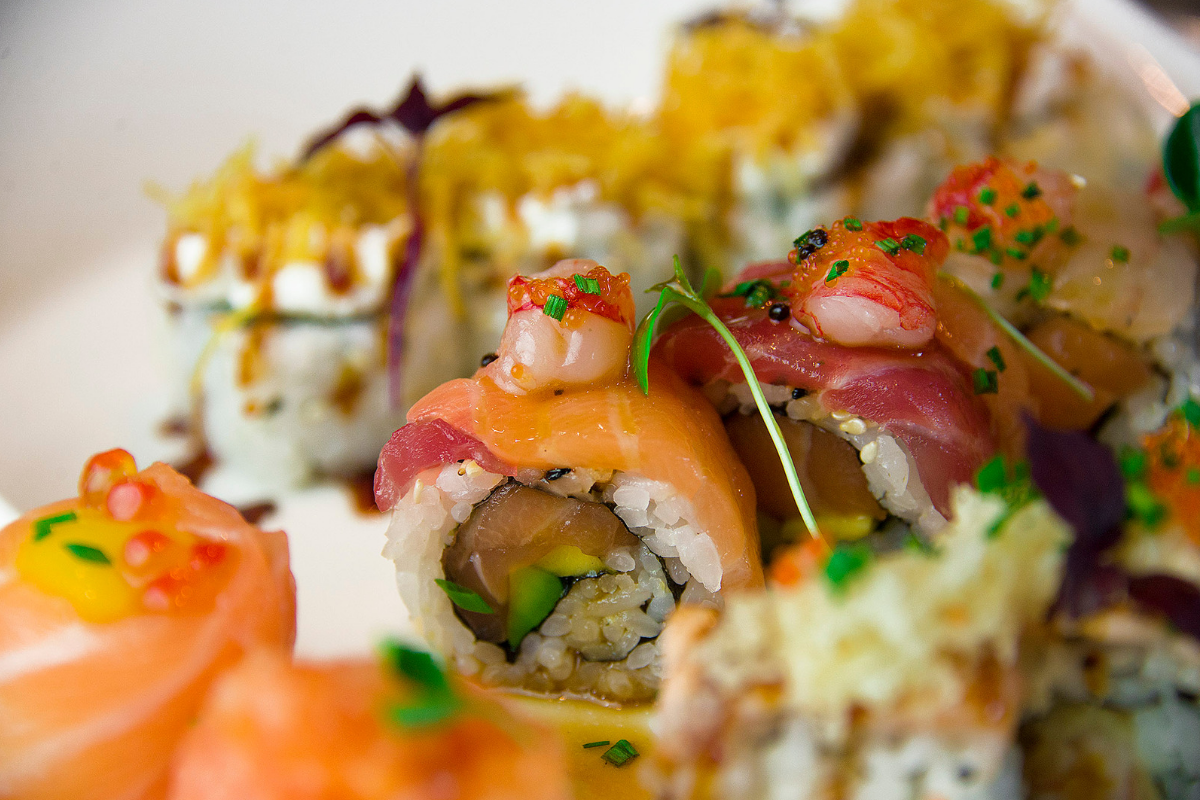 Where to have aperitivo (or dinner) in CityLife?
Bomaki Uramakeria in CityLife
Bomaki is, and remains to be, my favorite Brazilian Sushi restaurant in Milan: delicious sushi fusion, drinks and excellent value for money, both for lunch and dinner!
Price: >€15
Menu: Japanese-Brazilian sushi fusion
Service: at lunchtime, the restaurant is completely full of people, and so the service is hopelessly slow, but at dinner, especially during the week, it's a great place to eat.
Bonus: the menu offers an aperitivo for € 7 (including drink + edamame, selection of uromaki), perfect for a post-office drink.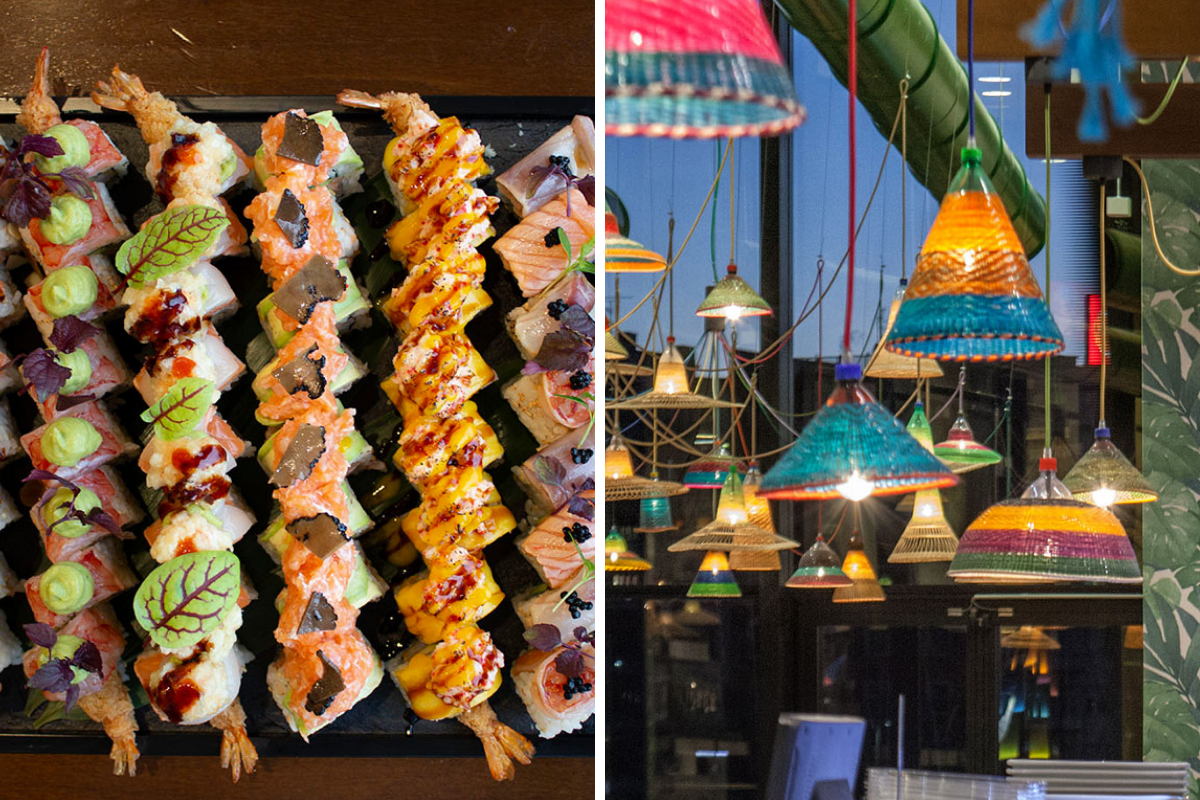 GUD CityLife Milan: a great place for a drink
Price: <€10
Menu: drink + snacks
Servizio: n.a.
Bonus: GUD (chapeau to whoever came up with the idea!), is certainly among the most Instagrammed places of the summer. Situated in the middle of a vegetable garden, the location gives off a country-esque atmosphere: hay bales, beach towels and beach umbrellas, which are illuminated by lights in the evening. The somewhat Coachella/beach party mood makes GUD the perfect place if you're looking for a husband. (Know that consultants from the most famous consulting firms proliferate in the area). So, if you're looking for someone in their thirties who works in the world of finance or consulting, forget about Radetzky in Corso Como and opt for GUD! P.S. Remember the tropical mosquito repellent.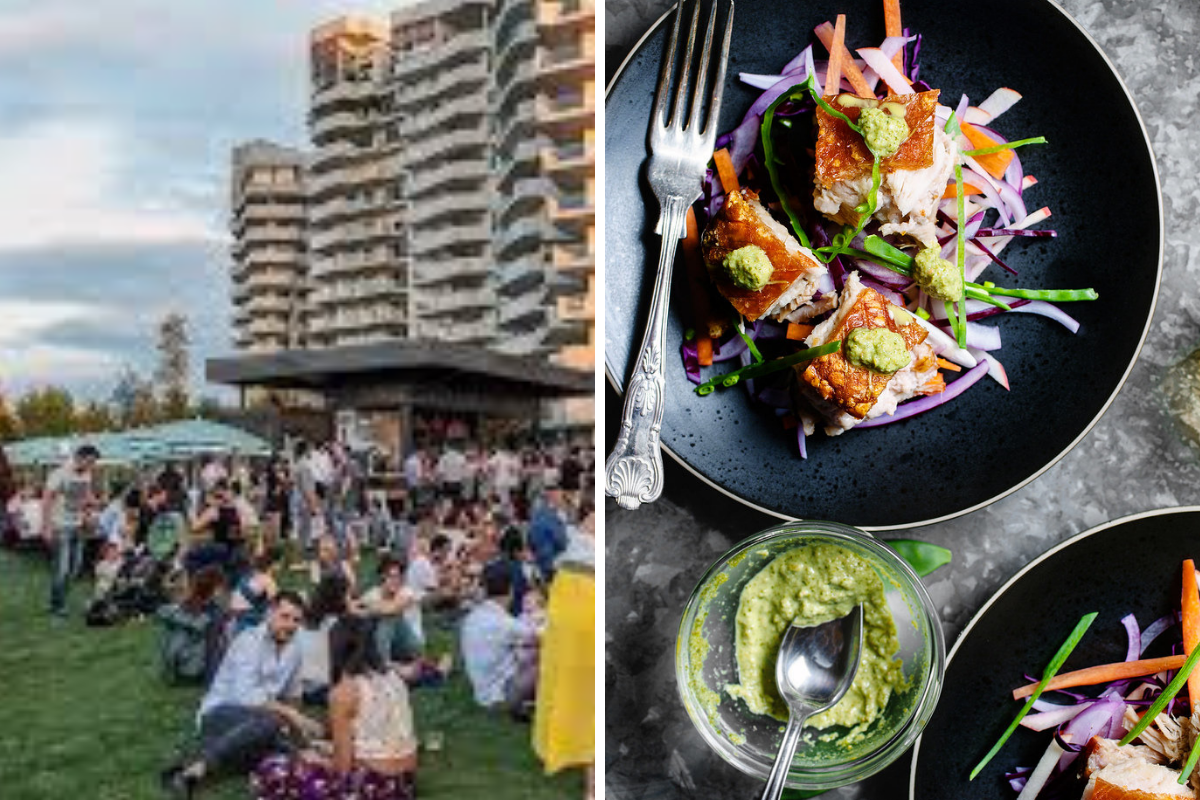 Some final suggestions on Citylife Milano restaurants
Few other places to try:
Pokè House
Svinazzando
California bakery
That's Vapore
Peck
If you're organizing to reserve a table for eating out, Friday is the day for you. Not everyone knows this, but in the world of insurance there's what's called "Insurance Friday", which ends at 2PM for most people!
But what about coffee?! In CityLife, you have: Venchi (where, in addition to the € 1.10 coffee they will give you some chocolate), Cioccolati Italiani and other bars. But, if you really want to maximize the quantity / price ratio, know that on the ground floor of the shopping center, in front of Tiger, there's Juicy Bar stand where, for the price of a coffee, they'll also give you a small cup of ice cream!
Article written by contributor Katherine Melendrez
Visualizza questo post su Instagram
So, what do you think of these restaurants in CityLife, Milan? Have you ever been to any of them? Let me know on Facebook or Instagram!
Feel like reading something else? Read the article on the most Instagrammable bars in Milan or … take a look at the articles on typical Milanese restaurants, best aperitivo close to Bocconi university and the review of restaurant Mu Dim Sum.
COVER PHOTO: © SERENA MILICI