Potete leggere l'articolo sui bar più instagrammabili di Milano anche in italiano.
It's pointless to deny it: when it comes to choosing a bar to snack in, sometimes the selection criteria comes down to the bar's Instagrammability. When I say Instagrammable bars, I-m talking about those bars that combine a charming, stylish interior, great lighting and great food (or even better, great dessert), that mix together for the perfect photo to post on Instagram.
How to recognize an Instagram worthy bar?
The perfect bar for your Insta photos must meet the prerequisites when it comes to decor, lighting, food and clientele.
The bars showcase stylish interior design or follow a particular color scheme: all white, pastel colors, strong hues, neon, tropical prints, etc.
The spaces are flooded with natural light from large windows and/or the rooms are illuminated with lights that are not excessively yellow, and above all, they do not have lamps that shine perpendicular to the tables, ruining the flatlay (the much sought after photo taken from above eliminating depth) with their shadow.
The food is colorful, symmetrical, well-plated and is as pleasing to the eye as it is to the tongue, while flatware like the plates, glasses and mugs are white or specially designed.
The clientele is young and predominantly female, and everyone is taking photos of everything. Don't buy it? Pop into any one of the bars listed below and see for yourself!
Here is my list of the most Instagrammable bars in Milan, according to the numbers!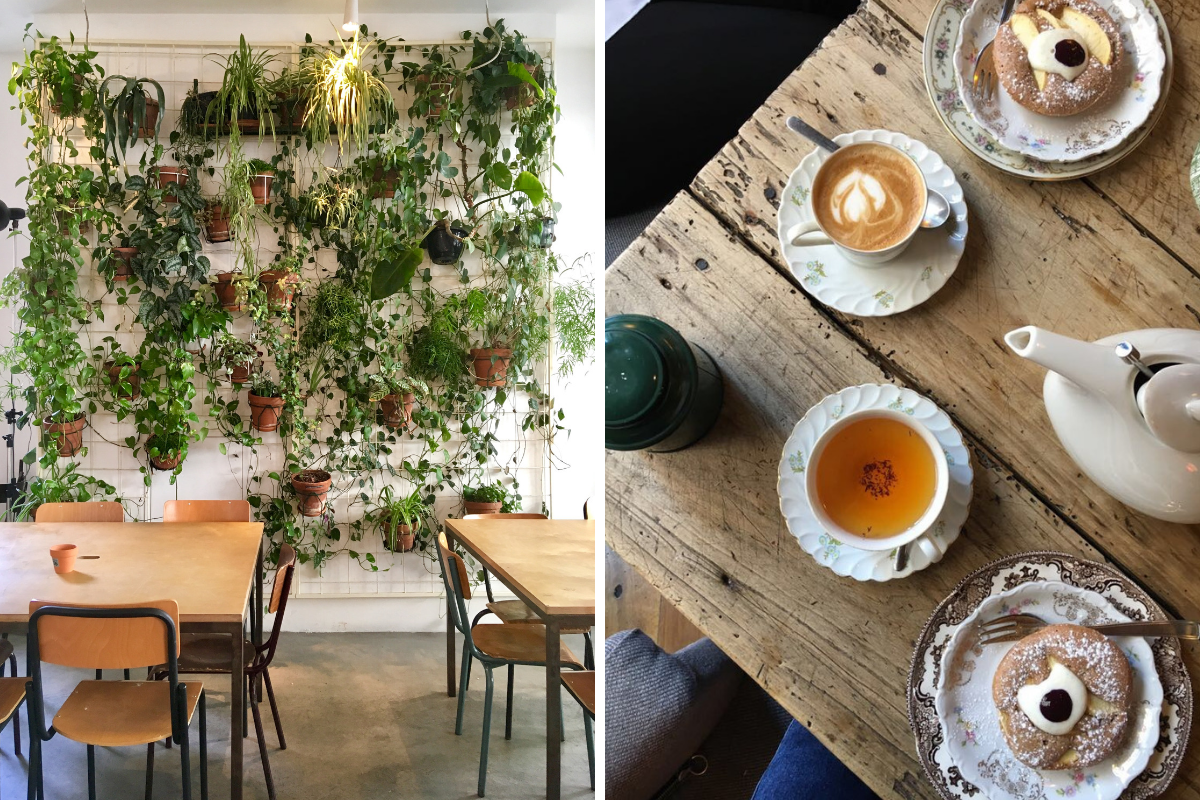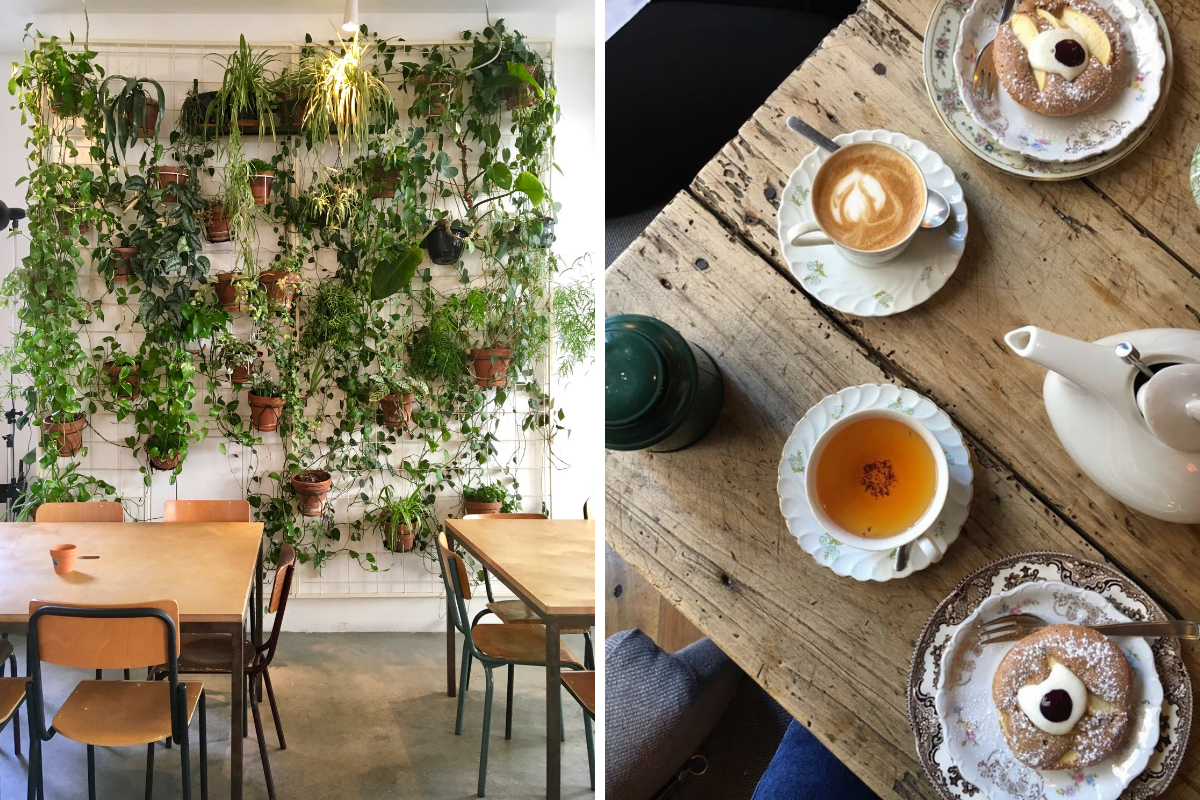 Pause: Kitsch wallpaper and paintings
Pause, perfect for a short break from a day of shopping, is located just a few blocks away from Corso Buenos Aires. It's the perfect example of an Instagrammable bar. I challenge you to find a blogger that has passed through Milan and hasn't taken a photo of the wooden tables, red and white wallpaper, green furniture, succulents, or clothing and jewelry for sale (more than just a bar, Pause is also a boutique).
I went there once and, of course, I've taken my fair share of photos of the spot and the food, accompanied by the natural lighting, light-colored table, and beautiful teapots. Did I ever go back? To tell you the truth, I haven't (any other photos I've posted of the place are #lategram), the cake that I ordered wasn't anything to write home about, and I rarely wind up around Corso Buenos Aires. But would I recommend it for photos? Absolutely!
Pause
Via Federio Ozanam, 7
Visualizza questo post su Instagram
Visualizza questo post su Instagram
Bar Luce: from Prada to Wes Anderson
Situated in the area close to the Lodi metro station, the Prada Foundation is a contemporary art museum complete with a restaurant with view and bar – the Bar Luce – designed by Wes Anderson.
Bar Luce is a mix between an old fashion Milanese bar, pastel and a Wes Anderson film (for obvious reasons). And the most Instagrammable spots? The pastel pink, green, and sky-blue tables and chairs, pinball machines, and the bar full of sweets with the baristas in uniform. Be sure to order the rose torte! Even the bathrooms are worth a visit for their interesting design!
Bar Luce
Largo Isarco, 2
Visualizza questo post su Instagram
Visualizza questo post su Instagram
MAM: Milano Amore Mio in the food district (NOW CLOSED)
Milano Amore Mio (MAM for short) is in via Muratori, in the food district of Porta Romana. At MAM you'll find compelling vegetarian options for lunch and dinner (their menu includes four plates that change every day, and that can't be modified or substituted by the customer, except in cases of intolerance or other health problems).
I've been for breakfast, and I found the food to be very good and the atmosphere very cute. The teas and cake were delicious, and the ceramics were beautiful. The restaurant is super Instagrammable, with furniture that spans several decades, mismatched chairs, kitsch details and wooden tables. My recommendation? Take the spot close to the window in order to take advantage of the natural light.
MAM Milano Amore Mio
via Lodovico Muratori, 7
Visualizza questo post su Instagram
Visualizza questo post su Instagram
Cantun: My favorite place for everything from breakfast to
aperitivo
Cantun Bakery & Bistrot is my absolute favorite place in the Corso Vercelli area. Originally born as a bakery, Cantun is perfect for breakfast, lunch, aperitivo or just a quick snack, and trust me, while I was working in that area, I went there every day.
And the Instagram appeal? The furniture is a mix of Nordic design (Eames chairs, just to give you an example) and industrial design, the walls are covered with maps and pictures of Milan. The bakery lies at the corner of via Polibio, so it is flooded from two sides with natural lighting. The food is always pleasing to the eye, from the soups and the avocado burgers, to the pasta and single-portioned desserts. My favorite dessert? The wild berry torte. It's really, really good, and extremely Instagrammable. My favorite table? During the summer, the tables outside. During the winter, the little table close to the window in the dining area.
Cantun 
via Polibio, 1
Visualizza questo post su Instagram
Visualizza questo post su Instagram
Otto: a must-see in via Sarpi
One of the bars most beloved by Milan's food bloggers is without a doubt Otto, a hidden gem of via Sarpi. At Otto, you'll find retro school chairs, wooden lounge chairs, couches, and plants, plants and more plants!  You'll also find large shared tables, lights and a wide patio that is perfect for the summer, not to mention lots of cocktails and delicious, well-plated food.
My favorite thing here is the brunch. You can order different plates by using the order forms and pencils available at every table, and your order is served to you on a tray. The toast with tartare, potatoes, desserts and meats are all delicious. And everything, I repeat, everything is very Instagrammable.
Otto
via Sarpi, 8
Visualizza questo post su Instagram
Visualizza questo post su Instagram
LùBar: the super chic Sicilian bar
Another museum, another very Instagrammable bar. Here we are at the GAM Galleria d'Arte Moderna (Modern Art Gallery) in the Palestro area, and the bar in question is LùBar: a Sicilian restaurant full of plants, pastel hues, statues and a charming retro atmosphere.
And as for Instagram? A photo on the couches, among the plants with a salmon avocado toast on your plate is a must.
LùBar
via Palestro, 16
Visualizza questo post su Instagram
Visualizza questo post su Instagram
Gelsomina: a patisserie dressed in white
First opened for business at the tail end of 2018, Gelsomina immediately asserted itself as one of the most Instagrammable locations of Milan. Why? The all-white furniture, cacti and prickly pear, the pillows, the antique porcelain and above all, the desserts with Sicilian roots.
My advice for "the 'gram"? Order a tea and some of the pastries to take advantage of the teapots a la Marie Antoinette. Enjoy the amazing pastries, and take photo after photo after photo! After all, photos of sweet treats in a whitewashed bar are perfect for every feed!
Gelsomina
via Carlo Tenca, 5
Visualizza questo post su Instagram
Visualizza questo post su Instagram
What do you think of the bars I've chosen? Have you ever been to any of them? Let me what you think on Facebook or Instagram!