Some days you just need a good salmon poke in a chic little restaurant and some days you're just in the mood for some polenta and a cotoletta the size of an elephant ear with a nice glass of red wine in a typical Milanese trattoria. If you are more inclined toward the latter, this is the article for you.
I recently visited two typical Milanese trattorias in the Porta Romana area (close to Bocconi area): Trattoria Amici Miei on Viale Bligny and Osteria dell'Acquabella on Via S. Rocco. Both trattorias serve typical Milanese cuisine: Milanese-style cotoletta the size of elephant ears (a cutlet, typically veal, that's been breaded and fried), saffron risotto, ossobuco, polenta, mondeghili (meatballs) and … a lot of wine, just as every trattoria should!
Dinner at Trattoria Amici Miei: giant Milanese cotoletta
Croutons with lard and honey, three kinds of cold cuts with brined vegetables, Milanese-style cotoletta the size of elephant ears, stewed venison with polenta and a bottle of red wine (unfortunately I can't remember which one): that's what I tried in this trattoria in Porta Romana.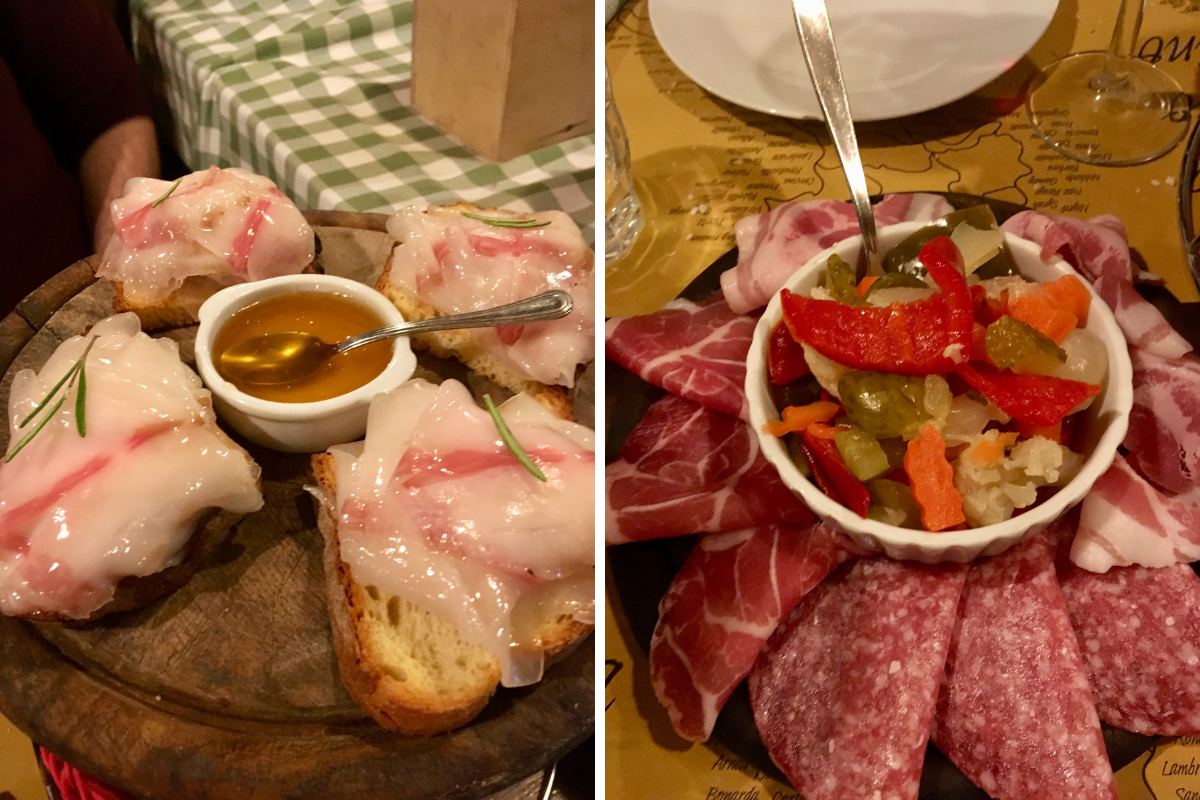 The venison with polenta was particularly exceptional. The trio of salami was also excellent. The Milanese cotoletta was enormous, truly the size of an elephant's ear, and it was delicious. Still on the bone, the cotoletta at Trattoria Amici Miei was so good, though maybe a tad too thin.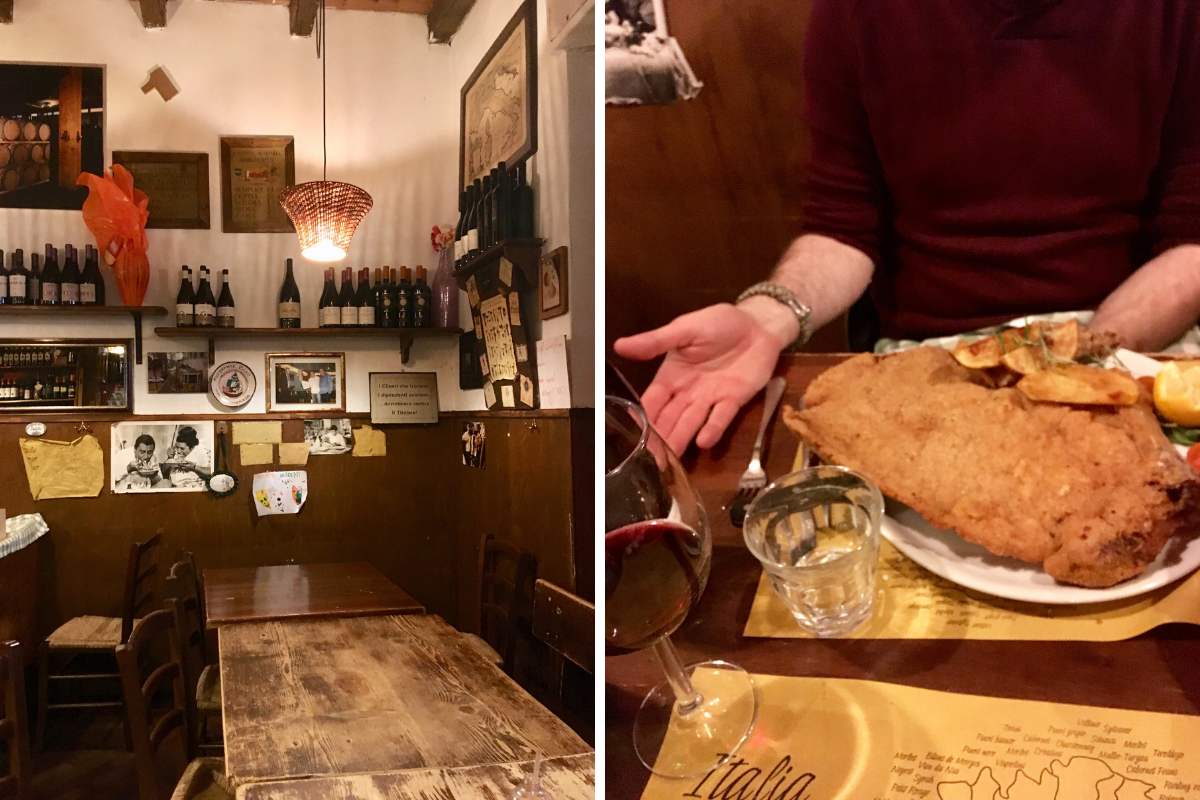 The restaurant is not very large but well taken care of, there are paitings and photos all over the walls, the atmosphere is pleasant, and the staff is friendly. And above all, Trattoria Amici Miei is pet friendly! I was with a friend and his dog and the staff was more than accommodating.
Final opinion: I will definitely be coming back to this Milanese trattoria in the Bocconi area! The food was good, the location super nice, the price fair (€85 for everything I listed above, including the wine), not to mention the friendly staff. Bravi!
Trattoria Amici Miei
viale Bligny, 36 
Typical Milanese cuisine at the Osteria dell'Acquabella
Just a short walk away from the M3 metro station in Porta Romana, you'll find one of those little places where time seems to have stopped. Older Milanese patrons seated at tables, huge portions, food that isn't pretty but sure tastes good, simple decor, witty osteria phrases … The Osteria dell'Acquabella is all this.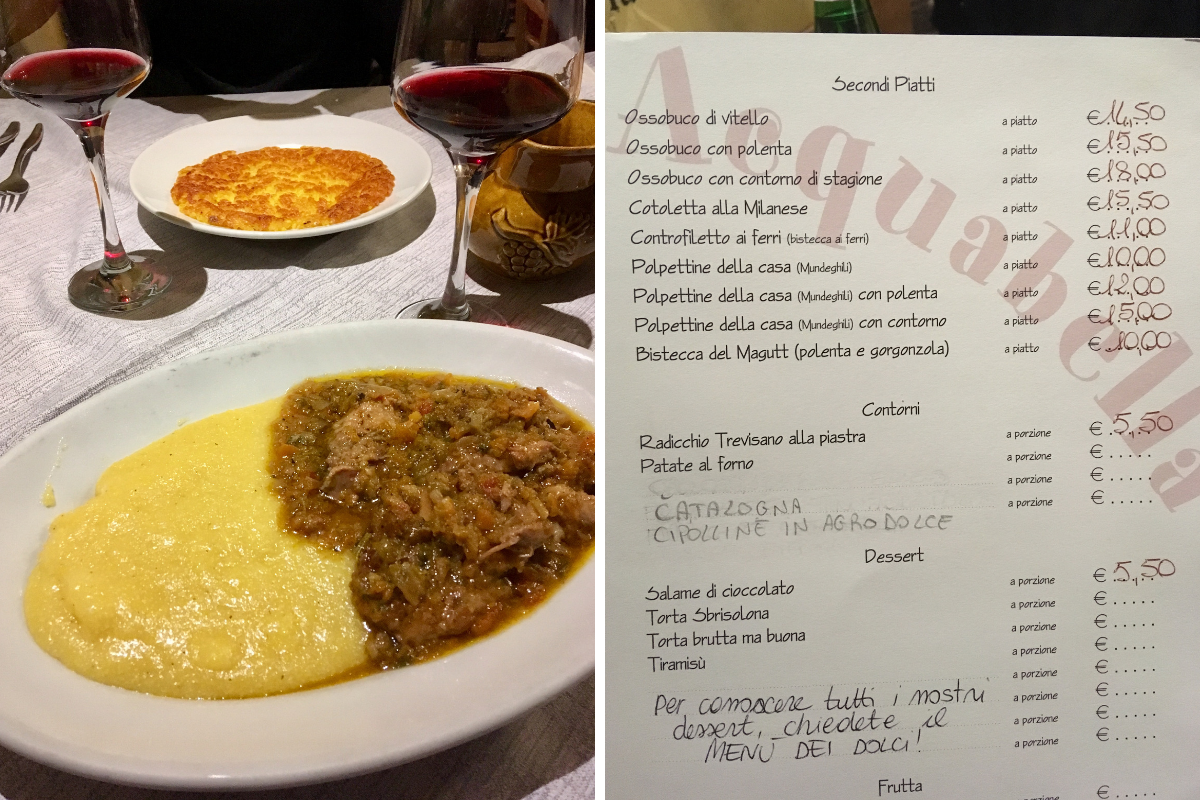 I went with a friend and we tried the ossobuco with polenta, pan-fried risotto wine. The ossobuco with polenta was amazing, the pan-fried risotto was good but tiny compared to the exaggerated portions of the other dishes. And yes, there are still places in Milan where you can eat a lot and eat well at an honest price.
Final judgment: I'll also go back to Osteria dell'Acquabella! I can't wait to try their Milanese cotoletta and polenta with cassoeula.
Osteria dell'Acquabella
Via S.Rocco, 11