You can also read this article in Italian here
Elderly ladies donning jewels and fur coats, seated at marble tables with wooden chairs, indulging in cakes and pastries served by waiters in formal attire in a historic pastry shop – this is the definition of the "sciura", and Milan is full of them. In Milanese dialect, "sciura" refers to the kind of older women that tend to frequent these kinds of elegant pastry shops, bundled up in their furs and jewels and all. 
While it's true that Turin is the queen of historic patisserie, Milan can also amaze you with pastry shops that can take you back in time. Let's take a look at some of the most well-known places to get a "sciura snack" and travel back in time.
Sant'Ambroeus: a Milanese pastry shop in the San Babila area
Sant'Ambroeus first opened its doors in 1936 and has earned its reputation as one of the historic pastry shops in Milan. This pastry shop in San Babila is like a time capsule: the wooden walls, elegant light fixtures, and waiters dressed in formal attire – all hallmarkers of another era. In addition to the indoor seating, there is also a veranda in Corso Matteotti.
For a truly authentic sciura snack, I recommend you order a cup of tea and a tray of assorted pastries on the side (€18 for 10 assorted pastries, €10 for 6 – the price for a single pastry is €2). There are also slices of cake and, around Christmas time, panettone.
What sets Sant'Ambroeus apart from the others are its cakes and panettone decorated with ironic, recognizable characters. The price of a panettone per kg: €40.
Sant'Ambroeus
Corso Giacomo Matteotti, 7 (closest metro stop: San Babila M1)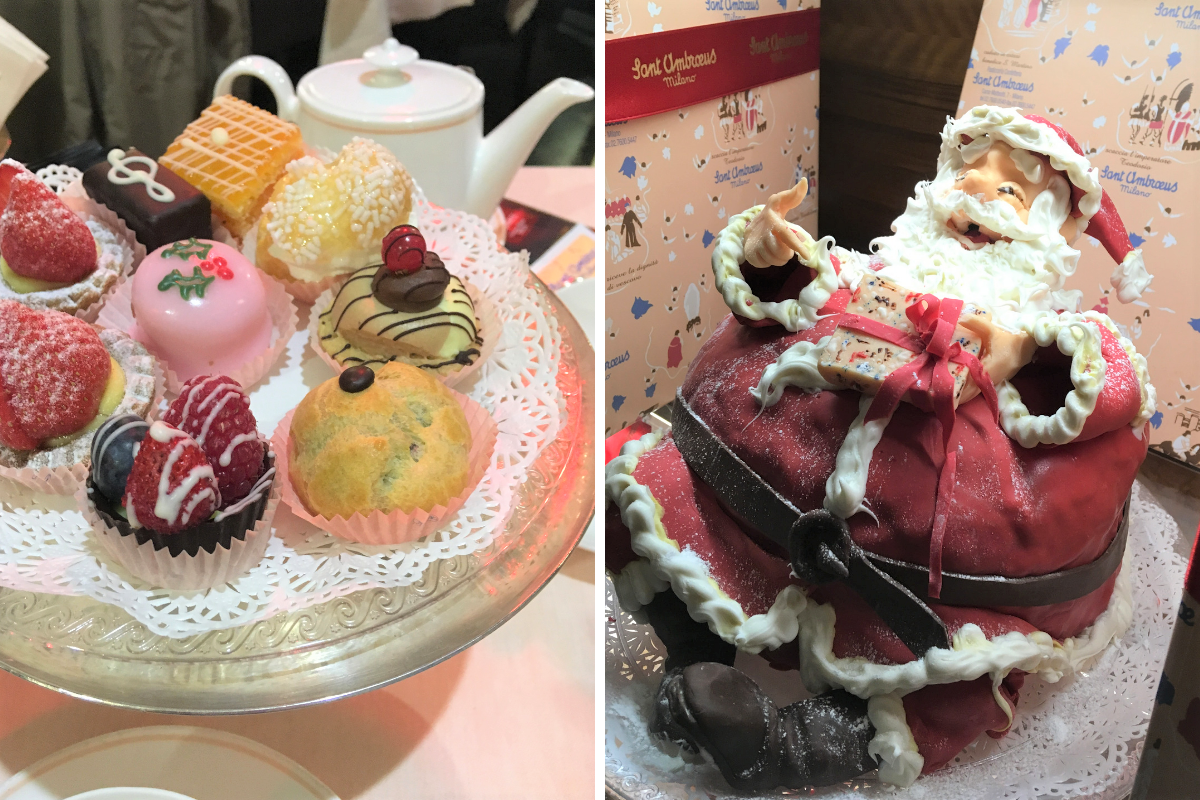 Bastionello pastry shop – still in San Babila but not only
Another best patisserie in Milan, a hallmark of Milanese pastry shops, is undoubtedly Bastianello, opened in 1950. Bastianello has three locations across the city (in San Babila, Missori and Buonarrotti), but I would suggest having your sciura snack in the San Babila location. Here, too, the pastry shop gives you the feeling that you've traveled back through time, and is also renowned for its cakes. The price of panettone per kg: € 58.
Bastianello
Via Borgogna, 5 (closest metro stop: San Babila M1)
Corso Italia, 28 (closest metro stop: Missori M3)
Via Michelangelo Buonarroti, 48 (closest metro stop: Buonarroti M1)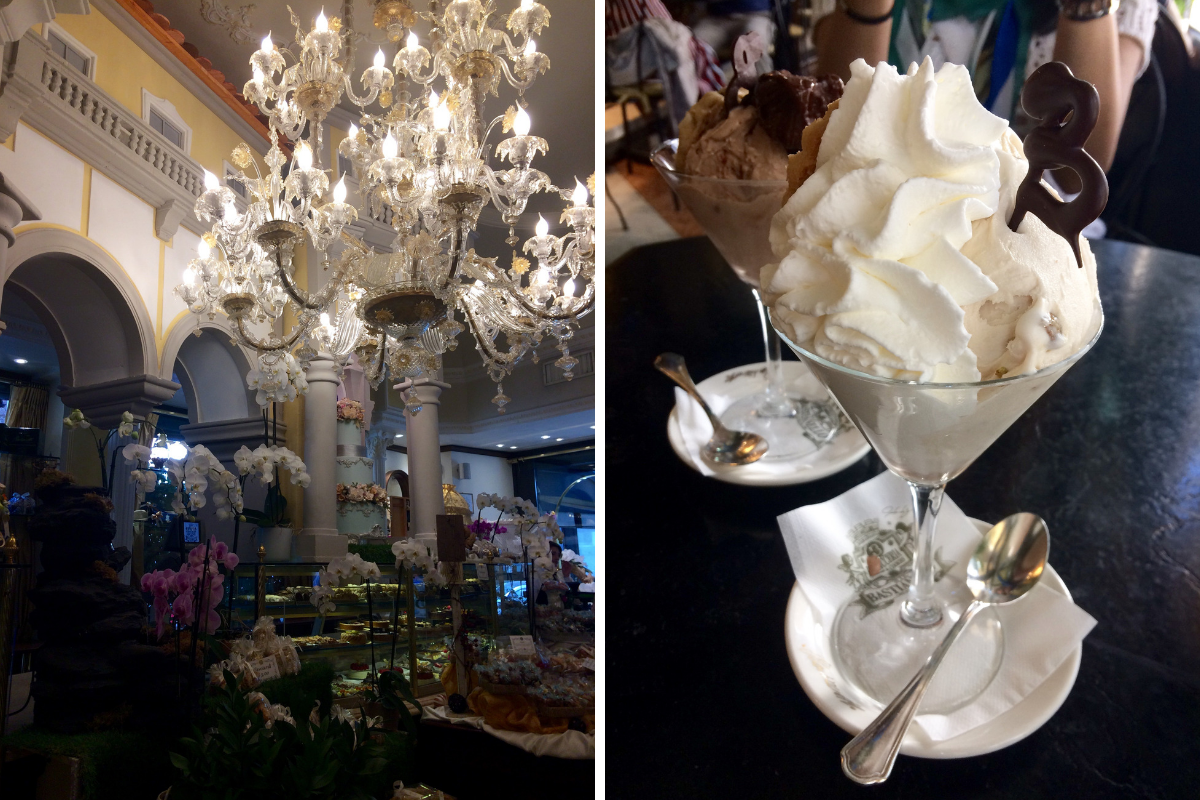 Cova: Milanese tradition in Montenapoleone
The historic Cova pastry shop first opened in 1817 and since then it has been synonymous with elegance and haute patisserie in Milan. Cova is located in via Montenapoleone, among the haute boutiques situated in the area. Here the panettone and the "covaccino" (American coffee, chocolate, brown sugar, whipped cream, chopped pistachios) reign supreme.
Cova pastry shops have been exported by the luxury group LVMH across Asia – you can also find Cova in Hong Hong, Shanghai, Tokyo, and Dubai (In Europe, there is also another location in Monaco).
Pasticceria Cova
Via Montenapoleone, 8 (closest metro stop: Montenapoleone M3)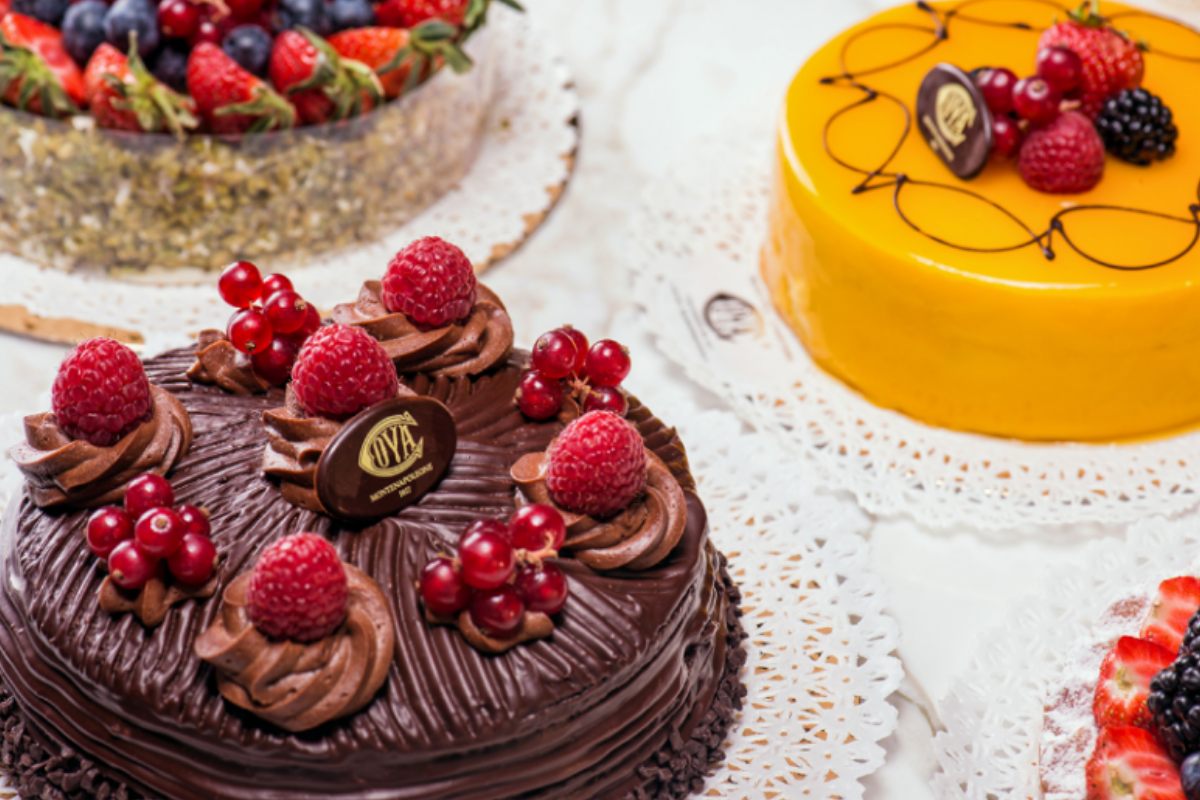 Marchesi: from historic pastry shop to trendy locale 
Opened in 1824, Marchesi is another historic Milanese pastry shop. The original location is situated in Via S. Maria alla Porta 11/a in the Corso Magenta area and has maintained its historic atmosphere and interior design. The locations in Montenapoleone and Duomo are also well known.
Their prized selection of jams, chocolates, sweets make ideal gifts.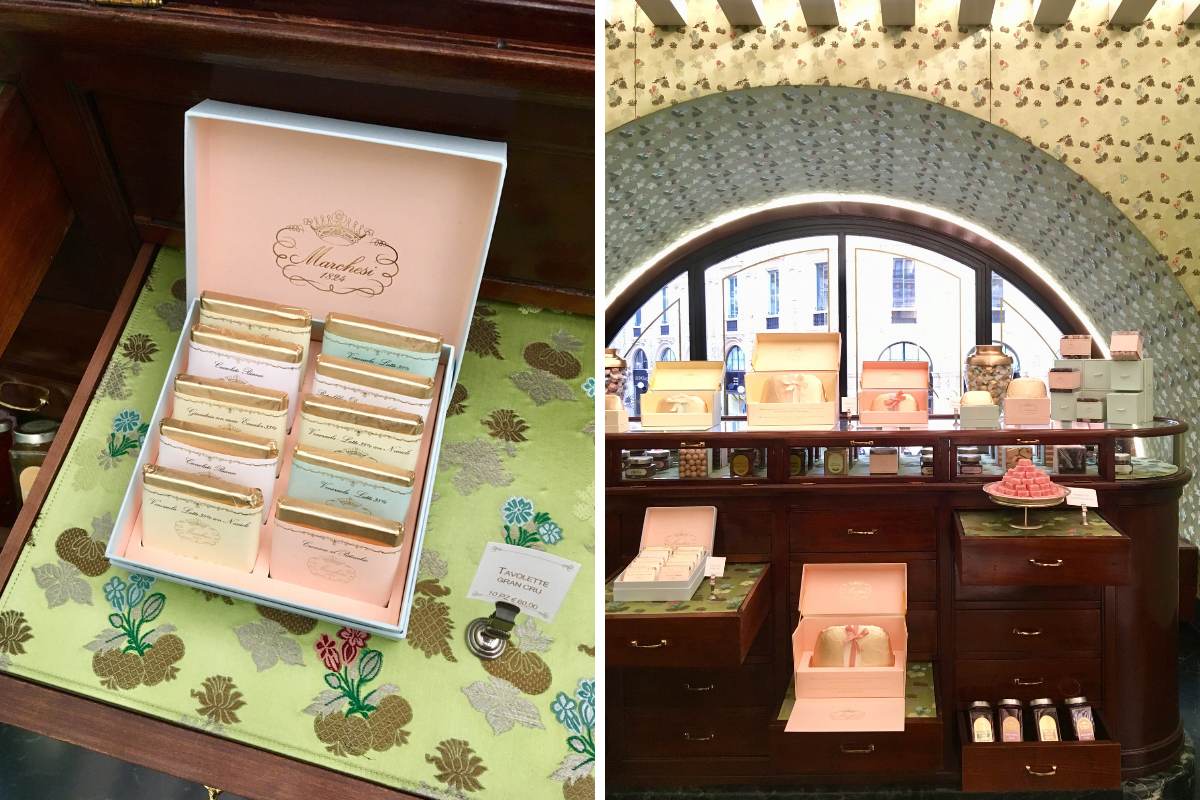 Marchesi is owned by Prada Group, with three locations in Milan and one in London.
Marchesi 1824
Via S. Maria alla Porta 11/a (closest metro stop: Cairoli M1)
Galleria Vittorio Emanuele II (closest metro stop: Duomo M1 M3)
Via Monte Napoleone, 9 (closest metro stop: Montenapoleone M3)
Giacomo Pasticceria and the empire of Giacomo
I was undecided about including this pastry shop among the historic pastry shops in Milan because Giacomo Pasticceria really hasn't been here for as long as the others I've mentioned so far. That said, here the desserts are phenomenal.
The pastry shop is very small and has only a counter and studio workshop, but don't worry – you can enjoy your pastry at the Giacomo Tabaccheria Bar a few meters away where they sell the cakes from the pastry shop as well as coffee and sandwiches. It was here that I ate the best slice of chocolate cake of my life. If you prefer cake-based pastries, know that you can easily pop into the pastry shop and take your purchases to the bar.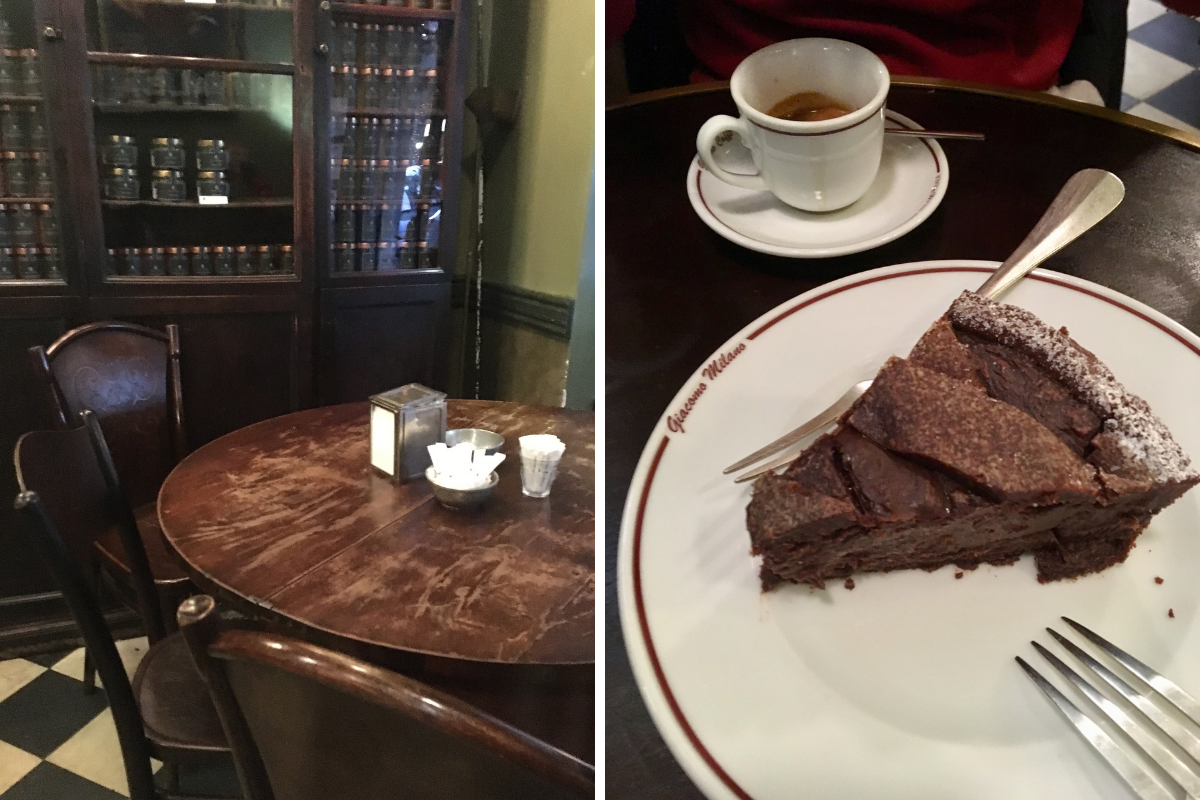 In the same street, via Sottocorno, you'll also find the Ristorante da Giacomo, Giacomo Bistrot and Giacomo Rosticceria – in the Duomo area you'll find the Giacomo Arengario restaurant.
Giacomo Pasticceria
Via Pasquale Sottocorno, 5 (closest metro stop: San Babila M1)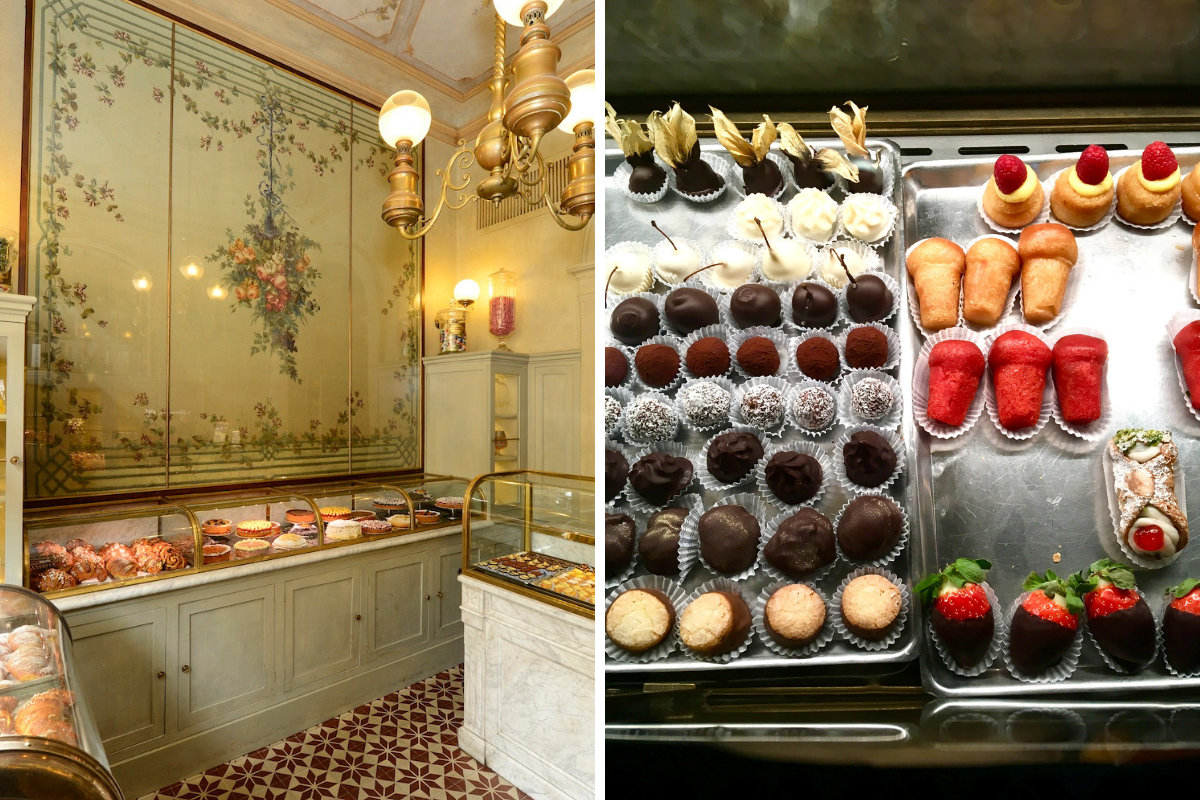 Cucchi – the Milanese pastry shop in the Corso Genova 
When it comes to historic Milanese pastry shops and sciura snacks, we can't not talk about Cucchi. Founded in 1936, at Cucchi you can practically smell the tradition and history in the air.
Panettone is incredible here too. Every year I get myself a panettone for Christmas and for Christmas in 2019 I chose Cucchi. I can only describe the panettone as incredible, and I could have eaten kilos of it without a problem, but I only bought one weighing 750 gr (27 €) to divide (perhaps for the better).
Pasticceria Cucchi
Corso Genova, 1 (closest metro stop: Sant'Ambrogio M2)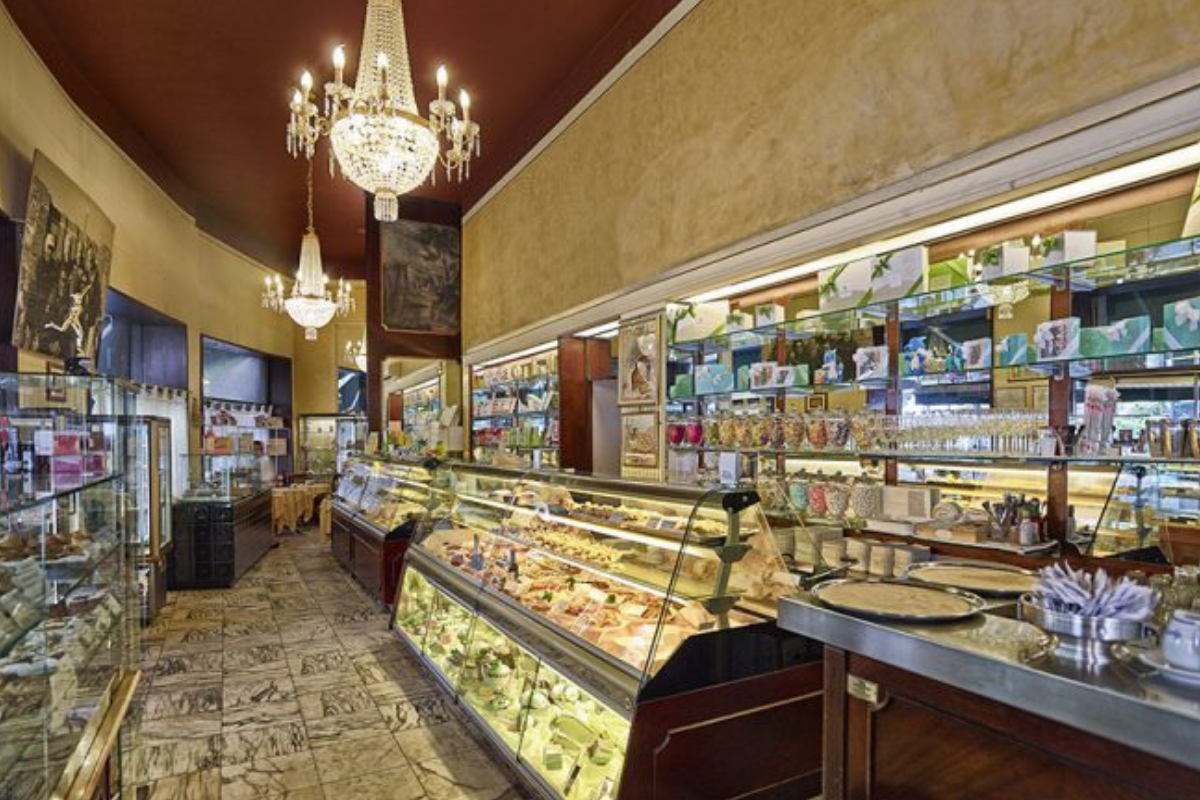 Gattullo: the jewel of Porta Lodovica
Last but not least, closing the list of historic Milanese pastry shops is Gattullo, an iconic pastry shop in the Bocconi area. First opened in 1961, Gattullo is the perfect spot for an afternoon or a sciura snack immersed in pink. The interior harkens back to the elegance of Milan in the 1960s, and the desserts are sensational, especially the pastries.
Pasticceria Gattullo
Piazzale di Porta Lodovica, 2 (closest metro stop: Missori M1)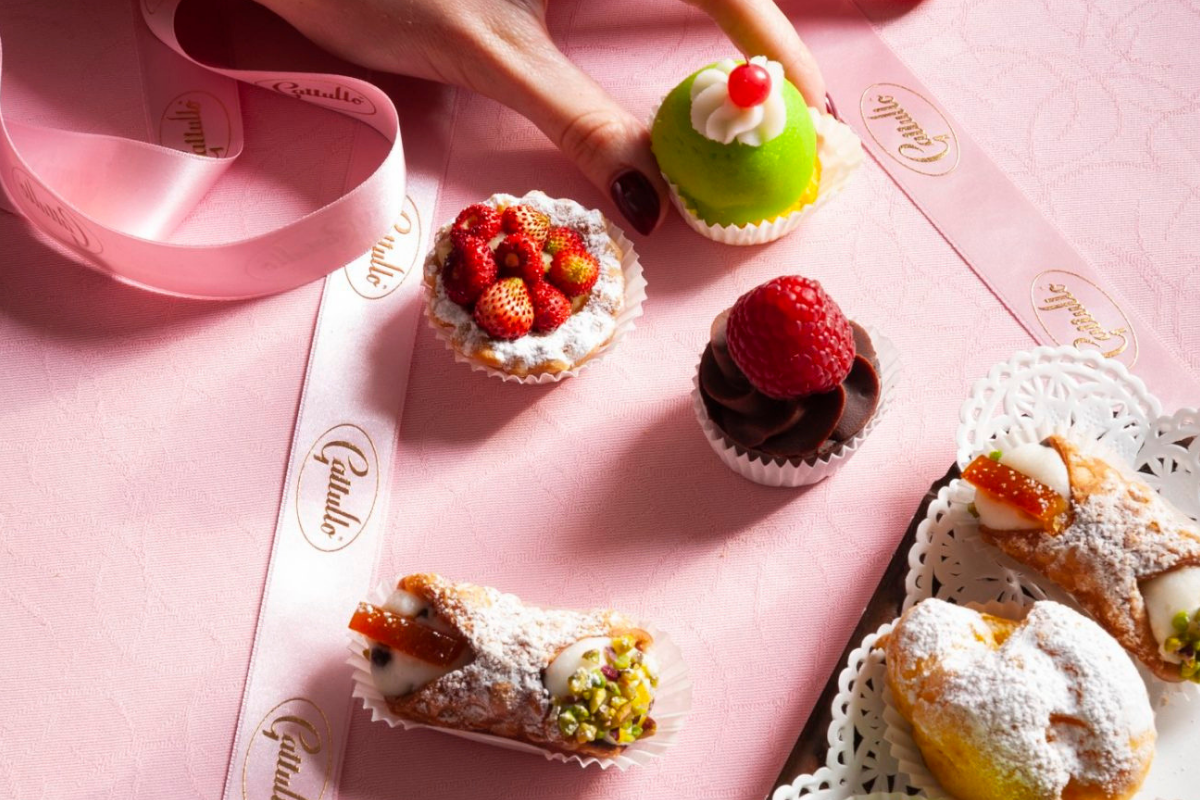 Historic pastry shops of Milan: some final remarks
A final consideration for all the historical Milanese patisseries mentioned above: if you want to come in just to take a look, have a coffee at the counter! That way you have your moment of relaxation (often accompanied by a chocolate) at the same price as the other bars further down the street (circa 1.50€ for a coffee). Trust me, it will be worth it!
Visualizza questo post su Instagram
Feel like reading something else? Check out the article on the most instagrammable bars in Milan, find many other perfect places for breakfast or … take a look at the articles on typical Milanese restaurants.
What do you think of these typical Milanese pastry shops? Have you ever tried them? Let me what you think on Facebook or Instagram!