Article written by the contributor Giulia Minguzzi 
You can read this article in Italian here
I have to admit, I have a soft spot for a nice sandwich filled with juicy ingredients and enjoyed while watching a good movie. But if you'd rather eat with your friends at a restaurant where the one and only star of the show is the burger? In this article, I offer a series of places in Milan specializing in hamburgers that are sure to live up to your expectations: this guide will show you where to get the best hamburger in Milan, avoiding those tourist traps where you spend too much for a miserable, dry sandwich, a single salad leaf and more sauce than meat patty. 
The quality of the ground meat that burger joints use is critical for a good burger. That's why in my list of burger joints you'll only find restaurants that have fully met my personal expectations for a mouth-watering (and sometimes exaggeratedly unhealthy) best burger in Milan, made to perfection. 
Blues Bikers Pub
Top on my list of places to go for the best hamburger in Milan is Blues Bikers Pub. Never would I have ever imagined coming across such a characteristic pub in the Navigli area, (in a side street of Corso San Gottardo, 7 Via Brioschi, to be precise). The Blues Bikers Pub is the first motorcycle pub in Milan, born in the summer of 1985 from the friendship of two Italians and two Germans, who met during a vacation in Corsica and shared a passion for the well-known Harley-Davidson motorcycle (a love so strong that they decided to found a group, the Blues Bikers MC).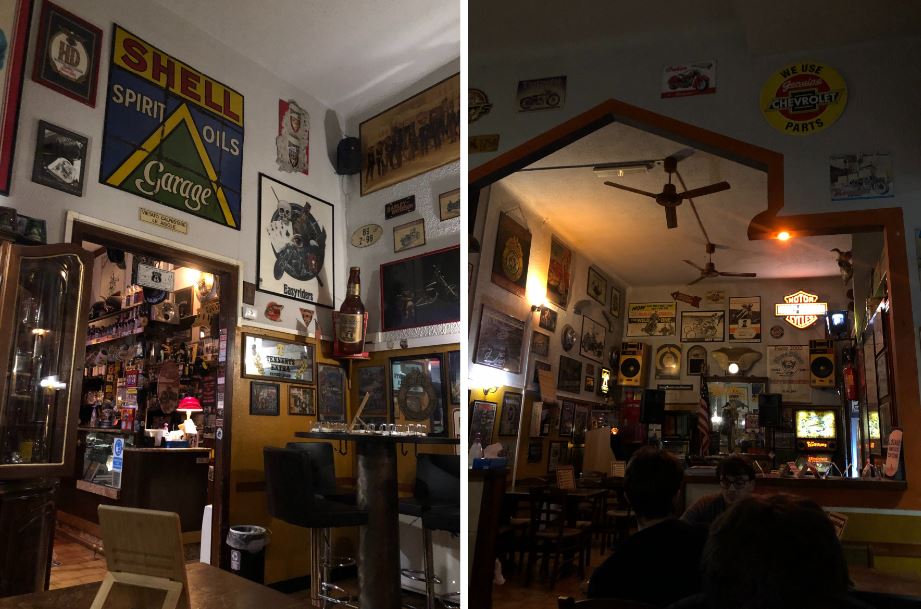 The pub's atmosphere is typical of those where only bikers and fans of good food and good beer tend to go. In fact, the selection of beers is very carefully curated, as well as the meat they use to make their burgers. We learned that the meat is brought in every morning from their trusted butcher. At the Blues Bikers Pub, you'll find not only the classic beef patty, but also horse, sheep, goat, donkey and bull patties for the more daring. In addition to the burgers, there are more classic cuts of meat on the menu, like the entrecote, the rib-eye steak, and the chop, also available from horse and bull.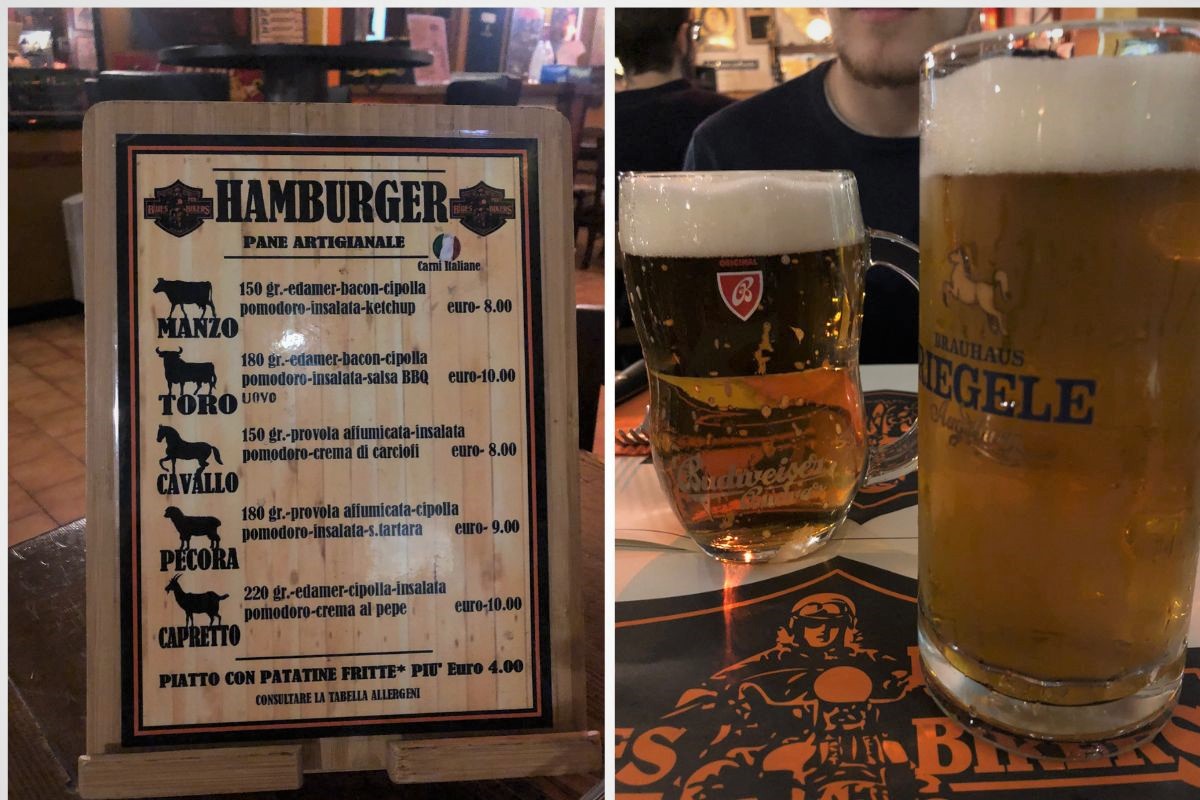 The wait staff is very attentive and knowledgeable about both the type of meat to recommend to the customer and the type of beers. At the staff's suggestion, I ordered a Budweiser Budvar, a low-fermented Czech beer with thick foam and golden color, and as a second round a Riegele Weisse, an unfiltered German beer with a fruity, sweetish aftertaste.
As for the burgers, we had a plain beef burger, to test the quality (and I must say it was really good), and then a bull burger, out of curiosity to know what it tasted like. Both were very good – the bull meat has a very strong flavor, more intense and greater texture than classic beef. The burgers were cooked perhaps a bit more than requested, but they were still delicious in their simplicity, without too many side ingredients between the buns. In my opinion, there's no need to plump up a bun if the meat arrives fresh daily and is high quality.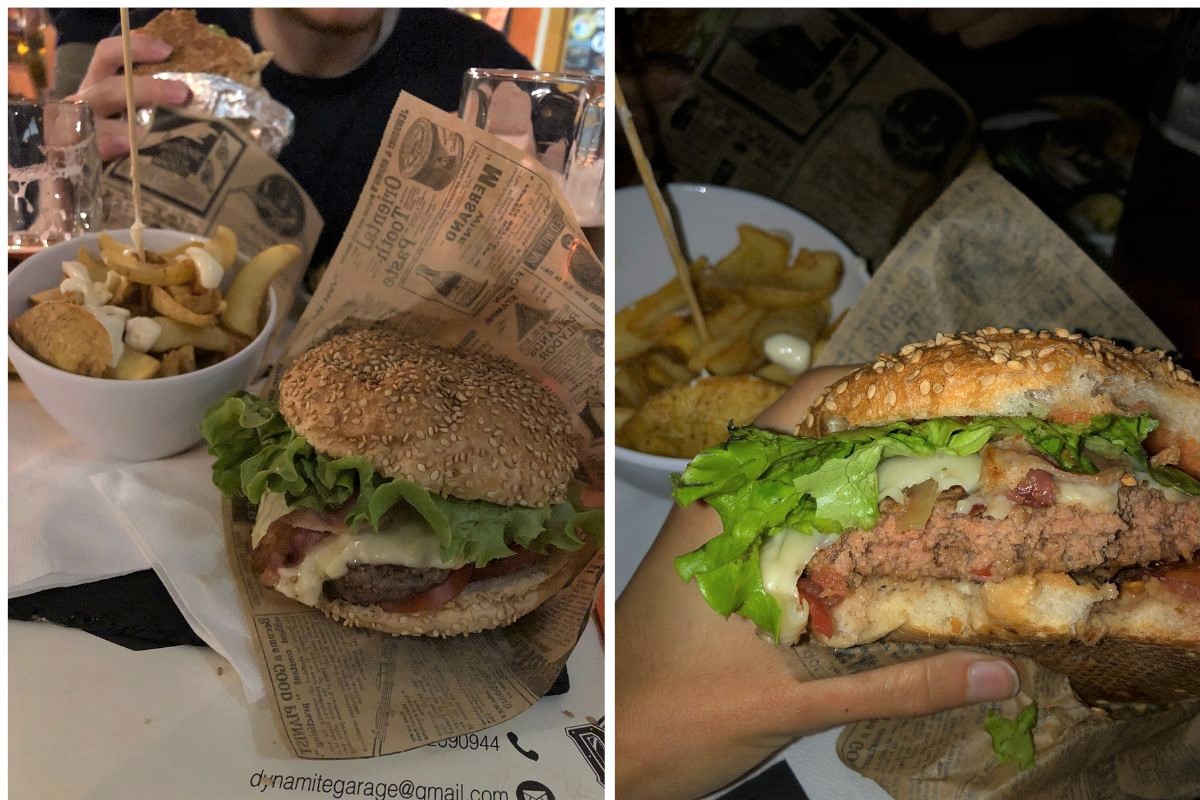 The bill was surprisingly low compared to what we expected. The most expensive items that pumped up the price were the three rounds of beer that we greedily asked for one after the other, precisely because we wanted to try as many types of beer as possible to savor their aromas and freshness. This pub is a real temple for beer-lovers and an ideal as a meeting point for friends who love rock and metal music, good beer and quality meat, looking to grab a drink and eat together while relaxing in this characteristic motorcycle-themed atmosphere.
Blues Bikers Pub
Via Brioschi, 7 (Porta Genova M2, tram 3)
Ham Holy Burger
I went to this chain of restaurants specializing in meat and burgers one winter evening at the Viale Bligny location and was greeted with a warm welcome. The first thing that struck me was the service, which was very accommodating and patient (something that is becoming increasingly rare in the waitstaff of restaurants in Milan, especially when it comes to franchises). The servers pampered and spoiled us from start to finish, allowing us to spend a pleasant evening in which our craving for burgers was fully satisfied. The interior of the restaurant is very modern and very well cared for; even just from the design and decor you can see that the quality level is 10 times that of fast food restaurants.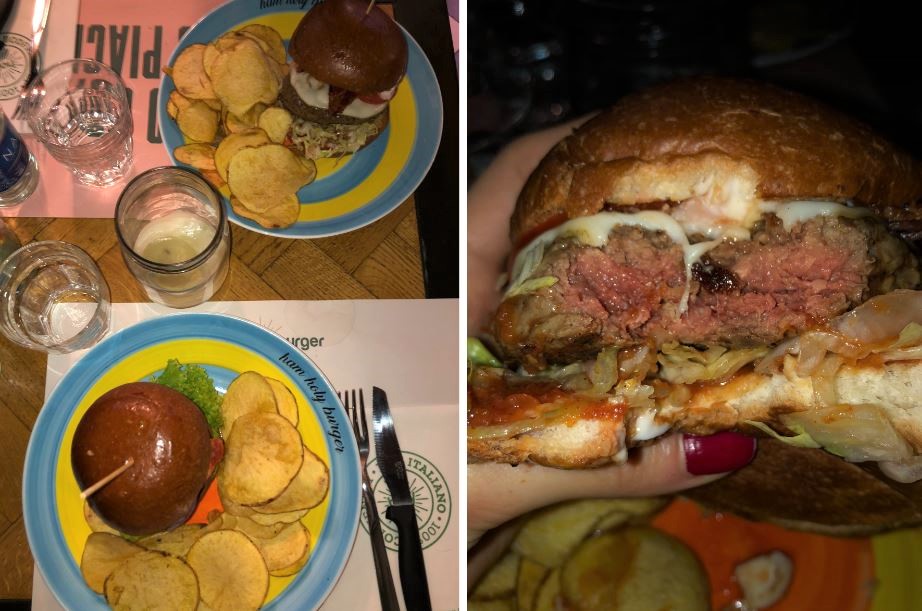 Here the burger is "holy" or sacred, and as such it is treated on the menu as a dish to be worshiped, not merely consumed like something you eat if you are short on time and care little about. The focus is precisely on the composition of the sandwich, and each burger is designed to enhance the quality of the various products offered, including many PDO (Protected Designation of Origin) cheeses, ground meat selected from the best Italian butchers, and homemade sauces. On the menu, which can be found online via QR code, you can also find prime cuts of meat, tartare, and various other cuts that will satisfy even the most demanding palates. In any case, if you decide to go to Ham Holy Burger be prepared to have a mystical experience, in the true sense of the word, when you taste their burgers: the purpose of these restaurants is to "elevate" the burger to a that worthy of the title best hamburger in Milan, living up to its name (holy).
To whet our appetites, we had a portion of truly delicious stick fries – I've never eaten fries so good in a burger joint. Then we continued on to the protagonist of the evening, the burger: we chose the "Crunch" (180 gr Piedmontese fassona burger, scamorza cheese, crispy bacon, tomato, iceberg, tomato chutney and mayonnaise, 13€) and the "Babilon" (fassona burger, bacon, pepperoni, taleggio cheese, spumiglia, tomato, red onion, rum bbq sauce, 13.50€), both accompanied by homemade chips. I really appreciated that the origin of the meat was well specified: "Slow Food Protected Fassona meat, Piedmontese beef breed, La Granda breeder," a sign of quality and transparency to the customer. Both were fantastic but the rum sauce I would only recommend to those who are sauce lovers, maybe not everyone is crazy about it. We finished with a mouth-watering dark chocolate cupcake and were offered the house limoncello at the end of the meal, which we accepted with great pleasure.
The price of the burgers is commensurate with the quality of the meat and service, so don't expect a cheap bill – that's not the point. The restaurant wants to enshrine the burger as a dish worthy of appreciation and veneration, and consequently worthy of being paid the money it deserves, if made well, with quality ingredients and presented as a work of art.
Ham Holy Burger
Viale Bligny, 39, 20136 Milano MI (varie sedi) Tram 9
Piano B
Between Romolo and Famagosta, slightly outside the city center, you'll find a pub specializing in craft beer, with a wide selection of draft and bottled beers, offering the best domestic and international brands. Although the star is not the burger, I wanted to include it on the list since the kitchen offers a wide selection of phenomenal sandwiches, fried food, and burgers, which will make you reevaluate your Plan A and decide to go to Plan B for dinner. For those of you who don't live in the southern half of the city, it is a bit out of the way, but I assure you that their cuisine and the wide variety of beer they offer is worth the trip.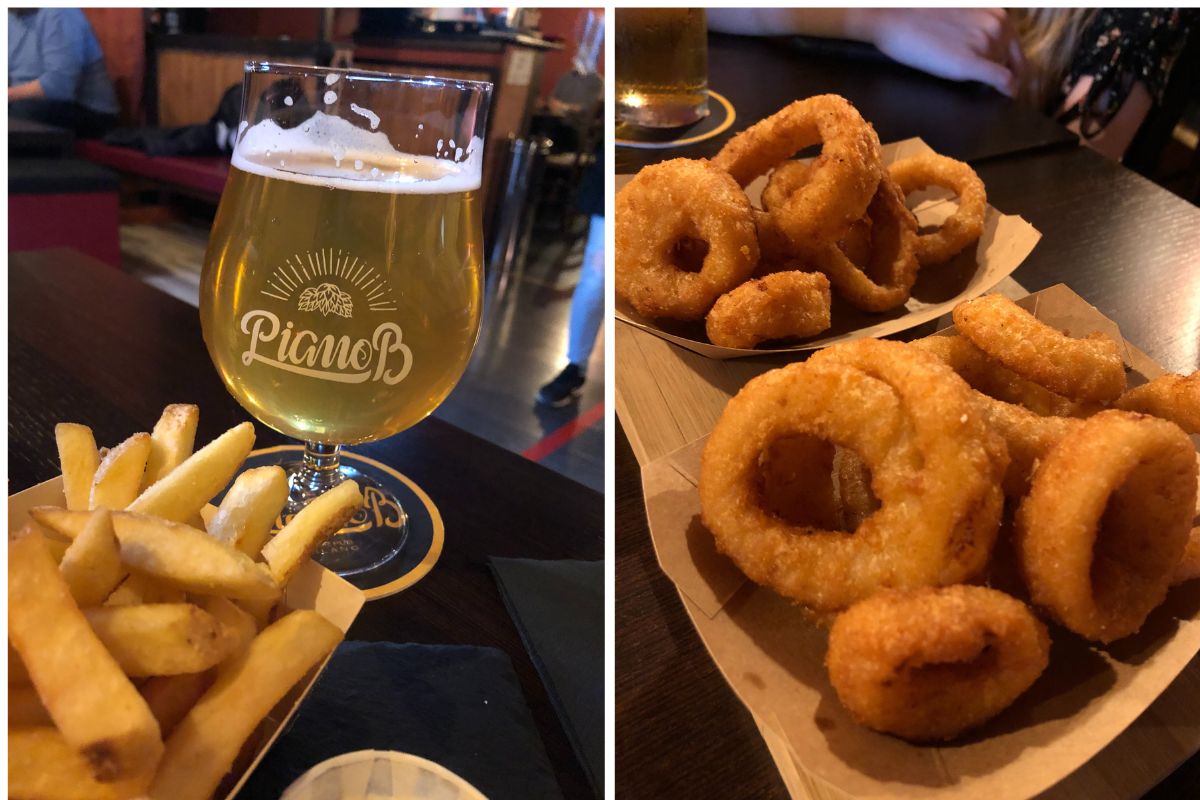 The place is tiny but always packed, especially in the evening, so I recommend making a reservation. The interior is bright orange and some of the walls depict Naruto, the well-known character from the Japanese anime series. What you notice immediately upon entering is the really impressive display of beers and the bright colors of some of them, stored in fridges.
Being located right below my house, I had the chance to try almost everything: you've got to try the fried onion rings with all the sauces you want, and their burger will make your head spin. The best one in my opinion is the Dragon (jalapenos, gorgonzola, raw or caramelized or crispy onion, habanero bacon and guacamole; 12€) while second on the podium is the Porkone (pulled pork, cheddar, slaw, tomato, bacon and smokey sauce; 12€) and the Pollettone (fried chicken burger, slaw, tomato, onion and mayonnaise; 10€). It often happens that they also offer a daily special in the evening, and if so, I recommend you get it; you will not be disappointed.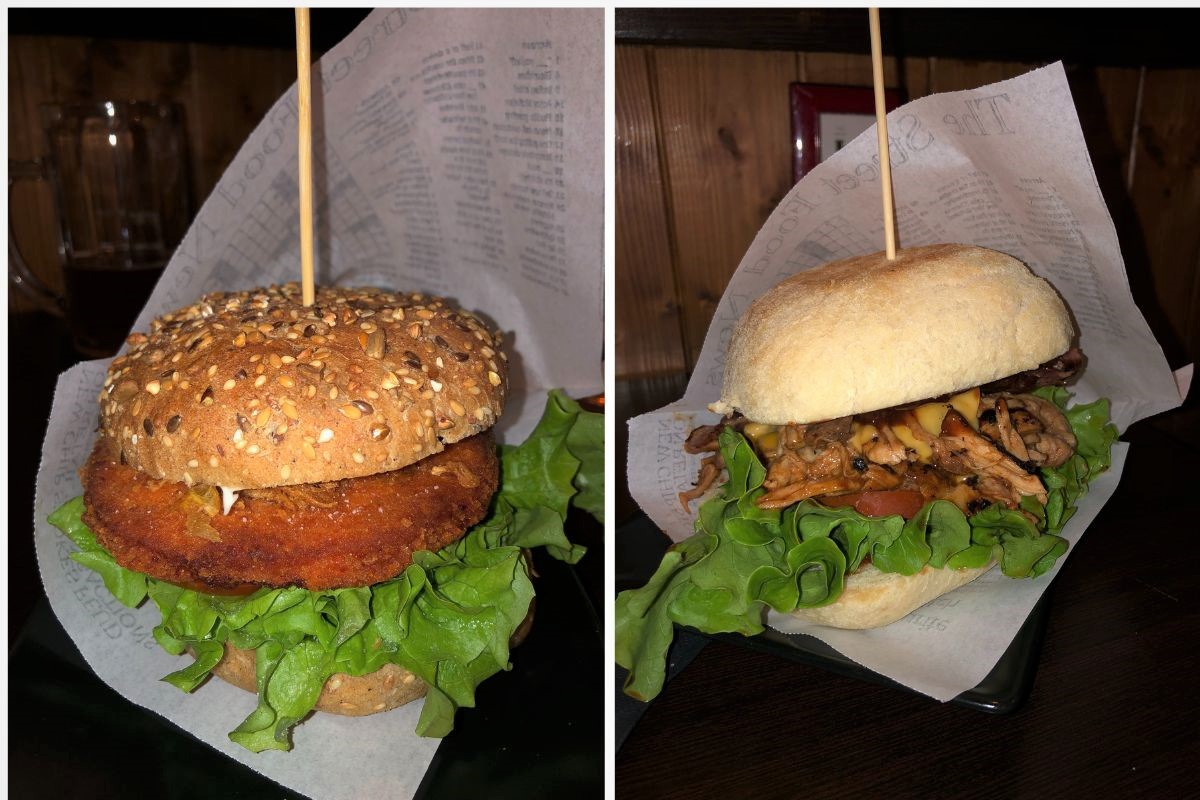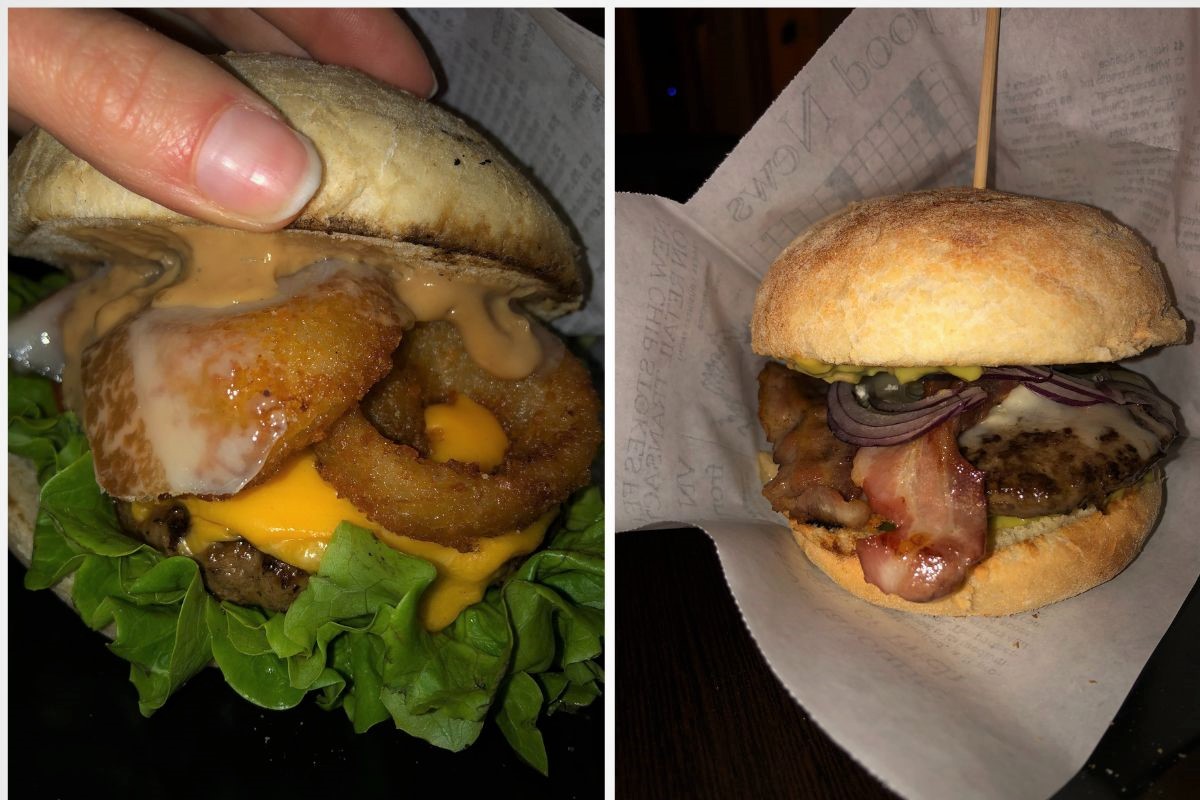 The most succulent fried food, besides the onion rings of course, are the spicy jalapenos and the camembert bites. The meat on the burgers is good, although since the source is not specified, I prefer that of Ham Holy Burger or Blues Bikers Pub.
With fried food to share, a burger and a beer you'll spend around 20 euros, but you'll leave the restaurant with a full belly and more than satisfied.
Piano B 
Via Moncucco, 26 (M2 Famagosta)
Doppio Malto
I've already reviewed this pub in another article, where I talked more specifically about the grilled meat and the place as a whole, but it also deserves a position on this list of best burgers in Milan because their sandwiches are really tasty and very generous in quantity. If you go there and don't know what to choose, go for the safe bet with the house Doppio Malto burger. My favorite is the burger with crudo and fiordilatte mozzarella, and a few slices of tomato, which gives the burger a very light and fresh taste, perfect for the summer season.  A good alternative to the burger is Porchetta e Provola, great for those who like the strong taste of provolone and spiced taste of porchetta. All burger dishes come with fries and sauces included in the price (between 10 and 12 €).  
The beer-and-sandwich combo always works, and here at Doppio Malto you can choose from a wide variety of craft beers made right there in their own brewery. They have a beer to pair with each menu item to "match" perfectly with what you order.
You can read the full article on Doppio Malto here.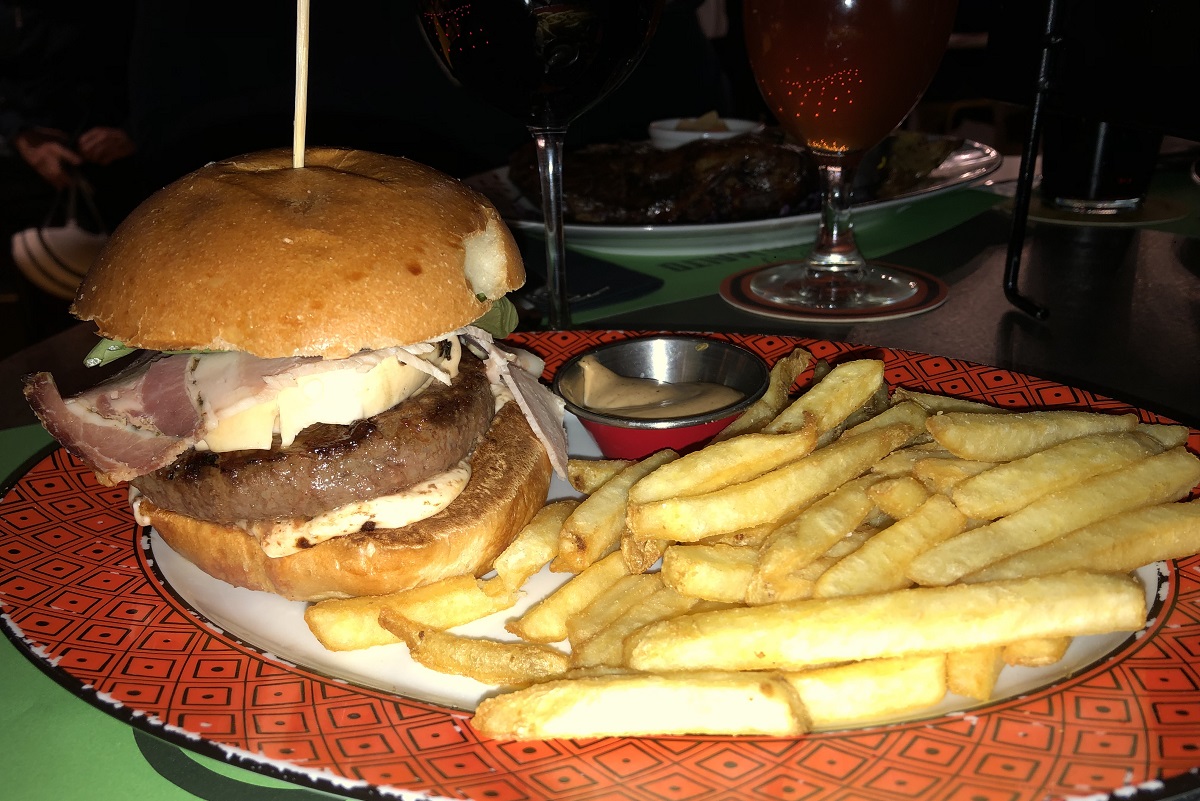 Doppio Malto
Viale Liguria, 47 (Romolo M2, Autobus 90, 91, 62)
Golocious
Golocious is a brand founded by two young food influencers, Vincenzo Falcone and Gian Andrea Squadrilli, who decided to launch a chain of "foodporn" restaurants together, where the protagonist is the renowned "smashed burger," that is, not the classic, thick burger that we are used to, but the meat is crushed on the griddle when cooking, so as to achieve an unforgettable encounter of crispiness and succulence. The success that Golocious enjoys stems primarily from the fanaticism that rages on social media for foodporn and the ability of the two young entrepreneurs to capitalize on this ongoing trend and exploit the most "gluttonous" desires of their customers to produce social content that is decidedly appetizing and decidedly foodporn. In fact, this is so important for the restaurant that the brand made its slogan "Foodporn to you". The burger format has different variations, designed according to the local market demand, i.e. catering to different targets according to where the restaurant is opened: Sbamburger (Colonne di San Lorenzo), Burger&Wine, Pizza in teglia (Corso Garibaldi) and Pizza e Cucina. I've been to dinner a couple of times at the Via Fioravanti location, which I like to think encapsulates them all a bit.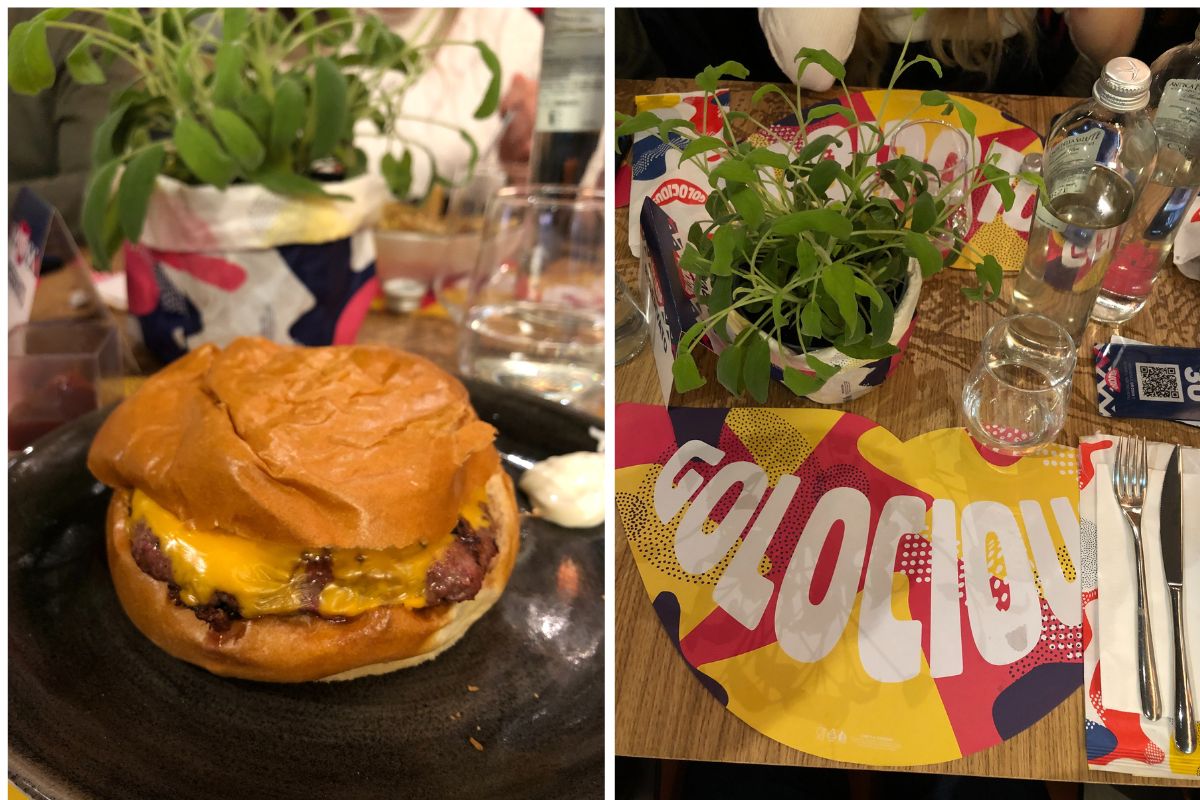 To start, this temple of delicious food offers an array of foodporn delicacies, such as nerano hotcakes, pulled pork nuggets, and potato fries (regular or sweet), plain or with cheddar fondue and bacon, real sins of gluttony, great for sharing before the main course.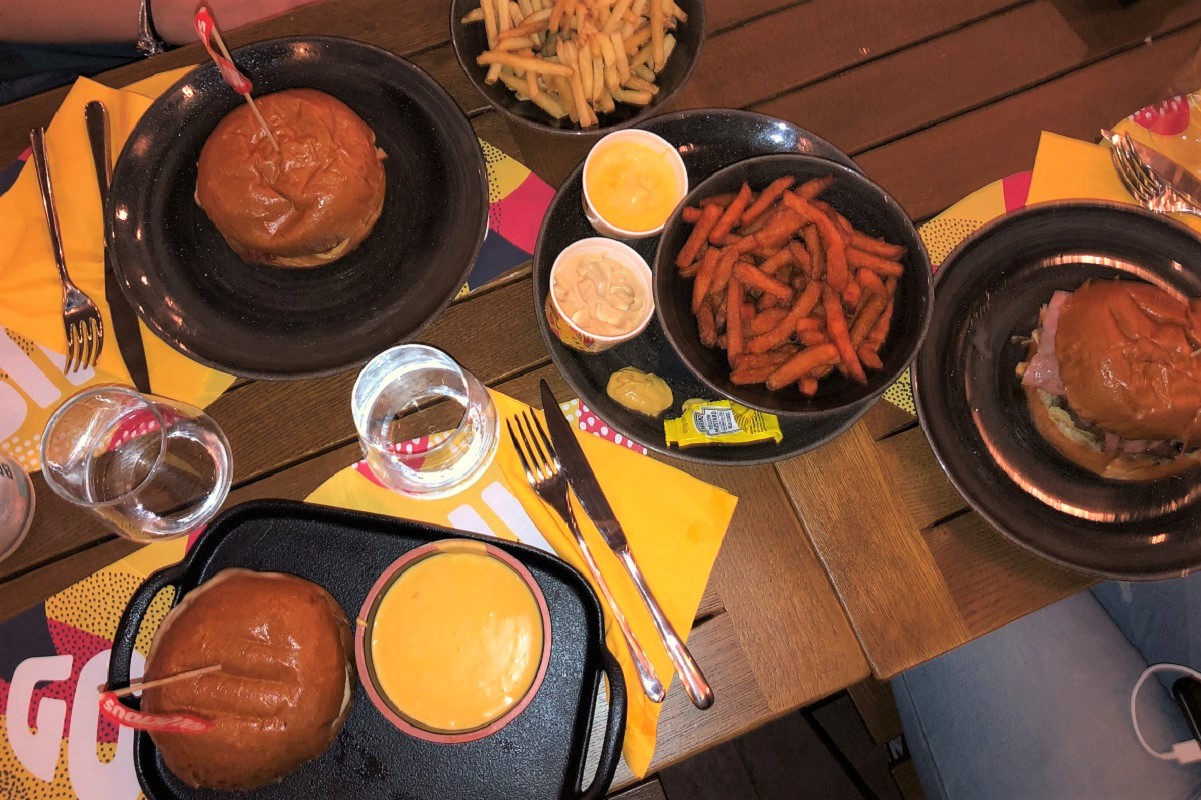 The burgers all have fun names on the menu, recalling the ingredients with which they are made, such as the Golocheese (artisanal bun, golocious grind burger 200g, cheddar, crispy bacon, lettuce and tomato, 10€), the Maialollo (artisanal bun, pork belly in teriyaki sauce, rustic fries, golocious umami sauce, 12.50€), Nerano Burger (artisanal bun, golocious grind burger 200g, cacio and pepe fondue, fried zucchini, provolone cheese and nerano-style zucchini cream, 12€) or the Potenzo 2.0 (artisanal bun, golocious grind burger 200g, porchetta, provolone breaded in cornflakes and fried, homemade friarielli cream and jana sauce, 11.80€).
During my visits, I got to try the Umami burger (artisanal bun, golocious grind burger 200g, crispy bacon, yellow cheddar, white cheddar, golocious umami sauce, 11.80€), The Lord of Pistachio (artisanal bun, golocious grind burger 200g, pistachio pesto, potato stick, grilled mortadella slices and provolone cheese, 13€) and the Dabbol Cis (artisanal bun, golocious grind burger 200g, caramelized onion, white cheddar, bbq sauce and crispy bacon, served with cheddar fondue where you can dip it, 12.50€).
Each sandwich is pure enjoyment for the eyes and the palate, and the prices are honest for the abundance of the hamburgers and the quality of the ingredients used. The meat is very good, nothing like the flavor that fast food patty's have, and the quality of the cheddar is unexpectedly high as well! The buns are homemade (and you can feel it, they are fluffy) and so are the sauces the chips are served with or that you find inside the buns. Although some of them are a bit "over the top," in terms of the abundance of sauces, I must say that they aren't over the top and in fact, turn out to do just the trick.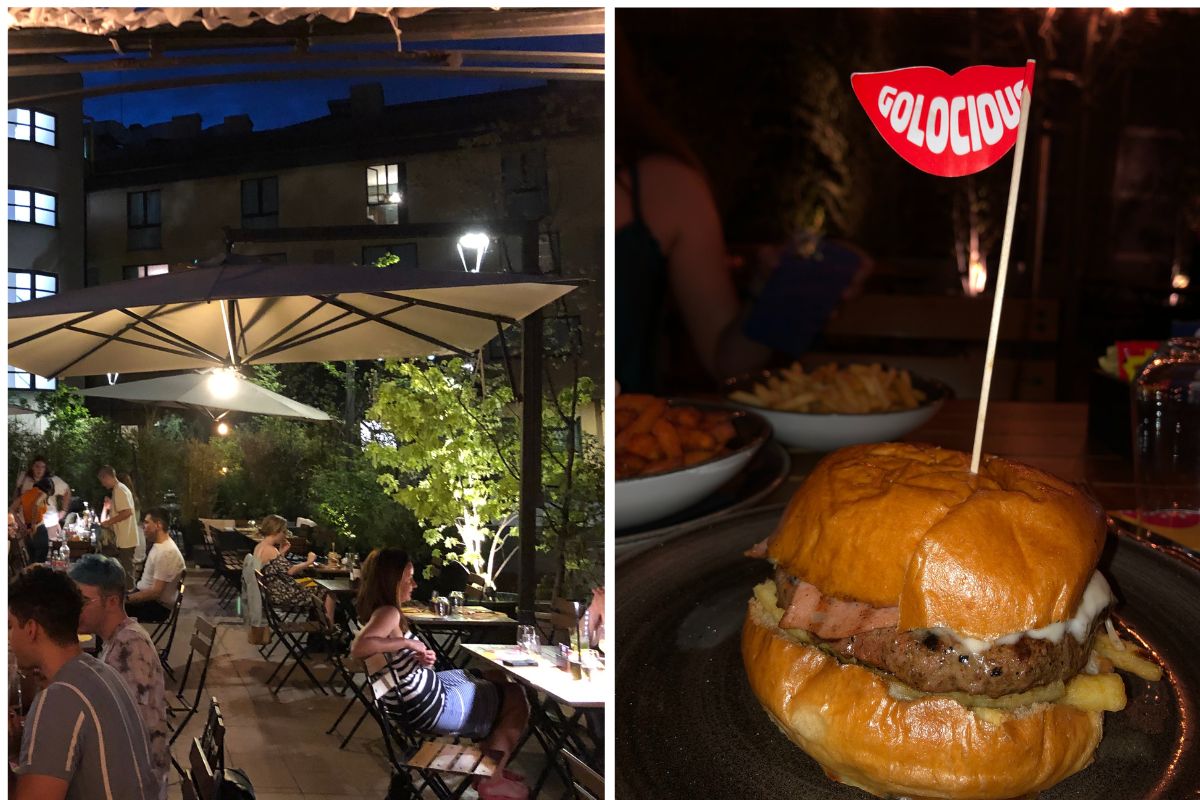 On the menu has other dishes such as the Tegliuccio (a square pan pizza designed for a single person), foodporn entrees (carbonara, nerano, pistachiosa…), and meat main courses such as ribs in bbq sauce, fried chicken, and other delicacies.
While the welcome and the moment of the bill were super warm and friendly, I cannot say the same about the service when ordering and serving dinner: the waiters are very cold and seem to do their jobs as if they were robots. I think we need to better align the friendliness of the waitstaff to that perceived at the register and by owners on social media, who talk proudly about their establishments and seem very attentive to customer service and respect for the customer as if they were a friend.
Overall, I absolutely recommend this venue if you want to satisfy that overwhelming craving for mouthwatering burgers or if you want to indulge in a good dose of foodporn every now and then. The venue on via Fioravanti also has an outdoor space, ideal for summer dinners and tables of friends. They also organize birthday parties or graduations, as you can see on their social media.
Golocious
Via Aristotele Fioravanti, 18 20124 (M2 Moscova, M5 Monumentale, tram 12)
Pescaria: fish burgers
Who said hamburgers can only be meat? Pescaria is a well-known chain of good quality "fast food" seafood restaurants, the first Fast Fish Food, born in Puglia in Polignano, and now present in many cities across Italy. It offers different options of sandwiches with fresh fish, tartare, mixed fried fish or really good fish starters, perfect for when you feel like eating something tasty, but different from the usual, with a great value for money.
In Milan, I went to the location in Via Solari, a fairly bustling area but still pleasant to go to when you don't feel like going out to dinner in the city center, where there are a lot of people. In the summer, they put tables outside, but we chose to stay inside because of the air conditioning. The interior is decorated in fish market style, with white tiles embroidered in blue, and fishing nets hanging all over the room. The tables are set with a paper placemat, but still give the idea of elegance and quality.
This is an easygoing seafood restaurant with prices that are not exaggerated and good raw materials, which is why it is so popular: the place was almost full when we arrived and we were lucky to find a small table inside for two people on a Tuesday night at 8:30 pm.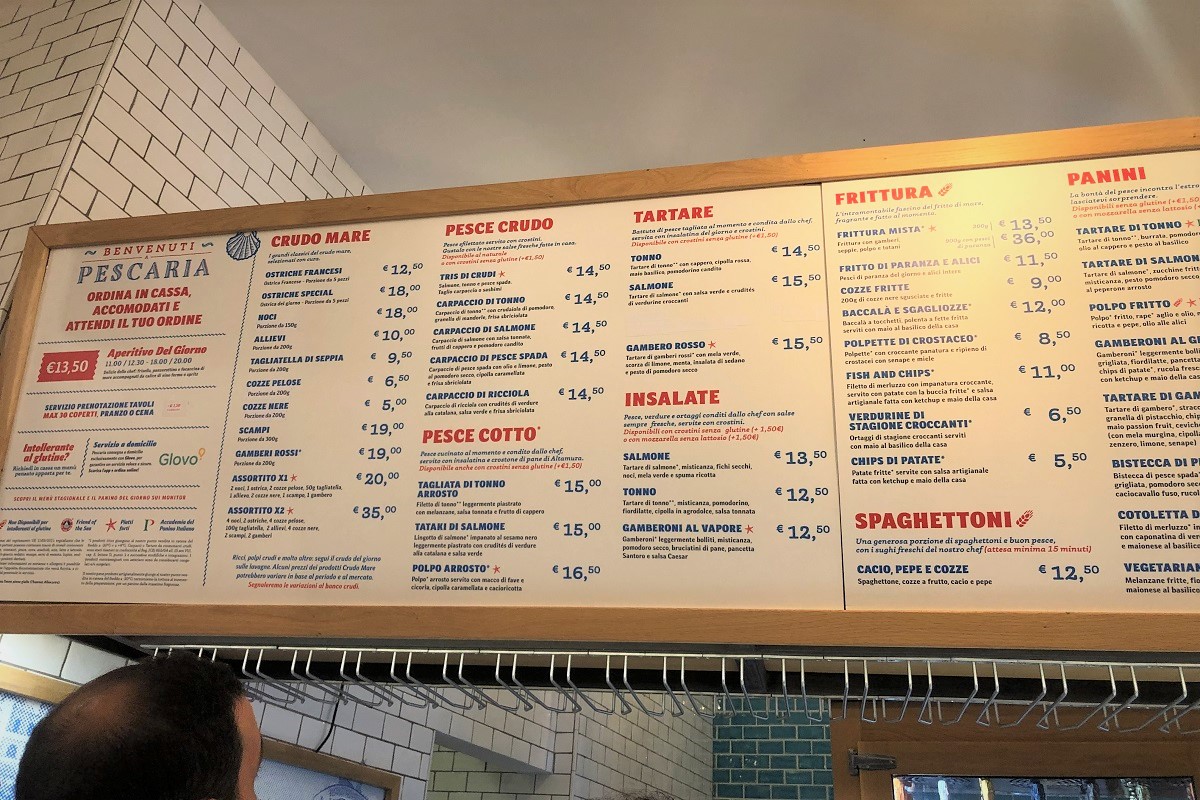 Here's how it works: you order at the cash register and then take a seat at the table. A server will arrive shortly after with your order. We had a salmon tartare to start and then a sandwich with tuna tartare, burrata, fresh tomato, caper oil and basil pesto, and to finish, a mix of fried fish. With a water and a glass of wine each, we spent 45.90€, with a 10% discount they give you if you sign up for their newsletter.
The fish in the tartare tasted really good and fresh, marinated just right without overdoing it, enhancing the goodness of the raw material used as much as possible. I also really liked the combination of ingredients and will definitely come back to try the other sandwiches; the mix of fried fish was large and really "mixed," not with just squid rings and shrimp.
I recommend it to try something refreshing during the sweltering heat of Milan, if you are forced to stay in the city and want to take refuge for a couple of hours in this little place reminiscent of the sea.
Pescaria
Via Andrea Solari, 12 (metro M2 Sant'Agostino)
Flower Burger: vegan burgers
Totally vegan alternative to classic meat burgers? Even though it isn't technically meat, Flower Burger still deserves a place on my list of best hamburgers in Milan. By now Flower Burger is a well-known chain of totally vegan burgers, characterized by 100 percent plant-based patties and colorful buns. Although it is now famous and well-known, Flower Burger has not lost its quality and the taste of the burgers (coming from me who is a big carnivore) is really outstanding. I'm not saying it reminds me of meat, but overall, each burger turns out to be a delicious and mouthwatering combination of flavors. The prices in recent years have gone up a bit, but I would say that the quality and work behind this type of burger is still worth it.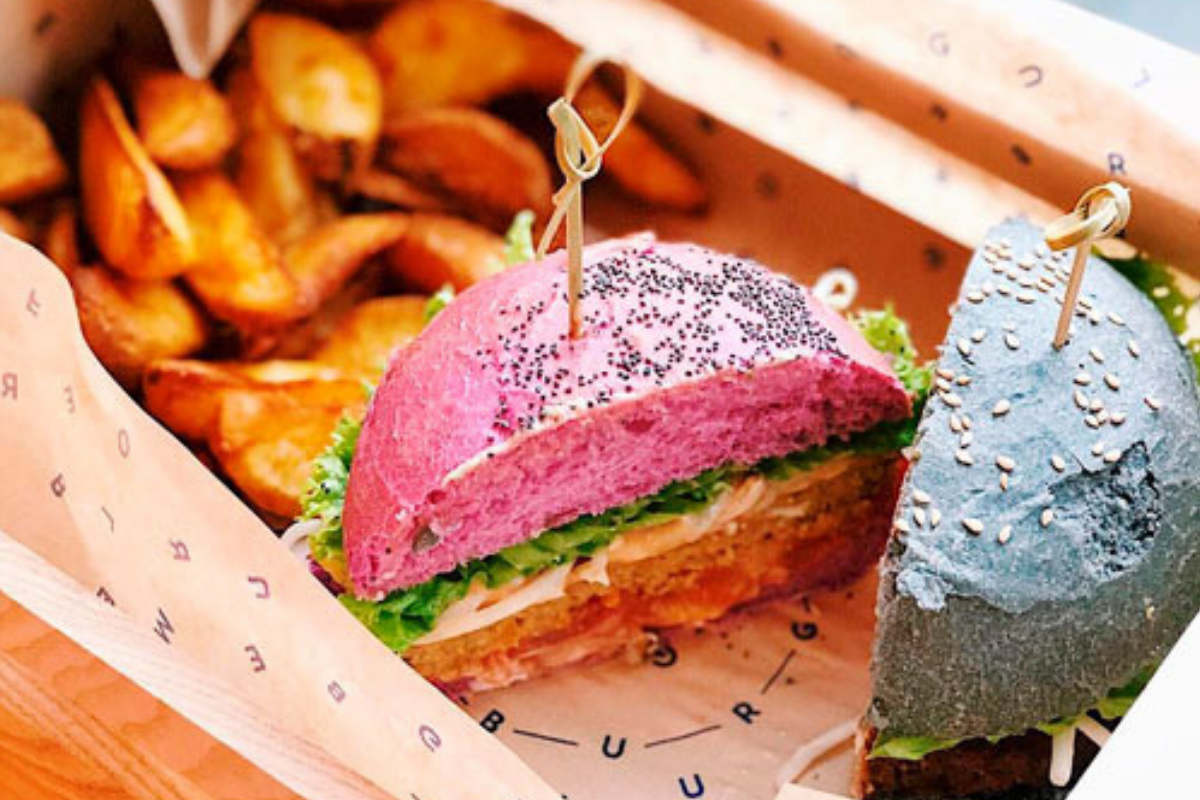 My favorite is the Cherry Bomb, a patty made with pink bun and black sesame seeds, made from clarified and concentrated beet juice, and cherry extract, which contributes to the final hue of the bun; lentil burger, confit tomatoes, lettuce, rocktail sauce (ketchup, mustard and Flower Mayo, enhanced by the marine flavor of nori seaweed and the alcoholic note of brandy), flower cheddar (vegetable cheddar with the same flavor as cheddar) and soybean sprouts. The patty is very consistent, despite being made with plant-based protein, and very tasty. The satiation at the end of the meal is identical, if not more, than when eating a meat burger. 
All the burgers are super Instagrammable and the restaurant is also very colorful: each Flower Burger restaurant is designed to show off the fun side of plant-based eating, conveying to the people eating there all the fun that can come from experimenting with plant-based ingredients nowadays, resulting in dishes that taste mind-blowing, to be totally plant-based.
The service is also friendly, the staff was always smiling and very accommodating. A special bonus at all Flower Burger branded restaurants: on your birthday you can get a sandwich menu with fries and drink for free by showing ID at checkout!
Flower Burger
Via Tortona, 12 (varie sedi)
Hamburger joints in Milan: the list 
Finally, here is a handy list to screenshot to remember the best places to eat a burger in Milan (with a few additions from above):
Al Mercato Steaks Burgers Corso Venezia – Corso Venezia, 18 (M1 Porta Venezia)
Baobab Organic Burger –  Corso Garibaldi, 12 (M2 Lanza)
Blues Bikers Pub – Via Brioschi, 7 (metro M2 Porta Genova, tram 3)
Cantiere Hambirreria Milano – Corso Garibaldi, 111 (M2 Moscova)
Doppio Malto – Viale Liguria, 47 (metro M2 Romolo, bus 90, 91, 62)
Flower Burger – different locations – vegan burgers!
Golocious – Via Aristotele Fioravanti, 18 (metro M2 Moscova, M5 Monumentale, tram 12)
Ham Holy Burger – different locations
Pescaria – Via Andrea Solari, 12 (metro M2 Sant'Agostino) – fish burgers!
Piano B – Via Moncucco, 26 (metro M2 Famagosta)
Feel like reading something else? Here are the best restaurants in Milan city centre, some historic patisserie for a fancy breakfast and… the complete itinerary for a weekend in Cinque Terre!
Article written by contributor Giulia Minguzzi 
PER LA FOTO DI COPERTINA: © HAM HOLY BURGER