You can read this article in Italian here
I told before you about the MiScusi restaurant in Milan, including it in my list of favorite restaurants of 2018. Here are some more details about this chain that specializes in fresh pasta (and social communication!).
The first MiScusi was opened in Cinque Giornate (right behind the Coin) on February 18, 2017 and since then, its popularity has skyrocketed. After the Cinque Giornate restaurant, MiScusi opened restaurants in Stazione Centrale/Repubblica, Isola, Colonne di San Lorenzo, Stazione Cadorna… Now MiScusi is everywhere, and there are no more excuses not to make a stop at this fresh pasta restaurant in Milan that has conquered the hearts of everyone, including me.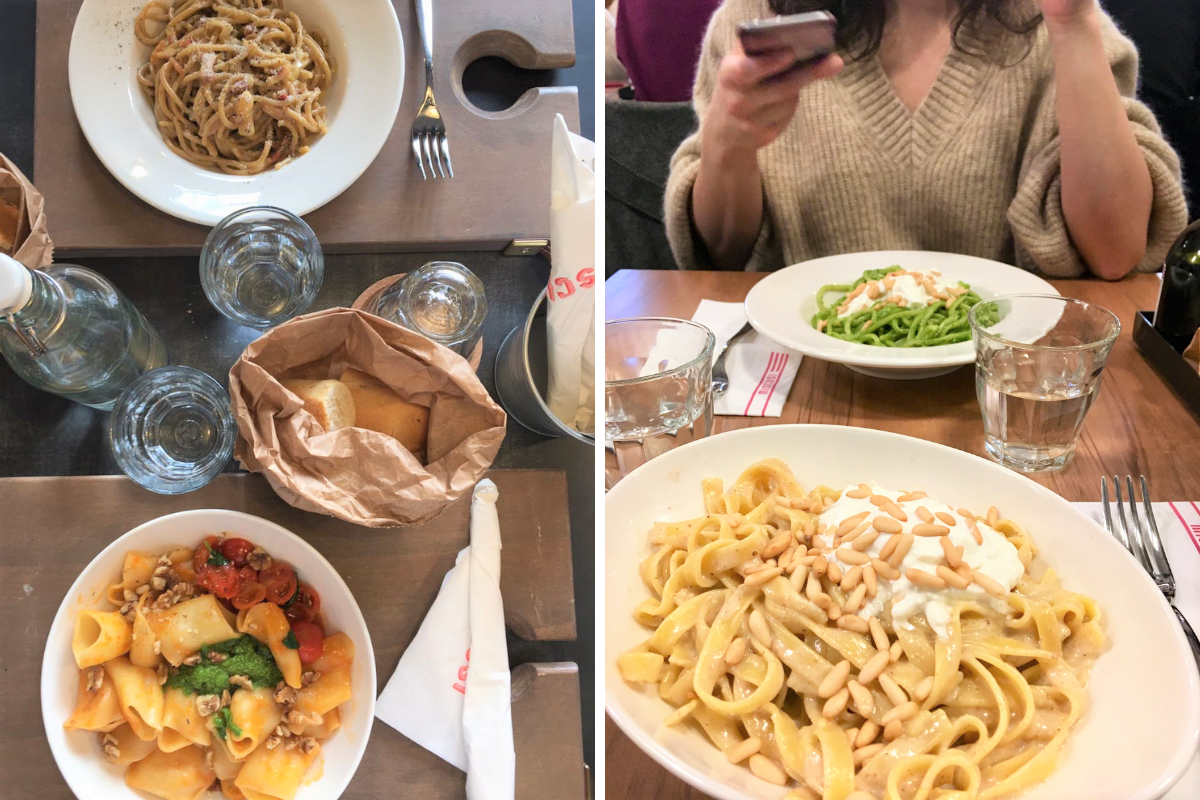 What I ate at MiScusi in Milan: my favorite combos
I've eaten a lot of times at MiScusi, in almost all of its locations and I've experimented with different combinations: "normal" pasta, whole wheat pasta, corn-flour pasta … tomato sauce, ragù, carbonara, cacio e pepe, pesto … sheep's milk ricotta, burrata … pistachios, almonds … I said I tried all the combinations, right?
My top 3 favorite, however, are: spaghetti carbonara with sheep's milk ricotta and pistachios, tagliatelle with ragù and burrata, trofie with tomato sauce, pistachio cream, burrata and pistachios. See the full menu here in case you want to dream a little and prepare your own "trip" to MiScusi.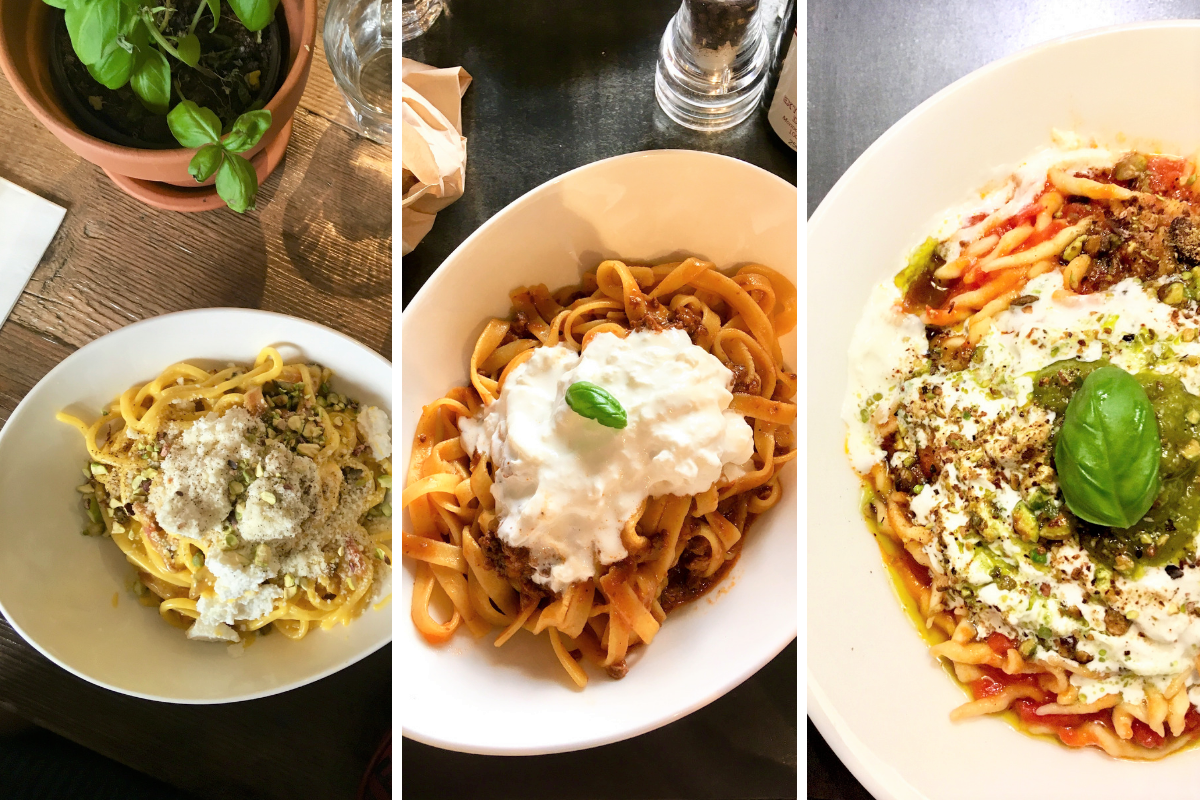 Pasta by MiScusi: everything you need to know
Pasta here is serious business. In every MiScusi, there is a pasta factory where the pasta is made fresh daily (except for the trofie and orecchiette) and all the different kinds flour used are organic and Italian. MiScusi has also thought of those who are gluten intolerant, which is why they also serve products made from alternative flours, like corn flour.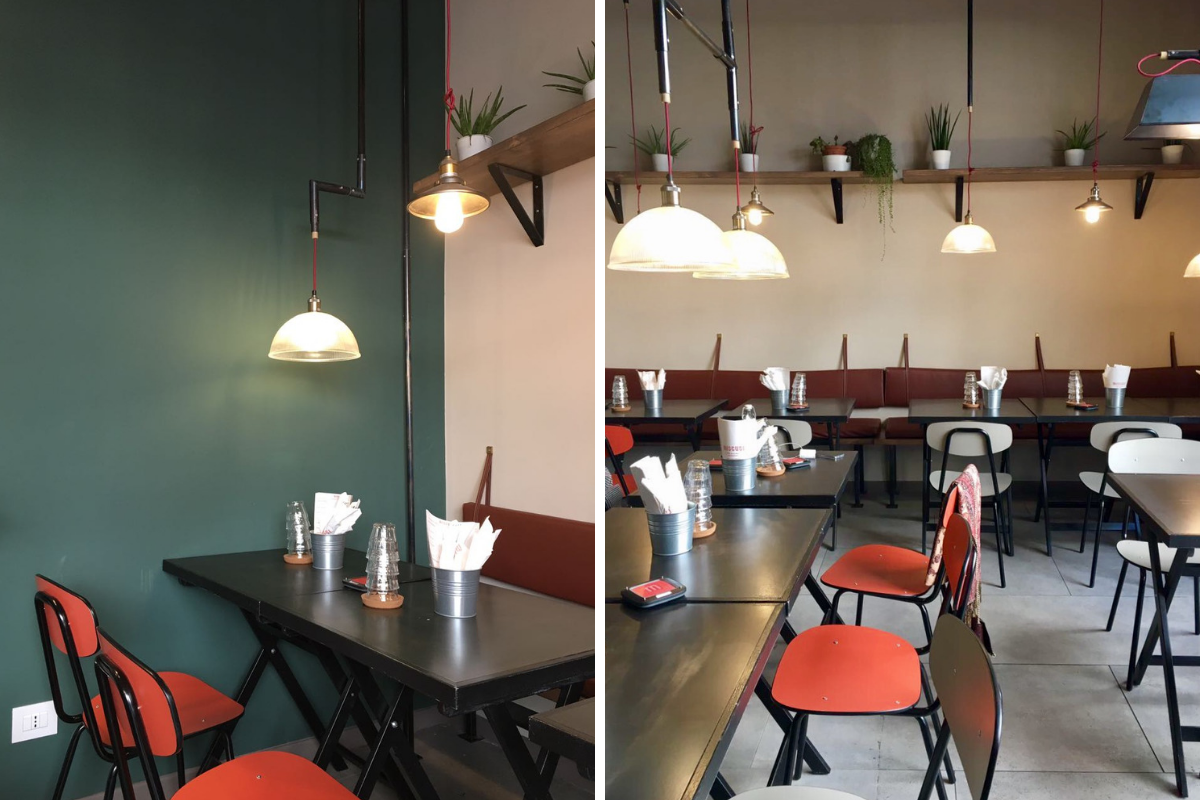 Not just pasta: the whole menu of MiScusi in Milan
Pasta is clearly the main dish of the restaurant. But there are other dishes available, such as: burrata with zucchini and tomatoes, eggplant parmigiana, bruschetta and desserts. I've personally never tried anything other than fresh pasta at MiScusi, but the dishes on the neighboring tables have always seemed very enticing (and the customers always seem to leave with a satisfied look on their faces!).
Why MiScusi is a success (in my opinion)
I studied marketing and MiScusi has always fascinated me. This restaurant, born in February 2017, immediately invested in social media, influencer marketing and content marketing. Not to mention, on each table you find a mini customer satisfaction questionnaire about the meal and you can give votes and suggestions: a small gimmick that indicates a continuous search for improvement. Well done.
In addition to the thousands (thousands!) of photos posted on social networks with hashtag #miscusi (in jargon: UGC, user generated content), on their social media channels you'll also find references to MiScusi's latest jewel: the blog where they share Milanese events, success stories, recipes, insights on raw materials and much more.
As if this were not enough, MiScusi has also opened a small e-commerce presence selling its distinctive food, pictures and … amazing shirts with the names of their dishes. The shirt on my wish list? The carbonara, of course!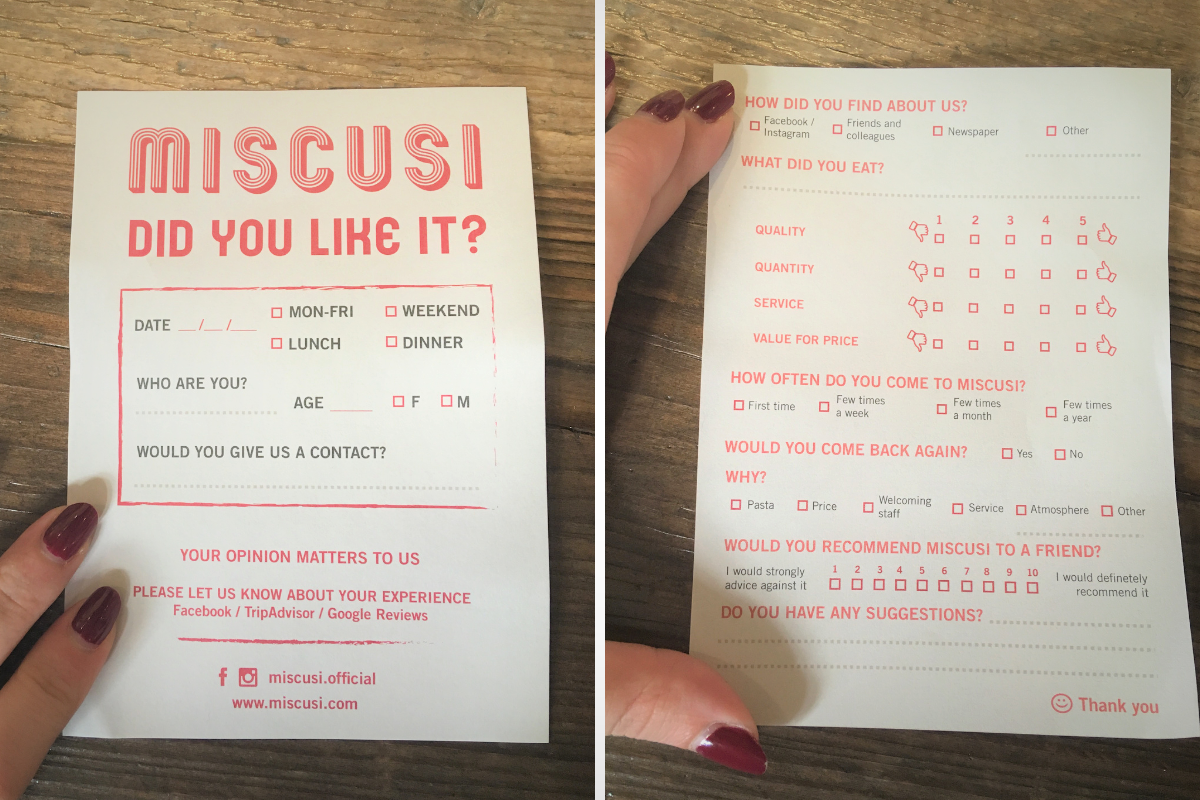 How a plate of pasta costs at MiScusi (and other practical details)
The dishes can be combined, so the price starts from the basic pasta dish with sauce, starting from around € 6, going up depending on the ingredients you add. I think the maximum amount possible is around € 14, but I don't think I've ever had to pay that much there. In every MiScusi, you can pay with both paper and digital lunch tickets, but only during the week at lunchtime. You can't reserve for lunch, but they accept dinner and weekend reservations for groups of more than 6 people. So what happens when can't you book? There is a line, but usually prosecco and a bruschetta are offered to the guests while they wait.
MiScusi Milano
Via Pompeo Litta, 6 (Cinque Giornate)
Piazza S.Camillo de Lellis (Stazione Centrale/Repubblica)
Piazza Tito Minniti, 6 (Isola)
Via Urbano III, 3 (Colonne di San Lorenzo)
via Giacomo Leopardi 13 (Stazione Cadorna)
Have you been to MiScusi? What do you think of it? Let me know on  Facebook  or Instagram!
Feel like reading something else? Here are my favorite pasta restaurants in Milan, two milanese restaurants in the Bocconi area, the best cocktail bars in Milan.
 Per la foto di copertina: © Serena Milici