You can read this article in Italian here and in German here.
"Munich is Italy's northernmost city"– you may or may not have heard this common saying. The reason? Bavarians love to vacation in northern Italy (especially in South Tyrol and Lake Garda, or should I say "Gardasee" in German), which is why so many of them speak Italian and love Italian culture and cuisine. Most importantly: so many Italians work and live in Munich because of the higher salaries and proximity to Italy. 
That's why buying Italian products in Munich is actually pretty easy, as well as finding quality Italian restaurants. In this article, I'll tell you about some great pizzerias for the best pizza in Munich.
Award winning pizza from 60 Secondi 
Let's start with a bang: needless to say 60 Secondi is one of the pizzerias with the best pizza in Munich, winning 22nd best pizzeria in all of Europe according to the prestigious 50 Top Pizza award. The place is very simple with plastic chairs and an open oven, and the service is fast and friendly. And the pizza? Amazing.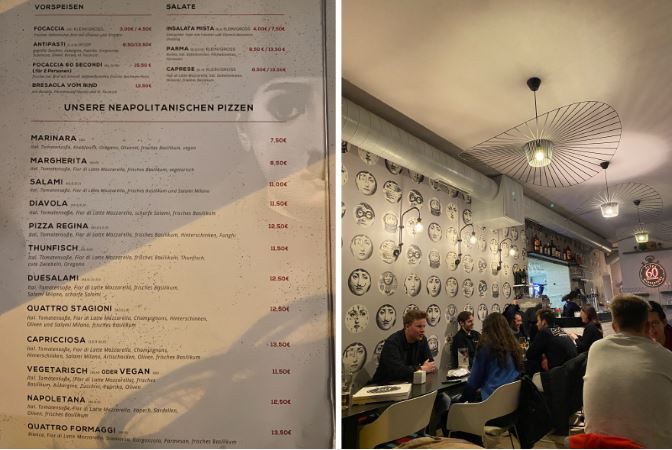 I tried both takeout and dining in with 60 Secondi, and both times I found it to be delicious Neapolitan-style pizza with quality toppings. Approved with flying colors.
Pizza margherita 9,50€

Pizza with buffalo mozzarella 12,50€

Most expensive pizza 18€ (white pizza with fiordilatte, burrata, bresaola, parmesan shavings, arugula and cherry tomatoes)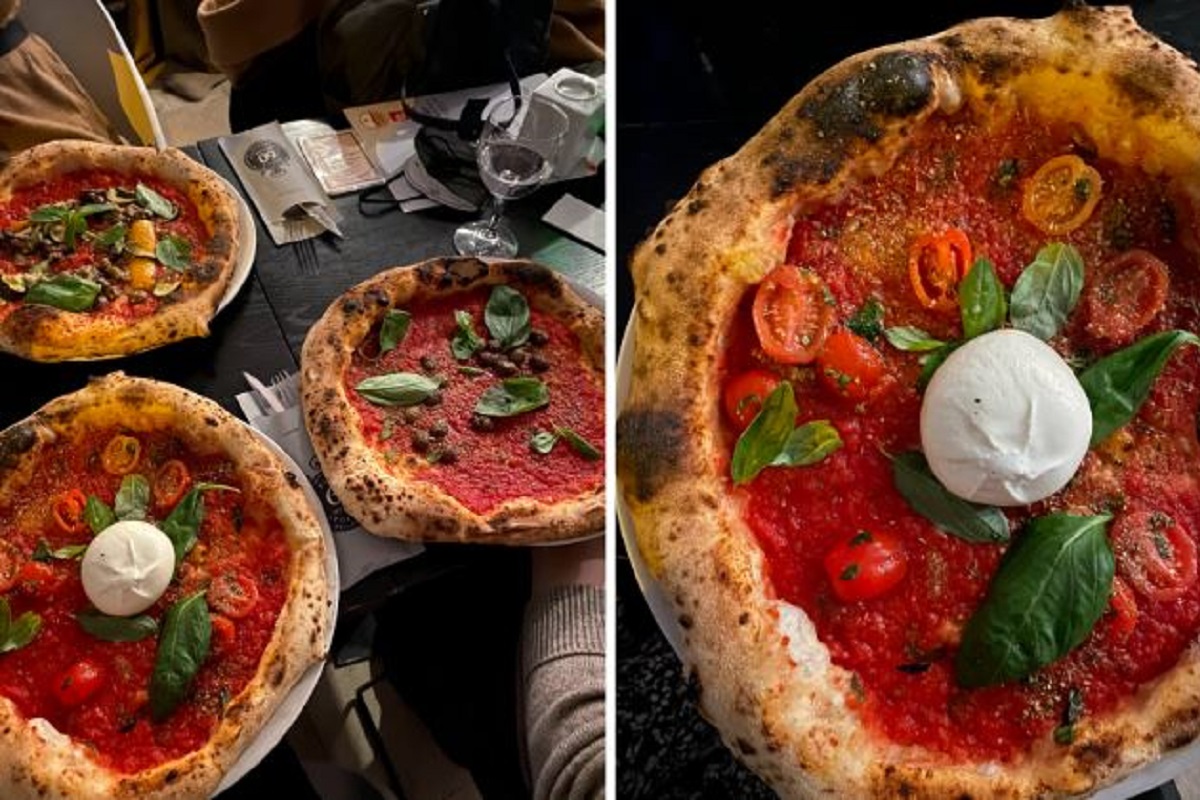 Mozzamo: 3 locations, one great pizza
Open oven, top ingredients and a focus on mozzarella and cheese in general. Mozzamo has four locations: Romanplatz, Thalkirchen, Schwabing and Pasing. I've been to the first three and in both I had a very good time and some of the best pizza in Munich. Romanplatz and Thalkirchen have more of an industrial chic look and are suitable for families as well, while the new restaurant in Schwabing targets younger people in a cool location that mix Renaissance beauty and neon art.
Pizza is extremely good in all Mozzamos, but if I had to choose I would say the Thalkirchen one is my favourite (but location wise, I prefer Schwabing).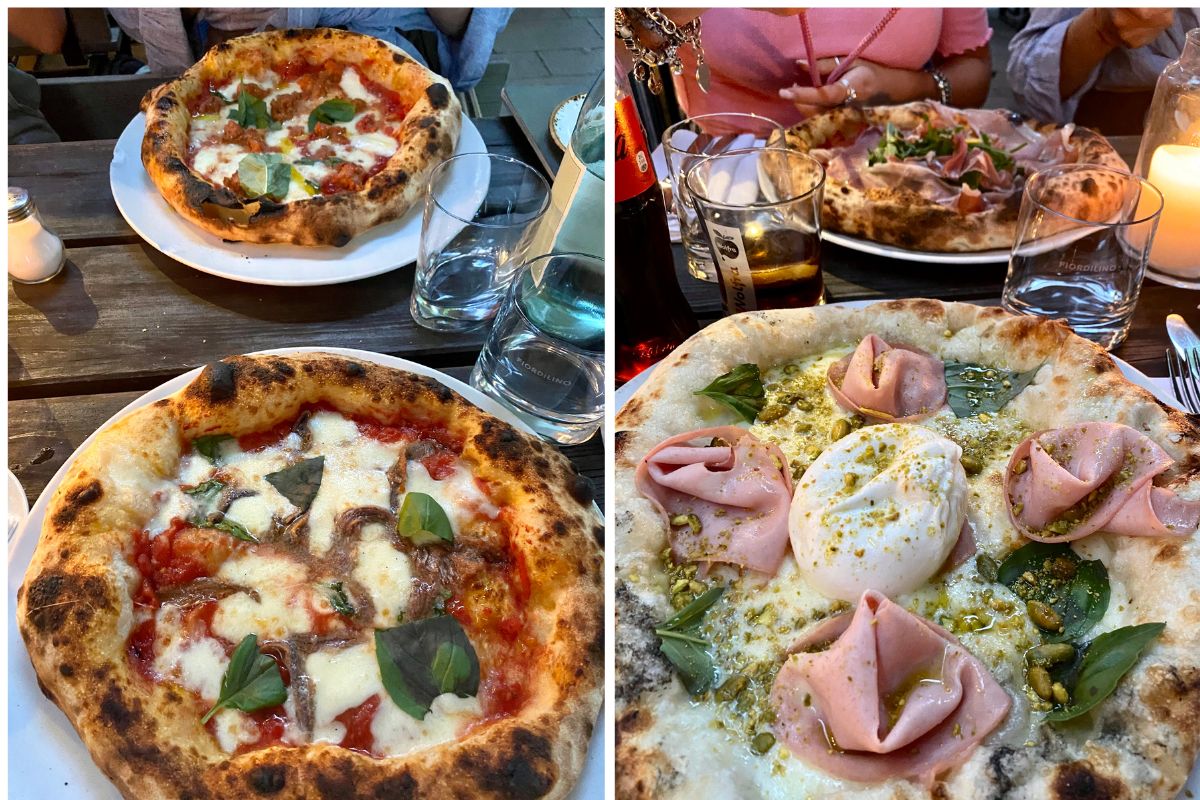 Pizza margherita 9.50€

Pizza with buffalo mozzarella 12,50€

Most expensive pizza 18,50€ (white pizza with fiordilatte, cardoncelli, truffle)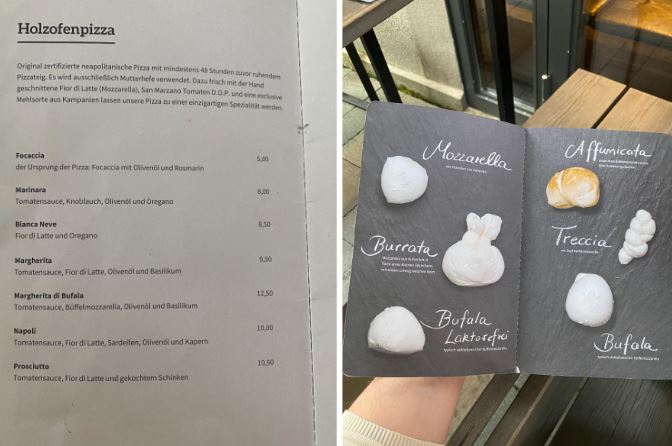 Soul Kitchen: the coolest pizza in town
If you ask any 25- to 35-year-old person in Munich to go for a pizza and they are sure to propose "Soul Kitchen?". This place is the place to be for a night out with friends, and it's easy to see why: some of the best pizza in Munich, industrial chic décor, dim lighting, an easy area to get to and close to the Isar River and the young neighborhood of Glockenbach. The specialty here is truffle pizza (and you can totally smell it when you enter the place).
Please note Soul Kitchen offers not only traditional pizza flavors, but also modern and extravagant pairings eg: tikka masala and sweet potatoes.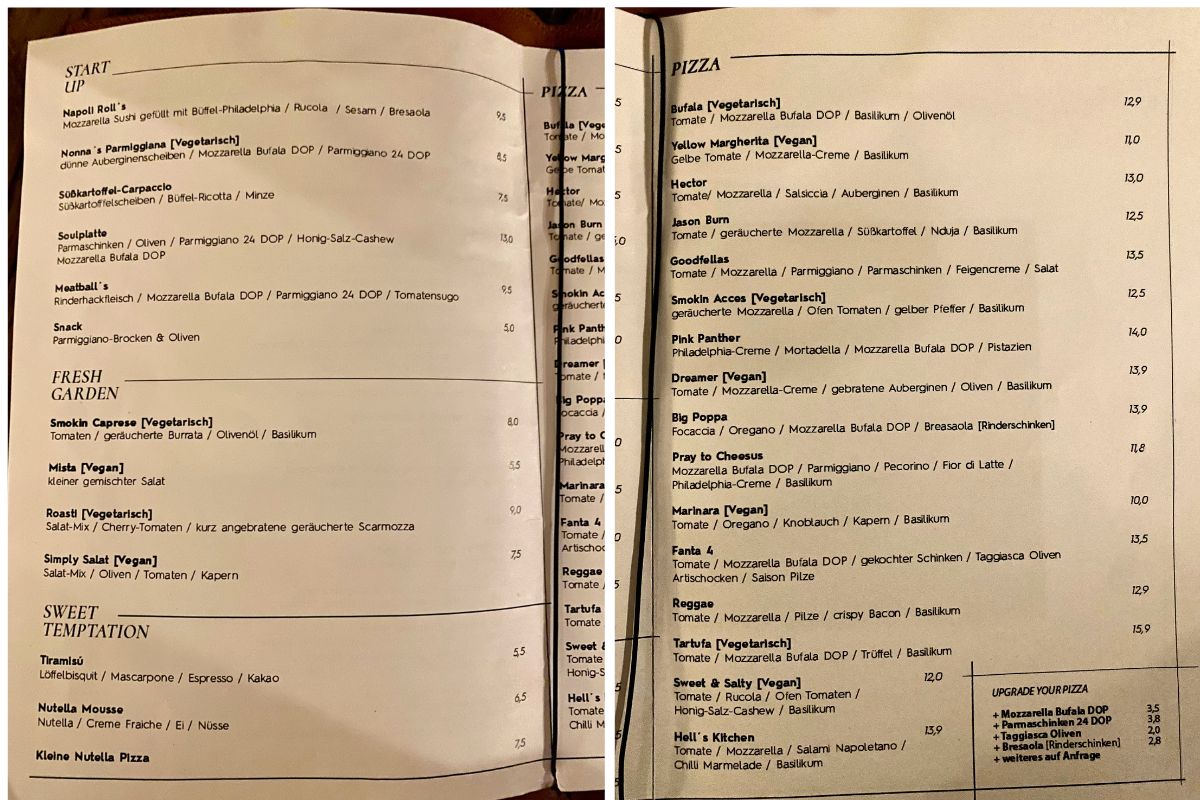 Pizza with buffalo mozzarella 12.90€

Most expensive pizza 14.90€ (tomato, buffalo mozzarella, truffle, basil)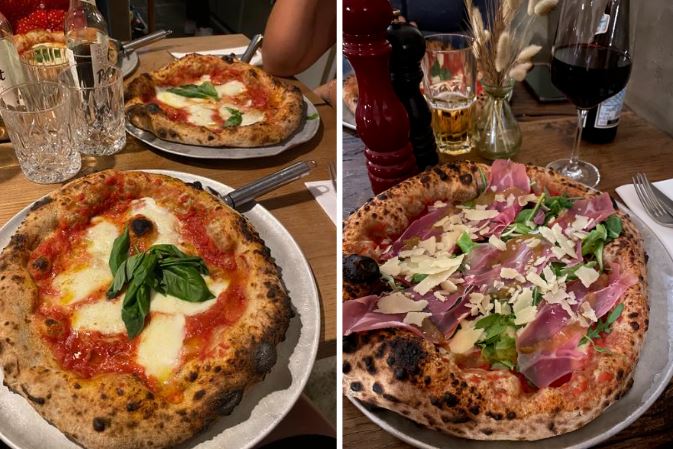 Looking for a trendy pizzeria? Try Nineofive
If the first three pizzerias I mentioned have a distinctly Italian feel, Nineofive is decidedly more international and young, since more students than young adults or families frequent the pizzeria. I would recommend this pizzeria, but I would say it is a bit noisy and with different pizzas than usual (sometimes with really, really strange pairings). 
Pizza margherita 10.50€

Pizza with buffalo mozzarella 13€

Most expensive pizza 16€ (tomato, Parma ham, flakes of 24-month parmesan, fiordilatte)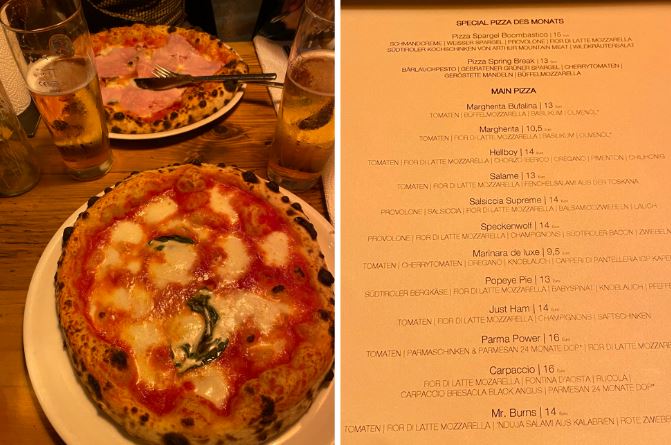 Where to eat a good pizza in Munich: list of pizzerias
Finally, here is a handy list of pizzerias to screenshot with the best pizza in Munich that will immediately take your mind back to Italy:
Amea – Blutenburg

straße 112 (U1 Rotkreuzplatz)

Forza Napoli – Johannisplatz 23 (U4 U5 Max-Weber Platz), limited seating available, mostly takeout
La Pizza – Ledererstraße 17 (U3 U6 Sbahn Marienplatz), menu

here

with prices

Mozzamo Romanplatz – Gaßnerstraße 1 (no metro nearby, best to use ground transportation), a stone's throw from Schloß Nymphenburg
Mozzamo Thalkirchen – Pullacher Platz 6 (U3 Thalkirchen Tierpark), ideal after a day along the Isar
Mozzamo Schwabing – Schelling

straße 53 (U3 U6 Universitat, U2 Theresienstraße)

Mozzamo Pasing – Gleichmannstraße 1 (Sbahn Pasing),

here

the menu of the four venues

Napoli Rush – Theresienstraße 156 (U1 U7 Stiglmaierplatz, U2 U8 Josephsplatz)
Nineofive – Herzogstraße 29 (U3 Bonner Platz, U3 U6 Münchner Freiheit), menu

here

Partenopeo – Einsteinstraße 103 (U4 U5 Max-Weber Platz), menu

here

Soul Kitchen – Fraunhoferstraße 27 A (U1 U2 U7 U8 Fraunhoferstraße), menu

here
Visualizza questo post su Instagram
So what do you think of these pizzerias in Munich? Have you ever been there? Let me know on Facebook or Instagram!
Feel like reading something else? Here are Munich food bloggers you should follow. If you'up for some travel then read this guide to Cinque Terre in Italy (written by a local) and these articles about Milan: Michelin star restaurants in Milan, best restaurants in Milan city centre and best gluten free bars and restaurants in Milan.
Per la foto di copertina: © Serena Milici